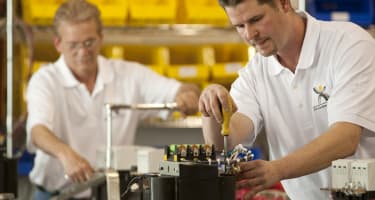 Advantages of Using an Automatic Transfer Switch
Transfer Switches
At PSI Power & Controls, we're all about uninterrupted power. Electrical access is a critical component of your business, and any amount of time left without can spell disaster. When you lose power due to an outage, incident, or grid failure, everything about your business has to stop. And that's why many commercial businesses depend on industrial generators to provide for all of their emergency power needs. To supplement this, our automatic transfer switches are the ideal product.
Our team makes up a company full of industry leaders in quality power supply products, including our transfer switch options. Wondering how a transfer switch can provide the best benefits for your business? If so, we invite you to follow along.
Our team is totally devoted to ensuring your business gets the safety and security benefits of the perfect automatic transfer switch solution. Contact us today to learn more, or to speak with one of our expert associates!
What Is an Automatic Transfer Switch?
A transfer switch in general seeks to simplify and provide safety when making use of a generator. The transfer switch diverts power from your utility to your generator quickly and easily. In the case of a manual switch, this is done, of course, manually through a lever or similar device. But in the case of an automatic switch, the entire process occurs instantly, providing you generator power in the split of a second in the event of an outage.
Automatic switches are constantly monitoring your business' power, waiting for any interruptions or delays. If the switch deems the power to be out, be it from a storm or accident, it will instantly and safely change over to generator power, supplying electricity to critical functions that you have set beforehand.
How Do Automatic Switches Benefit Your Business?
A transfer switch does a lot for your business, increasing assurance and productivity. When you choose the right switch to meet your needs, you'll gain:
Power reliability. If for any reason at all you lose access to power, your business stops dead in its tracks. And while a generator can mitigate this a bit, without a transfer switch you have to manually connect your generator to the operations you wish to restore. This chore not only eats up loads of time, resulting in downtime, it also limits the function of your generator.
Safety. Handling any source of power at all can yield detrimental results. Employees can be harmed by a sudden outage, and handling a manual generator hookup can be disastrous—especially in the dark! A transfer switch handles all of your needs all on its own, removing the dangers associated with an outage entirely.
Simplified operations. Upon the installation of your automatic transfer switch, specific operations are chosen to be automatically powered. This can be everything from your lights, to HVAC systems, industrial equipment, or even refrigerators. This process drastically simplifies restoring power and improves the function of your generator as well.
Businesses That Benefit the Most from an Automatic Transfer Switch
Any business at all, large or small, can gain the benefits of an automatic transfer switch. And our team guarantees you'll find the investment more than well worth it. But there are particular businesses that come to mind when you consider an automatic transfer switch, including:
Hospitals
Commercial structures
Factories
Warehouses
And many more!
Ready to gain the benefits of a superior automatic transfer switch for your business? Contact PSI Power & Controls online today to speak with our experts!
Automatic Transfer Switches
Transfer switch needs can vary considerably depending upon your structure's capacity and overall needs. The proper amperage must be sought to retain appropriate function from your transfer switch and generator, and to find your ideal automatic transfer switch, our experts strongly suggest working with a certified electrician in your area.
PSI Power & Controls offers a wide range of ATS, ranging from 200-5,000 amps according to your needs! For full information regarding the specifics and features of our automatic transfer switches, you can visit our product page online!
You May Also Be Interested In: