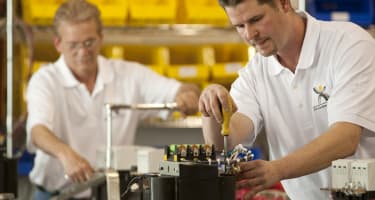 Automatic Transfer Switches for Government Offices
Transfer Switches
Government operated centers, structures, and municipal buildings absolutely require access to consistent and uninterrupted power. And to ensure productivity, function, and safety during an outage associated with storms or power interruptions, nothing assists your government office more effectively than an automatic transfer switch used in conjunction with your generator.
The experts at PSI Power & Controls provide a variety of high-quality and wholly dependable transfer switch solutions that ensure quick access to power no matter the circumstance. PSI is a family-owned and operated business—always has been and always will be. And that fact empowers our team to always put the needs of our consumers above all else, so we can guarantee nothing but the best to suit your need for uninterrupted electrical power.
Contact an engineer at PSI Power & Controls to learn about our automatic transfer switches for government offices and structures!
How Does an Automatic Transfer Switch Benefit a Government Office?
Automatic switches are the very peak of technology when it comes to providing fast, effective, and safe power automatically during an outage. These power solutions monitor your utility power supply, and if any interruption is detected, the automatic switch will instantly reroute power to your standby generator with barely a second's delay.
Automatic transfer switches are not only faster than manual generator hookups, they are safer as well, requiring no human interaction or interference to restore your power quickly and effectively. This ensures the safety and productivity of your government staff, and ensures you retain function in any event.
How Do Government Offices Use Automatic Switches?
Using an automatic transfer switch allows you to link critical circuits and structure functions in advance, meaning you can predetermine what receives power from your generator automatically upon losing power. This gives you instant access to all critical functions chosen, including:
Emergency equipment. Allowing critical safety functions like emergency generator lighting, power locks on doors and windows, and automated doors is exceptionally important in keeping staff and visitors safe.
Lighting. Lighting is absolutely necessary for retaining function within your government office. Without it, associates and visitors are left with zero function at best, and are exposed to severe risks to health and safety at worst.
HVAC equipment. Maintaining HVAC function can mean a considerable preservation of comfort within your government office, and additionally may be critical in weather extremes such as heat waves and below-zero weather.
Security systems. Camera systems, metal detectors, and forced-entry detection systems all require consistent access to electrical power. Any interruption can lead to a loss of function, or even a reset of all programming. An automatic switch ensures your security systems always remain functional.
Phones and other communication devices. In a state of emergency, you need guaranteed access to outside interaction to prevent and mitigate dangers. Wiring your phones and computer systems to an automatic transfer switch can ensure you never lose critical data or your ability to communicate.
Automatic Transfer Switches for Government Offices
Transfer switch needs can vary considerably depending upon your structure's capacity and overall needs. The proper amperage must be sought to retain appropriate function from your transfer switch and generator, and to find your ideal automatic transfer switch, our experts strongly suggest working with a certified electrician in your area.
PSI Power & Controls offers a wide range of ATS, ranging from 200-5,000 amps according to your needs! For full information regarding the specifics and features of our automatic transfer switches, you can visit our product page online!