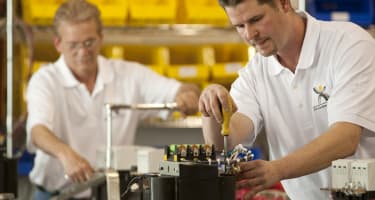 Automatic Transfer Switch Inspection Checklist
Transfer Switches
Your automatic transfer switch works in tandem with your generator system to provide your commercial business with a dependable energy solution regardless of the circumstances. Whether dealing with a routine inspection, or in the face of an unexpected outage, you can rely on your switch to bring you the power you need!
But without routine care, you could have a dud on your hands. It is a total fact that the vast majority of ATS and generator failures in an outage could be absolutely averted with routine care. What is routine care? Ideally, a combination of professional services provided by a certified electrical expert and routine maintenance that should be performed by the owner of the switch.
Are you giving your automatic transfer switch the care it needs? At PSI Power & Controls, were wholly dedicated to providing top-quality products. And what's more, we want to arm you with the knowledge and tools necessary to ensure your system works optimally for a long, long time!

Owner Inspection Checklist for Automatic Transfer Switches
This list is quick and easy, and requires no complicated processes! The only thing you need to do is make sure you perform a check routinely!
Exterior visual inspection. Check for any obvious signs of damage or wear. If there are cuts or breaks in a line or there is damage present on the unit, be sure to have it replaced or repaired immediately!
Check for signs of moisture. Accumulated moisture from high humidity levels or contact from an external source can present a serious risk. Never attempt to operate a wet or damp transfer switch. Locate the source of moisture and have it handled immediately.
Look for signs of excessive heat. Discoloration, deformities, damage to contacts, and cracking are all signs of excessive heat being generated by your automatic transfer switch during operation. If any evidence of overheating is found, contact a professional right away.
Dust removal. Dust can impede connections and reduce the effectiveness of your ATS. To remove collected dust and debris, use a vacuum or similar device. Please avoid the use of compressed air! While these are a fast and easy tool for dust removal in some contexts, with something delicate like a transfer switch, you're more likely to force dust into major components where it will stay lodged and create complications.
Clean your transfer switch. Never use wet products for electronic component cleaning. Instead use an approved industrial solvent. Be sure any accumulated junk, grime, or foreign materials are totally removed.
Check contacts. Signs of corrosion are normal in limited amounts, but once erosion has become evident, it may be time to have the contacts replaced, or the ATS itself.
Schedule professional care. These checks are hugely important, but somewhat elementary. To ensure your system is getting the care it needs, seek professional assistance from a trained electrician or personnel explicitly trained in transfer switch maintenance.
For the best results and most safety, be sure to pursue this checklist routine monthly!
Click here to learn more »
Superior Transfer Switch Solutions with PSI Power & Controls
PSI has been providing top quality automatic transfer switches and other energy solution products to commercial businesses both large and small for years! As a family-owned and operated business, we understand the importance of reliability and dependability in your products and services, and we always aim to be the best!

You May Also Be Interested In: