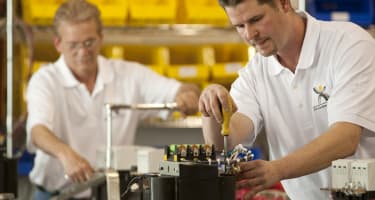 Buyer's Guide to Manual Transfer Switches
Transfer Switches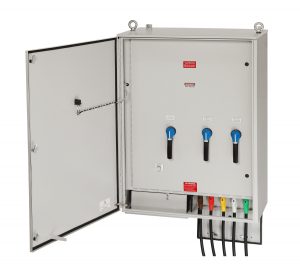 When you run a business, one of your central roles is to ensure the lights stay on when the electricity doesn't. Whether you're facing issues with a spotty electrical grid, you're anticipating a major weather event, or you want to be prepared for any situation, you need a generator and emergency power backup plan at the ready.
A manual transfer switch makes shifting to generator power simpler and easier, and at PSI Power & Controls, we're ready to help find the best manual transfer switch for you.
What a Manual Transfer Switch Is: In a Nutshell
A manual transfer switch lets you access your generator power fast and without much fuss. The device allows you to select which processes and which circuits will receive power from the generator when the electricity goes out, helping you get the most out of the generator unit.
It's as simple as connecting the generator and switch via a cable and flicking the switch when power is needed. Manual transfer switches allow you to plan ahead while minimizing downtime and physical hazards associated with power outages.
Amperage
When searching for the best manual transfer switch for your needs, you'll see references to switch "size." This refers not to the dimensions of the switch, but the amperage it can safely channel. The more amps the switch can take determine how many devices and systems it can power.
You'll find switch sizes from as little as 30 amps up to the thousands. At PSI Power & Controls, we carry manual transfer switches up to 3,000 amps — perfect for running large and powerful generators.
Understanding Wattage
Whereas amps measure electricity, wattage measures power in various forms, including mechanical. If you're planning around keeping your security and HVAC systems powered by your generator during an outage, for example, you need to find out the total wattage required by both systems and the number of circuits in order to choose your manual transfer switch.
NEMA Enclosures
As your manual transfer switch is critical to your emergency plan, you should protect it with a NEMA enclosure. These enclosures keep out weather, vandals, and accidental damage and come in multiple ratings that indicate what events they will resist.
Finding an enclosure that matches your transfer switch's specifications is key to protecting your investment.
Superior Transfer Switch Solutions With PSI Power & Controls
We offer the knowledge necessary to select the best manual transfer switch for your exact commercial needs. The following products are a great place to start your search for the perfect power solution.
Three-Way Manual Transfer Switch
A three-way manual transfer switch (shown at the top of the page) gives you the option to leave the system in neutral, get power from your generators, or get power from the grid as necessary.
Manual Transfer Switch & Generator Tap Box
Generator tap boxes (such as the one shown at the right) are units placed outside commercial buildings and frequently paired with a manual transfer switch to route power quickly and safely.
Eaton Magnum Manual Transfer Switch
For critical applications in military, life safety, or emergency facilities, we recommend options from the top-of-the-line Eaton Magnum collection of manual transfer switches. These transfer switches run up to 5,000 amps and offer enclosure ratings of NEMA 1 and NEMA 3R.
If you're ready to learn more about transfer switches and how to select the right manual transfer switch for you, find your local rep online or call (704) 594-4107 today.