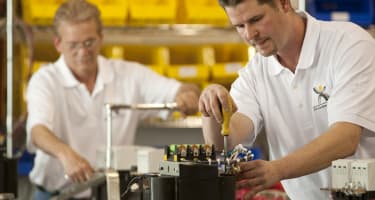 FAQ: Manual Transfer Switch or Automatic Transfer Switch?
Transfer Switches
When business owners consider an emergency action plan in the event of a power outage, many as the same simple question: should I install a manual transfer switch or an automatic transfer switch? The answer is not always clear-cut and may depend on your building's electrical demands, current system, and type of business you own.

How Much Can Power Outages Cost My Business?
Any amount of downtime during what you thought was going to be a normal business day affects operations, productivity, and your profit. The longer your business is without power, the more time and resources are wasted, not to mention losing business from potential leads, sales, and other revenue sources.
It is estimated that businesses in the essential services sector lose approximately $50,000 annually due to power outages. Additionally, the average power outage in commercial buildings each year lasts anywhere between five minutes and one hour, if not longer.
No matter how long your power outage, your business can remain open and not miss a beat after installing a manual transfer switch or automatic transfer switch. But, what are the differences between the two?
Manual Transfer Switches
Advantages
One of the primary advantages of a manual transfer switch is it costs significantly less to design, fabricate, and install than an automatic transfer switch. It is also easier to install, smaller in size, and can be fabricated much quicker than an automatic switch.
Disadvantages
The biggest drawback of a manual transfer switch is the time it takes to connect your temporary electrical power supply than an automatic transfer switch. This makes company downtimes much longer.
Click here to learn more »
Automatic Transfer Switches
Advantages
Unlike a manual transfer switch, automatic transfer switches can be used with permanently installed standby generators. That way, when your power is disrupted and your company is subject to blackouts, your generator will automatically kick on and supply emergency backup power to your building.
This is highly beneficial in industries that cannot afford to be without power for any amount of time—hospitals, data centers, etc.
Disadvantages
The largest disadvantage of an automatic transfer switch is its high installation fabrication and installation costs. Because automatic transfer switches automatically transfer power when an interruption in your electrical supply is detected, you experience no disruption in your electrical supply and customers may not even notice the power has gone out.
Although never having to be affected by power outages is an ideal situation for every business owner, this luxury comes at a price and is often the difference between whether or not you choose to install a manual transfer switch or an automatic transfer switch.
Why Choose PSI Power & Controls?
PSI Power & Controls produces high quality, reliable electrical solutions at a competitive price. We are an ISO-certified (Independent System Operator) company, meaning our facility and products meet all federal safety and reliability requirements, as set by the Federal Energy Regulatory Commission (FERC). When you choose PSI Power & Controls, you receive:
Competitive pricing
On-time delivery
Engineering support
UL-certified products
12-month material warranties
12-month workmanship warranties
Private label assembly
Contact us today to learn more about our manual transfer switches, automatic transfer switches, and other services—704-594-4107.

You May Also Be Interested In: