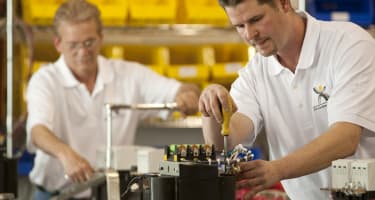 How to Choose the Right Manual Transfer Switch
Transfer Switches
A manual transfer switch can be a lifesaver when you need fast, safe electrical power supply. Choosing the correct size manual transfer switch can be a struggle, especially if you're unsure how much electrical capacity your building demands. With things like your HVAC system, individual workstations, computer networks, refrigerators, and security systems all requiring electrical power to function, it's best to let an OEM manufacturer design and build your switch.
Keep reading for more tips on how to choose the right manual transfer switch for your commercial property.
Choosing Amps
Depending on the size of your commercial property and portable generator, you may need a larger or smaller manual transfer switch. When we say "larger or smaller," we mean more or less "amps". Amp is a term that measures the amount of electricity used. If you own a large company with a large store or warehouse requiring multiple systems to function, you will most likely need a larger generator and require a manual transfer switch with more amps.
At PSI Power & Controls, we can build a manual transfer switch available in the following amps:
30 amps
60 amps
100 amps
200 amps
400 amps
600 amps
800 amps
1200 amps
1600 amps
2000 amps
2500 amps
3000 amps
Choosing Circuitry
Some business owners may choose to power more circuits than their competitors during a blackout. No matter what the cause of your power outage or how long the outage lasts, you'll need to power various systems that are critical to your day-to-day operations.
Our transfer switches can be built to handle any amount of dedicated circuitry. Call us today to learn more—704-594-4107!
Choosing Wattage
The amount of wattage required to safely operate your generator also depends on the electrical capacity of your commercial building and the amount of circuits you wish to run. The more circuits, the higher the wattage needed. Wattage can also depend on your:
HVAC system
Electrical system
Hot water heater
Security system
Business needs
Electrical demands (number of workstations, rooms to be lit, electrical devices, etc.)
And more
Manual Transfer Switch Design from PSI Power & Controls
Only a team of certified electrical engineers can properly assess your commercial building and its electrical demands. If you're looking for a manual transfer switch to complement your business's portable generator, contact PSI Power & Controls!
You May Also Be Interested In: