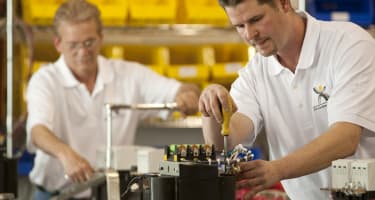 Automatic Transfer Switches for Schools
Transfer Switches
A solution for consistent access to electrical power is critical for any commercial business. But for schools, access to power is particularly important. The productivity of your educational facility hinges on power in many ways, and the safety of faculty, staff, and students is exceptionally important.
PSI Power & Controls offers an array of exceptional power solution products that are geared toward making your access to power quick, simple, and always available! As a family-owned and operated business, we've been putting the needs of consumers and commercial businesses first for years, and when it comes to quality products and solutions, there's no manufacturer better!
Why Do I Need An Automatic Transfer Switch for My School?
When it comes to fast, effective power solutions, nothing provides more surety and security than an automatic transfer switch. Automatic switches seamlessly swap power from your utility source to your generator with a minimal delay—no more than a second or two!
With this speed and effective function, the operations of your school go essentially entirely uninterrupted even in the face of power outages, and the safety of your students and staff is never at risk due to a loss of lighting, emergency light, or emergency electrical functions.
How Does an Automatic Switch Help?
By linking your automatic switch setup to your electrical system, you can predetermine specific circuitry you want powered in the event of an outage or incident. This means you can provide immediate, uninterrupted access to critical functions like:
Lighting. Lighting is critical both to basic school operations and to safety. Without access to lighting in an outage, the risk of accidents is drastically increased and essentially no school activities can take place.
HVAC equipment. Maintain the comfort and quality of temperature control within your building during a sweltering summer or a frigid winter with an automatic switch set to power your HVAC system via generator power in the event of an emergency.
School security systems. Security cameras, detector systems, and the school's PA system are all important to maintaining security against intruders and incidents. Be sure to always have access to this with your ATS!
Important school/educational equipment. With the right generator system and transfer switch in place, school can remain in session even in the event of a power outage. Sensitive and important tools like computers are best protected with a transfer switch system in place.
Automated systems within your school building. Automated doors and lighting systems can be critically compromised in an emergency, making them an excellent priority for your predetermined generator plan.
Automatic Transfer Switches for Schools
Your automatic switch need vary according to the size and needs of your educational facility, requiring different sizes (amperages) of automatic switches. PSI Power & Controls offers a wide range of ATS, ranging from 200-5,000 amps according to your needs. We would strongly encourage working alongside a trusted and certified electrician in your area to find the exact switch for your school!
For full information regarding the specifics and features of our automatic transfer switches, you can visit our product page online!