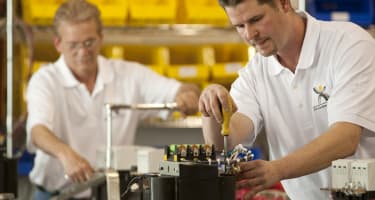 Automatic Transfer Switches for Restaurants
Transfer Switches
Uninterrupted access to electrical power for your restaurant is an absolute must. Without it, the comfort and safety of your patrons and staff can be put at risk, and losing critical tools like refrigeration can compromise costly products. Because of this, you have most likely pursued securing a generator for your restaurant. But were you aware that an automatic transfer switch can also play a dominant role in your access to reliable power?
PSI Power & Controls has been offering superior automatic transfer switches to meet the needs of you and your business for years. Our primary goal is providing you a means to power quickly, easily, and effectively! As a family-owned and operated business, we've been putting the needs of consumers and commercial businesses since day one, and when it comes to quality products and solutions, you simply won't find better!
Why Do I Need An Automatic Transfer Switch for My Restaurant?
Both automatic and manual transfer switches provide superior safety and security when accessing your generator. But for speed and surety, nothing beats an automatic transfer switch. In the event of an outage or incident, your ATS will reroute power from your utility provider to the generator in your restaurant in a matter of a second, losing you little to nothing in the way of safety or productivity in your business.
The security of staff, patrons, and your assets is critical to your business's success, and with an automatic transfer switch, you have the best possible assurance that all are protected in any event.
What Does an Automatic Transfer Switch Do for Restaurants?
By linking your automatic switch setup to your electrical system, areas in your business can be planned in accordance of importance. During an outage, the areas you have set up will automatically be supplied power without delay, allowing you to predetermine what needs power in an incident. For your restaurant, this means uninterrupted operation of:
Lighting. Light is a necessity for the safety of your staff and patrons, and in the absence of it everything must stop. Routing your lighting to an automatic transfer switch means virtually zero interruption in lighting, allowing you to carry on with your business without delay.
Heating and cooling equipment. The comfort of your client's is paramount to your success and potentially to the health of staff. An ATS allows full access to HVAC equipment no matter your electrical situation.
Security systems and monitoring. Depending on your business, you may rely on cameras, alarms, and other security measures to operate safely. In an outage, the loss of these can present serious danger, making a generator paired with an ATS ideal.
Important business equipment. Cash registers, refrigerators, cooking tools, and other equipment critical to your business must be cared for in an outage. Without uninterrupted access to power, you can lose critical information or obliterate your system's network.
Automatic Transfer Switches for Restaurants
The electrical needs of your business vary according to factors like the size of your building, the equipment inside, and the number of major operations that you want to remain operational in an outage. Because of this, PSI Power & Controls offers automatic systems of varying amperage—ranging from 200 to 5,000 amps according to your needs. For the best choice for your needs, we would highly recommend working with a certified electrician!
For a full list of the specifics and features of our automatic transfer switches, you can visit our product page at your convenience online!