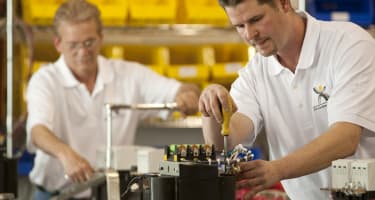 How Does a Transfer Switch Work?
Transfer switches are an effective means of ensuring your business has uninterrupted access to electrical power in the face of outages and incidents. They provide a no-mess and no-stress function, granting you fast and safe access to power from your generator when you need it most. But to find out exactly how a transfer switch operates, you might need a bit of an explanation.
As a leader in superior electrical products, PSI Power & Controls is wholly dedicated to ensuring your business receives only the absolute best to meet your needs. We strive to bring you custom power solutions to ensure your business is never left in the dark.
Contact us to learn more about our manual transfer switches, automatic transfer switches, and other services—(704) 594-4107.

What Is a Transfer Switch?
Without a transfer switch, you must manually hook your generator to the equipment you wish to power, which is time-consuming, inefficient, and unsafe. A transfer switch automates the entire process, granting you access to power in predetermined circuits (emergency power, critical equipment, etc.) by the use of either a switch in the manual switch or the process can occur instantly with an automatic switch.
How Do Transfer Switches Work?
How exactly your transfer switch operates differs slightly depending on whether you are using an automatic or manual transfer switch.
How Does a Manual Transfer Switch Work?
A manual transfer switch operates by isolating determined circuits you want to be powered in the event of an outage. These circuits are isolated using a "make and break" system that when operated, swaps your grid power for generator power. By applying this make/break system, you avoid currents and ACRs that can occur without the break, making a transfer switch exceptionally safe in addition to much faster than operating a generator without the switch. Each connected circuit (which is chosen at the time of installation) is protected individually with surge protectors that comes as a part of your manual transfer switch product.
How Does an Automatic Transfer Switch Work?
An automatic switch operates in much the same way, only the process is entirely automated. In the event that your business loses power, the automatic switch will instantly change your supply from grid to generator, with less than a second of interruption in your supply of power. Automatic systems accomplish this by consistently monitoring your grid power supply. When any interruptions occur, whether due to storms, line damage, or any other source, the switch breaks the connection with the grid power and establishes generator power. This is faster and more efficient than a manual system, and these switches are frequently seen in large-scale commercial operations and sensitive businesses like healthcare facilities.
Transfer Switch Solutions with PSI Power & Controls
Ready to supply your business with the assurance and safety of a transfer switch system connected to your generator? Reach out to PSI Power & Controls today! Our engineers and specialists are always on standby, ready to answer any questions about our transfer switch products and solutions. Give us a call at (704) 594-4107 for help deciding between a manual transfer switch and an automatic transfer switch.

You May Also Be Interested In: