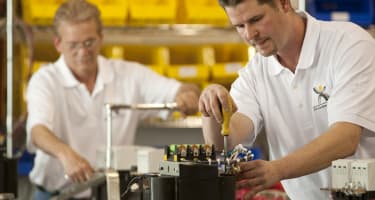 Industries We Serve
PSI Power & Controls provides a wide range of pre- and custom-fabricated products aimed at solving the emergency power and safety needs of client's. From manufacturing and engineering, to retail and customer service, you'll find that our offerings are well suited to staying productive, in control, and safe in your business.
Keep reading to find out more about what industries we work with, or contact us online now to learn more about how our emergency power solutions can help your business!
The needs of an industrial or manufacturing facility can be exceptionally diverse, ranging from simple disconnects to custom panel fabrication and high demand tap box and ATS configurations. PSI Power & Controls specializes in a wide range of products applicable in all facility types and sizes, and with our diverse product offerings, there is a product ideal for each and every business's needs. Whether your business is in pharmaceuticals, welding and fabrication, shipyards, or even water, you can rest easy knowing your business is supported by durable, dependable, and top-notch PSI products.
Learn more about how we service manufacturing and industrial businesses >
Interruptions due to power loss will not only put your show or venue in jeopardy, but can also create safety risks when the lights go out. PSI Power & Controls offers products that focus on keeping the lights on and the show going, and with our custom products like company switches, power distribution for your specialized tools and equipment has never been simpler or safer. Additionally, our panels can be fitted for molded case circuit breakers or fused disconnects as demanded by your systems.
Learn more about how we service entertainment/hospitality industries >
Keeping patrons safe and your supplies in a controlled environment are the two most critical aspects of your business, whether you're a local grocer or a major corporation. PSI Power & Controls offers auxiliary power systems and transfer switch products that enable a swift, safe source of emergency power connection ideal for use in both emergency situations and in routine equipment testing and maintenance for retail and grocery. Learn more about how we service retail/grocery industries >
Need something specific to meet your power distribution and monitoring needs? PSI Power & Controls offers OEM control panels and custom industrial control panels suitable for any industrial or commercial application. Our manufacturing locations have certifications for UL508A / cUL 508A and are ISO 9001 certified. Our engineers can fabricate your panels in accordance with a schematic, or they can design panels from a preliminary concept in order to fulfill your custom panel requirements. Contact us online to find the right emergency power products for your medical, retail, manufacturing, or military facility today!