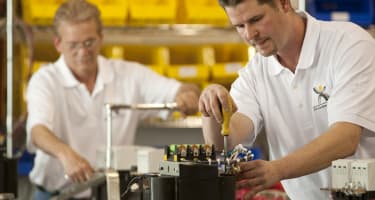 Manufacturing & Industrial Services
Industrial and manufacturing businesses span an exceptionally large range of business types, from pharmaceutical to mechanical, to educational and agriculture. Each business is unique, and so equally unique are their needs. At PSI Power & Controls our teams strive to provide a wide range of services and products aimed at improving safety and functionality via emergency power systems, custom control panels, and much more.
Our product specialists and service teams have been assisting client's nationwide for over five decades by offering top-class products and custom fabrication services. Regardless of the scale or scope of your needs, our specialists can accommodate and offer superior, top-quality products and emergency power guidance.
Reach out to the industrial service teams at PSI Power & Controls for:
Need assistance in selecting the right products for your manufacturing or industrial business? Connect with PSI Power & Controls any time by calling (704) 594-4107 or by reaching out to us via e-mail.
Industrial Emergency Power Solutions
Regardless of which industry you operate within, a loss of power is far more than simply problematic. A loss in power can result in a loss of productivity at best, and at worst can lead to property loss and harm to personnel and client's. PSI Power & Controls can help by outfitting your business with top-class power solutions like manual and automatic transfer switches for fast and safe transition to emergency power. We also provide docking stations, tap boxes, and a wide range of power safety systems and additional hardware—all your industrial business needs to stay powered and protected.
OEM & Custom Control Panels
We understand that power distribution, monitoring, and control equipment systems all need to be precise. And what's more, they need to precisely suit your unique applications and needs. That's why at all PSI locations our teams are capable of providing OEM and custom-fabricated control panels. Our teams are certified for UL508A / CUL 508A and are ISO 9001 certified, providing you with a single source for all of your industrial panel needs. Whether you come to us with a specific OEM panel in mind, or a schematic or concept, we're equipped with the knowledge and tools to build out and provide according to your needs.
Manufacturing or Industrial Power Products & Services from PSI Power & Controls
For a full range of emergency power products, as well as complete product support and guidance, trust the experience and knowledge of the specialists at PSI Power & Controls. We are happy to accommodate client's of all sizes, so whether you're in need of a single control panel or transfer switch, or you need to fully outfit a large industrial business or location, trust that PSI has you covered.
Review our product guides online any time to learn more about each product and the available options! If you need assistance, please call (704) 594-4107 to connect with our product experts now.