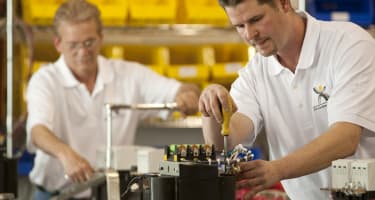 Entertainment & Hospitality
The hospitality and entertainment industries encompass a vast range of business types. Venues and planned events, concerts, restaurants, and hotels are just a few. Each and every one of these businesses require sustained and safe access to electricity in order to keep things running smoothly. At PSI Power & Controls, our team offers a wide range of products specifically suited to meet the emergency power and electrical safety needs of every business in the entertainment and hospitality spheres.
For over 50 years we have been offering superior products, custom solutions, and support to businesses nationwide. Based in Charlotte, NC, PSI Power & Controls is your leading provider of pre- and custom-fabricated products that keep your business operating safely and within code.
Contact PSI Power & Controls for:
For further information on products we provide for hospitality and entertainment uses, check our product guides at any time. You can also reach out to our team for answers, or call (704) 594-4107!
Company Switches for Entertainment & Hospitality Industries
Company switches provide fast, efficient, and reliable portable power control suitable for a wide range of applications within the entertainment industry. These pre-wired emergency switching systems make alternating between primary and auxiliary emergency power sources far safer and much faster, allowing your business to keep things going even in the face of a sudden outage. Additional features such as monitoring, color-coded Cam-Lok® cables, and the ability to manage multiple power distribution systems and circuits are ideal for any business, large or small.
PSI Power & Controls Serves Entertainment & Hospitality Industries in Charlotte, NC & Nationwide
When you're looking to keep your business or venue safe and secure, and you want to keep things going smoothly, look to PSI Power & Controls for your emergency power solution needs. We are dedicated to providing superior services and products, and will work with you every step of the way to ensure you get the ideal systems to meet your unique power control needs.
Reach us anytime via email, or call (704) 594-4107 to speak with a PSI Power & Controls product expert!