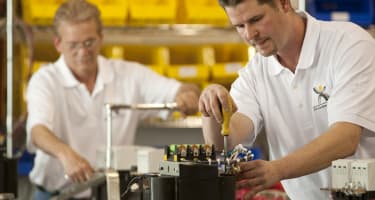 Retail & Grocery
PSI Power & Controls offers a wide range of products to client's within the retail and grocery industries. We understand that the needs of your business are as varied and diverse as the type of business you operate, and we strive to provide custom emergency and auxiliary power solutions suitable for any situation or application. Whether you own a small local grocery store, manage a gas station, or are the head of a major retail business or mall, you can trust PSI Power & Controls for all of your power needs.
Based in Charlotte, NC, we have been the go-to team offering emergency power solutions and products to all industries for over five decades. All of our product offerings are geared toward making emergency and additional power easy and safe to access. We offer both pre- and custom-fabricated products, including:
If you need power solutions for your retail store or grocery business, call on PSI Power & Controls for quality products and superior service. If you need to speak with our team directly, just call (704) 594-4107! 
Generator Tap Boxes for Retail & Grocery
Generator tap boxes are the ideal choice for safely and swiftly connecting your business with alternative or emergency power sources. Tap boxes are mounted either outdoors or in a safely determined indoor area, and pre-wired to essential equipment and emergency systems. In the event of an outage within your store, power can be safely switched either automatically, or with the touch of a switch.
Automatic & Manual Transfer Switches
Transfer switches are responsible for switching between primary and auxiliary power sources. Manual switches are cost-efficient and dependable, whereas an automatic transfer switch requires no input and will immediately engage if an outage is detected—either option is substantially safer and quicker than making direct connections via cord.
Custom Control Panels for Retail & Grocery
Custom control panel options from PSI Power & Controls aim to meet your need for precise power distribution, monitoring, and control completely. All of our locations are certified for UL508A / CUL 508A and are ISO 9001 certified, making PSI Power & Controls your ideal source for custom panels. We can work with a provided schematic, or our design team can generate a unique solution according to your business's requirements.
PSI Power & Controls Serves Retail & Grocery Businesses in Charlotte, NC & Nationwide
When safety, security, and superior electrical access are your priorities, look to PSI Power & Controls for your electrical access needs. Our broad range of products is ideal for any need, whether you're looking for emergency power solutions or easy access to secondary power in order to perform maintenance.
Need assistance in finding the correct product to suit your needs? Our product guides offer complete details, and you can reach a PSI Power & Controls team member at any time by calling (704) 594-4107!