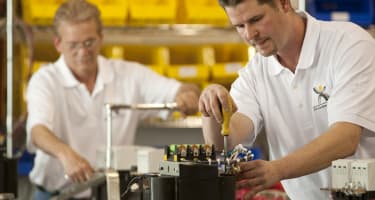 Emergency Power Services
Your Go-To Partner for Commercial Emergency Power Solutions
Reliable access to power is necessary for owning, operating, or managing a commercial business. Power loss can result in productivity loss at best, and at worst, in more sensitive industries, it can impact the health and safety of patients, clients, and employees.
At PSI Power & Controls, we understand the intricacies of keeping a business running smoothly and the vital role that emergency and primary power sources can play in your daily operations.
Our diverse offering of custom and prefabricated emergency power products and systems will ensure your commercial business is prepared to deal with an outage or unplanned shutdown. For years, our teams have offered durable, reliable, and fully customizable products according to each client's needs.
Check out our product guide to learn more about our emergency power offerings for retail stores, warehouses, industrial facilities, and more.
PSI Power & Controls Offers an Array of Emergency Power Products 
Manual & Automatic Transfer Switches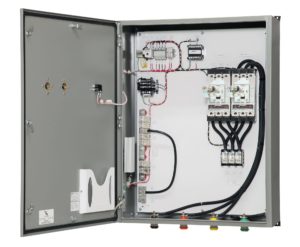 Whether you use a portable generator for as-needed emergency power or a fully integrated standby generator, regaining power and switching to your auxiliary source must be swift and safe.
Our manual and automatic switches connect your circuits with a predetermined setup and can swap to generator power in seconds with no dangerous manual connecting or personnel input required.
Manual transfer switches are an efficient and effective option for safe emergency power access. Though they need to be engaged by hand (via switch or lever), all connections are already established, making switching to generator power fast and nearly effortless.
Automatic transfer switches operate within a fraction of a second once primary power has been lost, making these the ideal choice for businesses with equipment that cannot be offline for any amount of time. We recommend ATS products for hospitals, emergency centers, educational facilities, and industrial and manufacturing businesses where potentially dangerous equipment is routinely used.
Generator Tap Boxes from PSI Power & Controls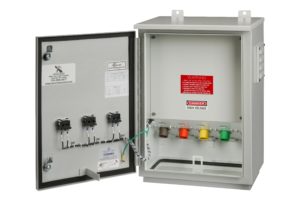 Used in conjunction with a manual or automatic transfer switch, our generator tap box systems offer an efficient means of regaining power at a moment's notice. Your tap box can be mounted on a building's exterior and used to pre-route circuits that need to stay operational at all times.
Need something more specialized? Contact PSI Power & Controls for company switches as well — systems that offer simple auxiliary power distribution and control during outages.
Safety Switches & Disconnect Switches
Sometimes an emergency power solution aims at swiftly removing a source rather than changing to one. If your business relies on heavy industrial tools or systems that require routine maintenance or need access to an immediate safety disconnect, PSI Power & Controls has you covered.
Our diverse range of switches and disconnects are available in fusible and non-fusible formats according to your needs and NEC code requirements for your particular systems and equipment.
Unsure what safety switches you're looking for or need for your business?
Contact the emergency power product specialists at PSI Power & Controls.
Emergency Power Products for Industrial Businesses
At PSI Power & Controls, our goal has always been to offer clients a diverse range of products and services. We understand that the needs of each client will differ from others, so we provide the most comprehensive range of solutions possible.
Whether you know what you need or are looking for guidance, you can trust the product specialists at PSI Power & Controls.