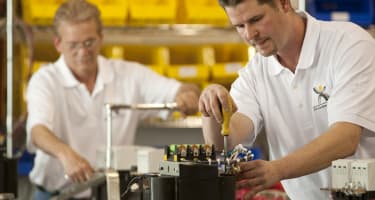 What Is a Safety Switch (Disconnect Switch)?
A safety switch (also known as a "disconnect switch," or "load break switch") serves multiple purposes, but its primary functions are to function as a disconnect means for a service entrance and a disconnect means and fault protection for motors (heavy machinery).
What does this mean? Safety switches are primarily used to disconnect manufacturing equipment and heavy machinery from its power source. You may need to disconnect your equipment from its electrical supply for a variety of reasons, including:
Repairs
Maintenance
Emergency stoppage
Safety switches are a NEC requirement (National Electrical Code) in all industrial or manufacturing facilities established by the National Fire Protection Association. According to NEC article 430.102B, a safety switch must be in sight from all motors or manufacturing equipment. The NEC defines "in sight" as visible and not more than 50 feet from the equipment it controls.
There are multiple types of disconnect switches available, depending on the conditions inside your working environment. At PSI Power & Controls, our we offer fusible safety switch/disconnects with a NEMA 4 enclosure or NEMA 4X enclosure and non-fusible safety switch/disconnects with NEMA 4 or 4X enclosures.
Fusible vs. Non-Fusible Safety Switches
One of the most common questions about safety switches is, "What is the difference between fusible and non-fusible safety switches?" For both fusible and non-fusible safety switches, when the circuit is opened, the safety switch disconnects the load from its source of electrical power, while closing the circuit reconnects the load.
Fusible safety switches combine fuses with the switch in a single enclosure, providing an easy means to manually open and close the circuit while the fuses protect against overcurrent.
Non-fusible safety switches do not incorporate any fuses into their enclosure and provide no circuit protection capability. The sole purpose of a non-fusible safety switch is to provide an easy means to open and close a circuit.
What Protection Do Safety Switches Offer?
Safety switches are reliable and provide safety to your property and your personnel in addition to providing:
Protection against overcurrent
Protection against circuit overloads
Protection against short circuiting
Protection against heat-generated damage
Safety switches are designed to interrupt the power in the event of a single fault in the circuit.
Purchase a Safety Switch/Disconnect from PSI Power & Controls
At PSI, we offer a variety of heavy duty safety switches and disconnect switches, including:
Click to learn about NEMA enclosure types »
If you need a safety switch you can rely on there's only one name you need to know—PSI Power & Controls!

Call us to speak with one of our safety switch experts, or contact us online!
You May Also Be Interested In: