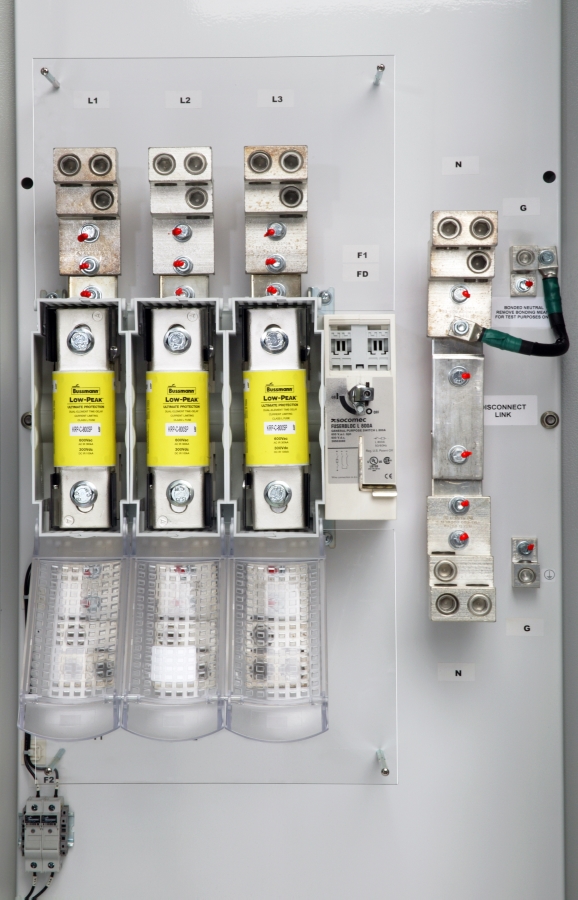 Option to Install Fuses in PSI Switch
| | |
| --- | --- |
| Amps | |
| Voltage Selection | |
| Number of Poles for Switch | |
208-480 Volt fuses are Class J 30-600 Amps Time Delay 200kAIC 600Vac Max
480 Volt fuses are Class L 800-3000 Amps Time Delay 200kAIC 600Vac Max

Description
Added fuses compound protective measures for your commercial and industrial tools, providing a precise overcurrent prevention in a cost-efficient and simple means. All safety and disconnect switches custom fabricated by PSI Power & Controls come in both fusible and non-fusible configurations, and should it be required, requested, or stipulated by NEC code, we will provide and install fuses as necessary.
Fuses are available for 2, 3, and 4 pole configured safety disconnect switches and are time-delay versions. All fuses provided and installed by PSI Power & Controls UL listed and certified.
208-480 volt Class J fuses are available in 30-600 amps suitable for interrupting a minimum of 200,000 AIC (ampere interrupting capacity)
480 volt Class L fuses available in 800-3000 amp ranges and are suitable for interrupting 200,000 AIC (ampere interrupting capacity).
Product Usage
Fuses are a safe and efficient method of providing fault protection for a wide range of mechanical and electrical applications. In the event of an overcurrent, the fuse will detect the incoming excess current and the filament or contact will rapidly melt. When the contact has been eroded completely (a process that takes mere milliseconds), the fuse will "blow" and power to the protected device will cease flow completely. In the case of a fused disconnect, the blown fuse will engage the disconnect, prompting the electrical protection device to route power away from the device.
Adding fuses is ideal in a wide range of business and industrial sectors, providing added safety for client's, employees, and material assets. PSI Power & Controls offers added fuse options effective for: HVAC and refrigeration, manufacturing equipment, medical equipment, gas pumps and fuel gauges, testing and maintenance equipment, mechanical process, and more.
Our manual transfer switch with a rotary switch, combination manual transfer switch, and disconnect switch can all be fused if needed.
Do I Need Fuses in a Disconnect Switch?
Though the question is often treated as preference or near-equivalence between fused and non-fusible disconnects, the reality is closer to being dependent upon the exact appliance or application in question. In many cases, your machine or tool will stipulate whether or not added fuses are necessary, and in these cases, the choice becomes simple.
There are also niche situations where added fuses are desirable, such as lacking overcurrent protection innately in the circuit in question. For your best answer, it is advised that you speak with a professional who can give you a decisive answer. Should you need guidance on the issue, the specialists and product experts at PSI Power & Controls will be glad to assist.