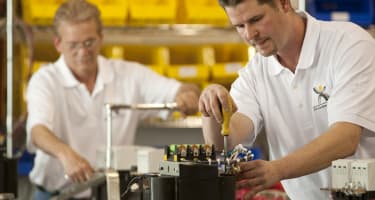 Why Do I Need a Disconnect Switch?
Disconnect Switches
Safety is a critical factor for absolutely every aspect of human life, and that goes doubly so for your business! Personnel, associates, and even the safety of your equipment and electrical appliances is vital, meaning you need solutions in place that protect you from the occurrence of incidents and dangers. To meet that need, PSI Power & Controls offers industry-leading safety switches to mitigate common risks associated with electrical dangers.
PSI Power & Controls has been in the business of top-class power products for decades and each and every member of our business is totally devoted to ensuring you get the absolute best solutions available. Our disconnect switches are top of the line and provide you with the security your business needs!
Reach out to our team online today to learn more about our disconnect switch products, or to find out how to get the ideal switch for your commercial business.
What Is a Disconnect Switch?
Disconnect or safety (the terms are interchangeable) switches are a simple, yet critical device that protects against common electrical failures and inconsistencies. They are required under the NEC (National Electrical Code). At the first sign of trouble with your business' power supply, the switch instantly disconnects power, preserving your business from a variety of dangers including surges, short-circuits, and potentially harmful overloads.
Safety switches are available in fusible and non-fusible varieties, applicable for different situations and equipment use. At PSI Power & Controls, we offer both fusible and non fusible products to our client's. To find out which suits your needs best, feel free to contact our team at any time to discuss your business' unique needs, or it may be wise to consult an experienced and certified electrician.
Why Do I Need a Disconnect Switch?
There are a couple of core reasons why a disconnect switch is vital to your business, including:
Above all, safety for persons. There is no value to be placed on a human life that is high enough. And when we're talking about a commercial business, we're also talking about a lot of electrical power. Even something as simple as a refrigerator can put out enough power to cause injury—let alone what industrial equipment and generators can do. This is the biggest reason why importance is placed on disconnects.
Equipment safety. The equipment, appliances, and tools your business utilizes on a routine basis are absolutely vital to your productivity. Not only that, they required a considerable investment to produce in the first place! Safety switches protect your equipment as well, ensuring your investments are well cared for in the event of a surge, outage, or similar incident.
Legal parameters. For nearly all applications, the NEC code states a necessity for switches to be compliant with the code. This alone is reason enough, if the issue of safety doesn't sway you!
Disconnect Switches & Product Solutions with PSI Power & Controls in North Carolina
If you're looking to learn more about disconnect switches, or our other products, contact our experts today! We're always available to help and can assist you in getting the perfect safety switch for your needs.