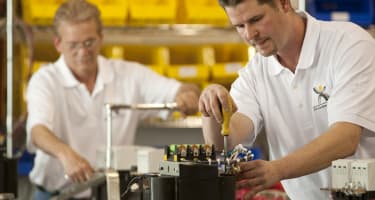 Custom Switchboards
Custom switchboards are the ideal solution for distributing power safely and reliably from emergency or backup generators to facilities like data centers, industrial facilities, commercial buildings, or oil and gas plants. They often feature a housing with circuit breakers, disconnect switches, bus bars, power outputs, and instruments to monitor loads.
At PSI Power & Controls, we feature custom switchboard solutions from our partner company, Salient Power Solutions. Our custom switchboards can be tailored to the needs of the application, with features that aren't common in standard switchboards, like paralleling controls, tap boxes, custom instrumentation, and more.
Our experts can work with your team to create application-specific switchboards that make your generator or power distribution equipment easier to use, safer, and more reliable, and we can incorporate other PSI Power & Controls products like manual or automatic transfer switches, generator docking stations, custom OEM control panels, or generator tap boxes to round out your power distribution system.
Our Salient Power Solutions switchboards are designed to meet UL891 standards, and they're made from high-quality sheet metal enclosures that offer long-term durability and reliability. We offer custom switchboards for generator manufacturers and related industries.
Call (704) 594-4107 today or contact us to learn more about the benefits of a custom switchboard for your generator or emergency power system.
Industries We Serve
Our custom switchboards are ideal for emergency power distribution in industries like:
Data centers
Telecommunications facilities
Industrial facilities
Commercial buildings
Healthcare facilities
Oil and gas plants
Utility providers
And more
Why Choose PSI Power & Controls for Custom Switchboards?
For over 60 years, PSI Power & Controls has provided custom power distribution and control solutions for businesses throughout the United States. We work with top electrical component manufacturers and suppliers to provide rock-solid, reliable hardware our clients can count on for daily use or the most challenging emergency situations.
We offer competitive pricing, on-time delivery, private-label assembly, engineering support, and 12-month material and labor warranties on our products.
Call (704) 594-4107 today or contact us to request a quote for a custom switchboard anywhere in the United States.