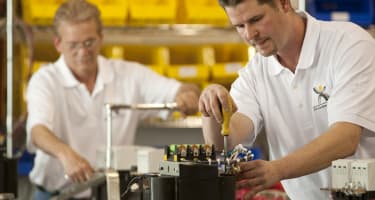 Guide to Transfer Switches For Your Generator
Transfer Switches
When the power goes out, a standby generator allows your business to keep critical systems running so that you can avoid downtime and losses. A transfer switch is required to connect the generator to your electrical system, whether it's to power a few essential circuits or your entire building.
How Does a Transfer Switch Work?
When power is lost, a transfer switch disconnects your building from the utility grid, then connects it to the generator. This prevents your generator from sending power over the utility lines, potentially harming the utility workers who are trying to restore power. There are two basic types of transfer switches: manual transfer switches and automatic transfer switches.
The Advantages of a Manual Transfer Switch
Manual transfer switches are the more affordable option since they lack the relays and the complex electronics of automatic models. They also tend to be more reliable since they use simple mechanical switches. Plus, during outages, those switches can be used to tailor your load to the generator's output.
The downside of manual transfer switches is that you must start the generator yourself, then transfer power using the switches once the generator is ready. This could mean a large delay between the loss of power and the switch to generator power, depending on where the generator is located.
The Advantages of an Automatic Transfer Switch
Automatic transfer switches can automatically detect a power outage, switch the generator on, and transfer your building from grid power to the generator. Many models can be configured to prioritize essential circuits and shut off less important ones when heavy loads are present. This makes the process simple, and for many models, extremely fast. Some automatic transfer switches even allow for uninterrupted power, using make-before-break switches that leave both power sources connected for a fraction of a second. In facilities like hospitals, this keeps lifesaving medical devices running constantly, or in data centers, it prevents data loss and hardware damage.
The primary disadvantage of an automatic transfer switch is its cost. It is significantly more expensive than a manual transfer switch of a similar capacity, plus it tends to be less reliable due to its complex electronics and electromechanical relays.
Which Should You Choose?
If a minor delay while switching power is not an issue, and you don't mind manually transferring the power from the grid to the generator and back, a manual transfer switch can be far more reliable and less costly.
If you have critical equipment that needs near-constant power, or you simply want the convenience of automatic operation, the automatic transfer switch will be well worth the cost.
Is a Transfer Switch Necessary?
If you are permanently connecting the standby generator to your electrical system, a transfer switch is required by the National Electrical Code. Plus, it is far safer for both you and the utility workers to have a permanently installed transfer switch.
Commercial-Grade Automatic & Manual Transfer Switches for U.S. Businesses
When you need a heavy-duty transfer switch for your commercial or industrial facility, turn to our experts at PSI Power & Controls. We offer high-quality automatic transfer switches and manual transfer switches in both single-phase and three-phase configurations. With current ratings that range from several hundred to several thousand amps, we have the ideal transfer switch to meet your power demands. We also offer a full line of generator accessories, including docking stations, load banks, power meters, tap boxes, and more.
Call (704) 594-4107 or contact us online to learn more about our transfer switches and accessories.