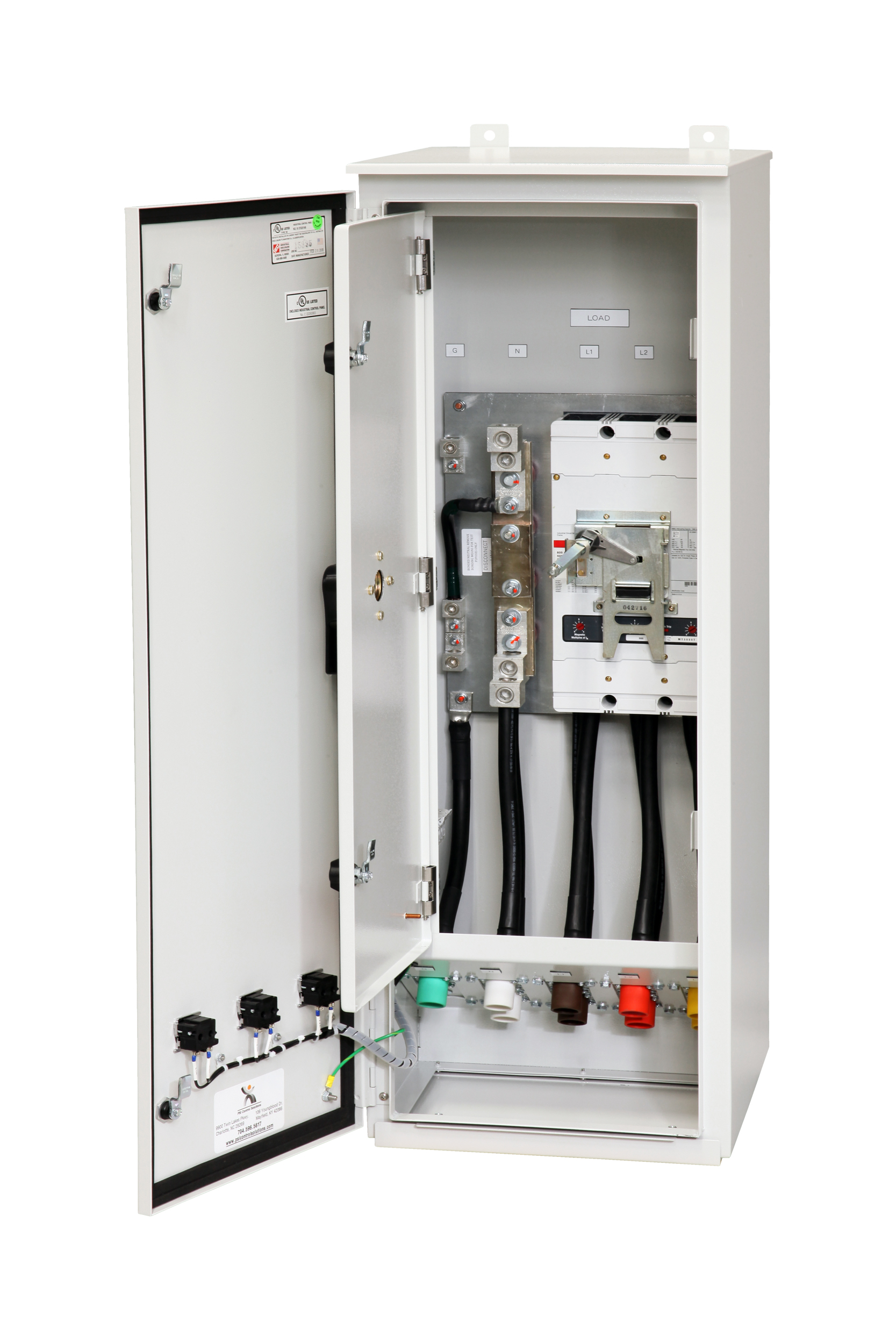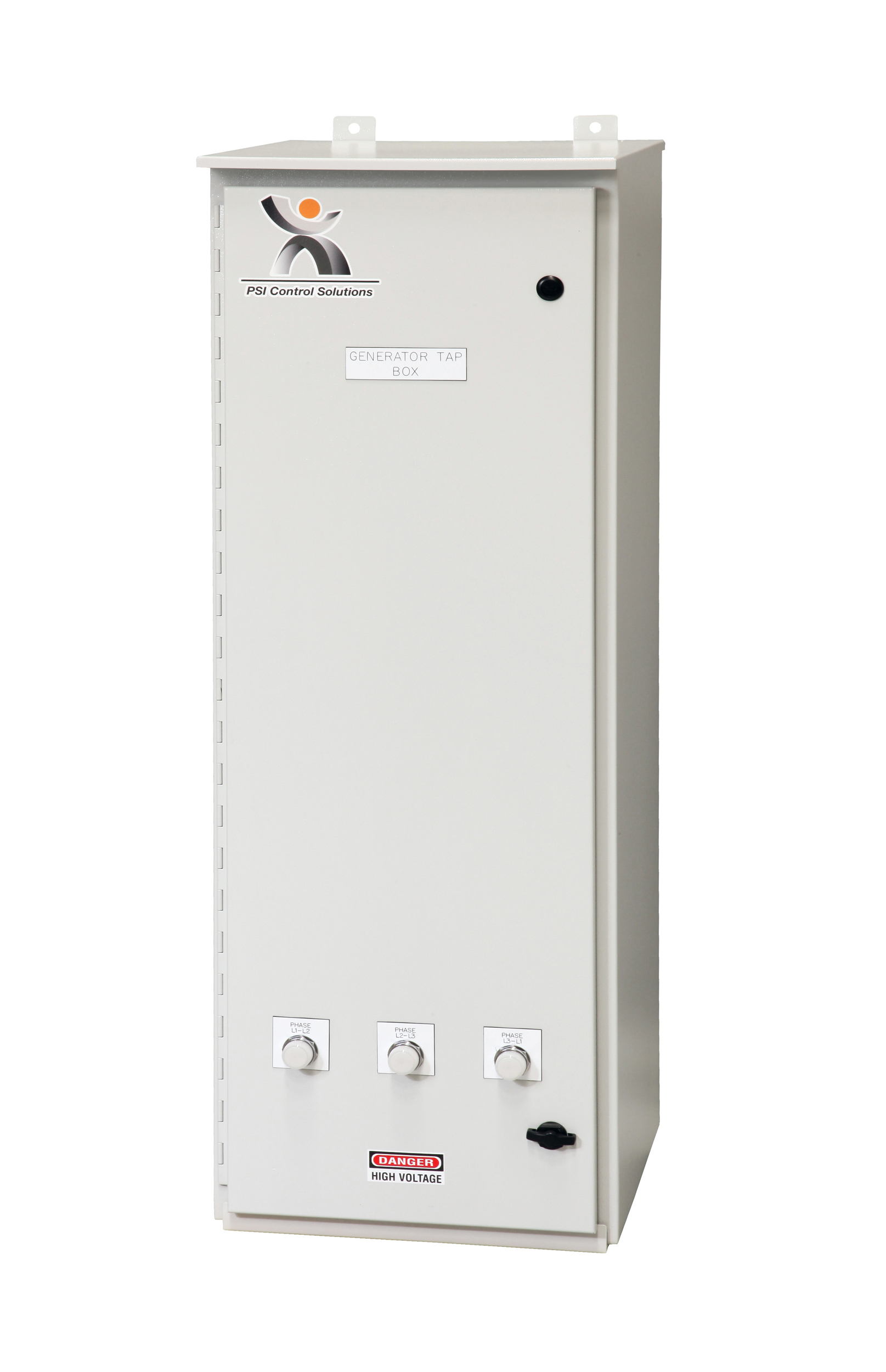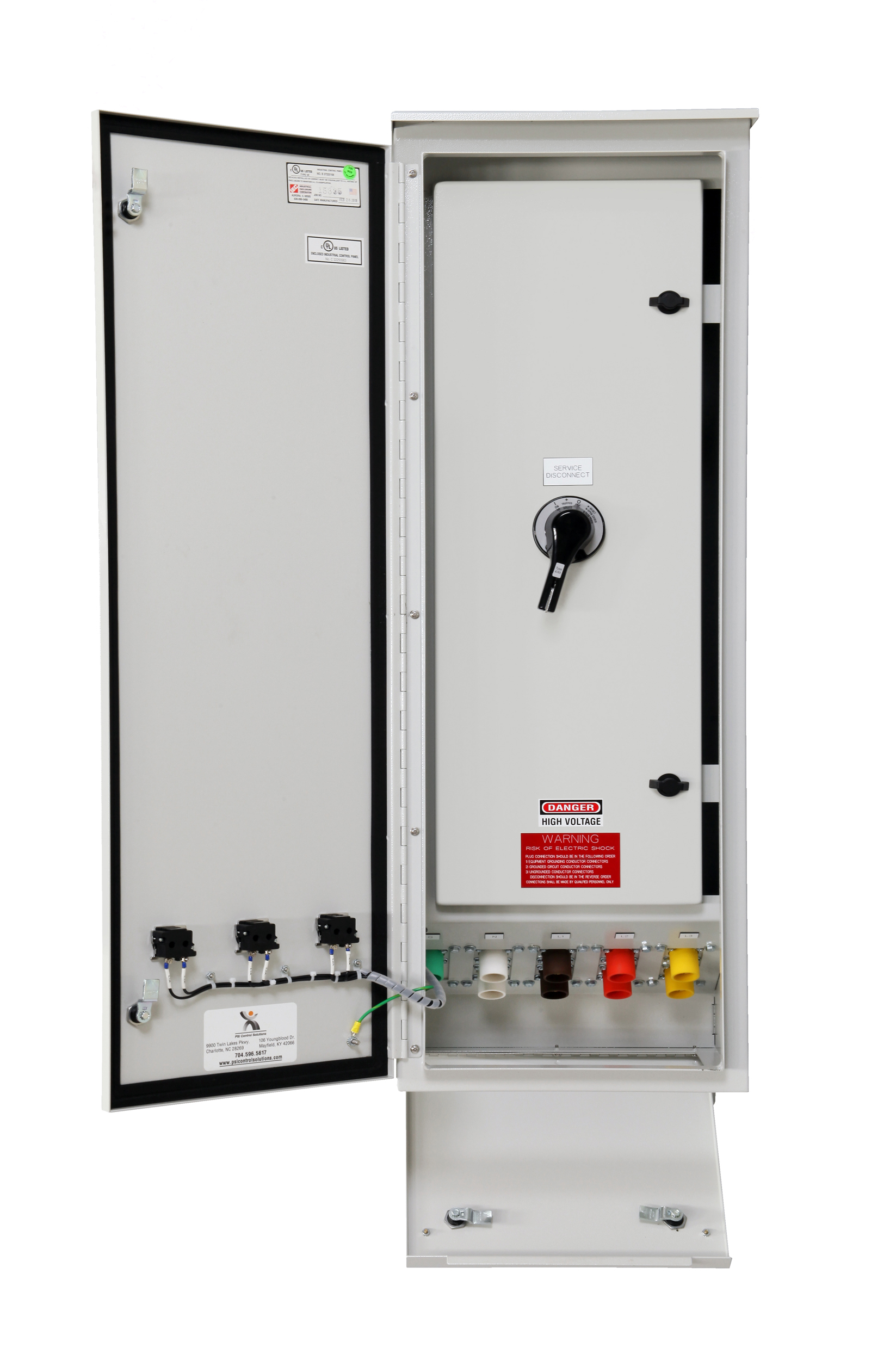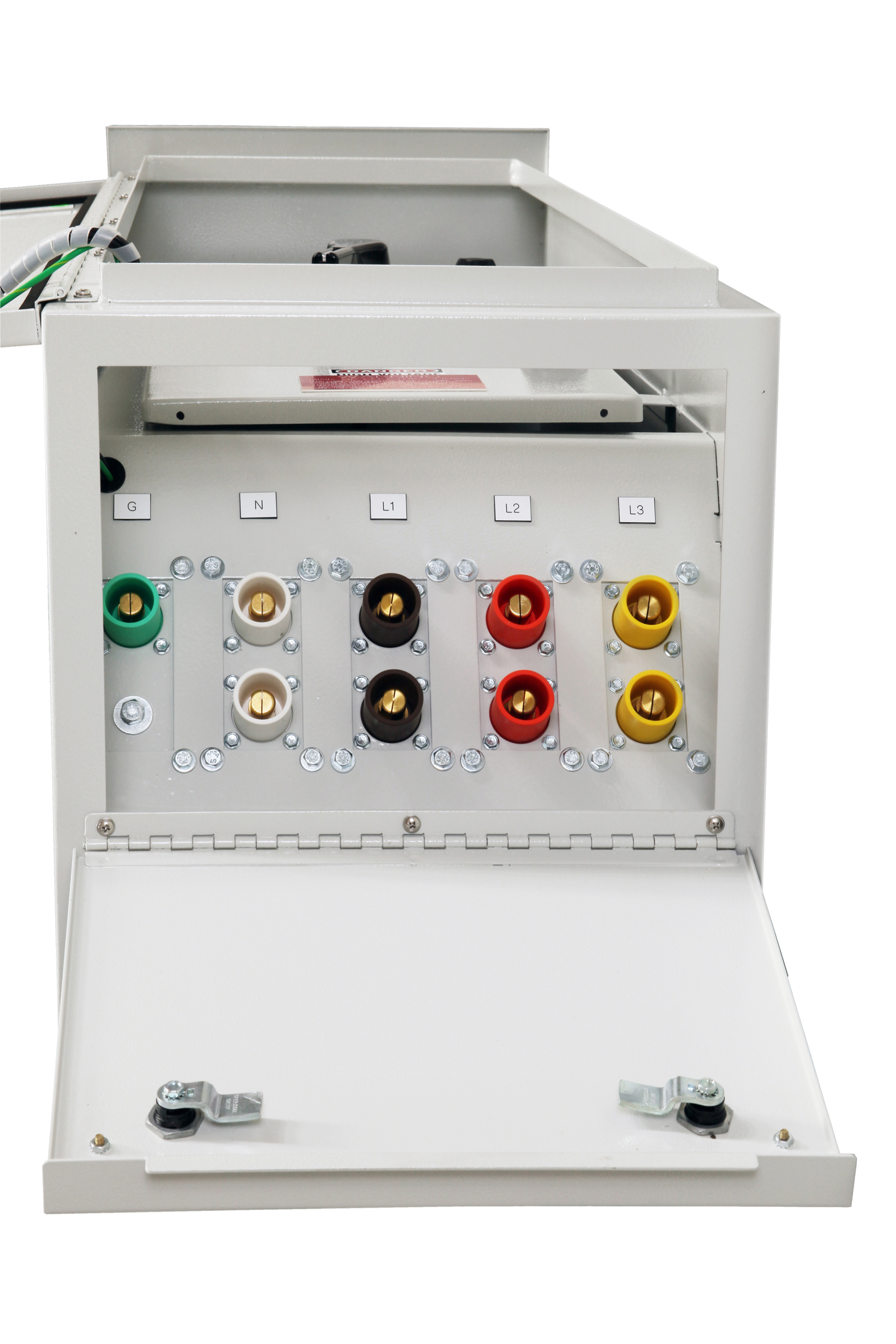 Generator Docking Station with Main Breaker
Amps
Cam-Lok Receptacle Gender
Enclosure
Voltage Selection
Add-On Options:
Phase Reversal, Loss, and Undervoltage Protection Relay 400 or 800 Amps
Trumeter

PSI's Generator Tap Boxes are cETLus listed to UL standard 1008, and CSA C22.2 #178.1
Our Generator Docking Station with Main Breaker has all the benefits of a generator docking station with the added benefit of a molded case main circuit breaker to provide short circuit protection. Built with a NEMA 3R Enclosure, the breaker is cabled to CAM Lock receptacles with 4/0 AWG DLO cable and the bottom door is interlocked with the main door. This feature allows access to the CAM Lock receptacles only when the main door has been unlocked and opened. In addition, there is a rotary disconnect mounted on a dead front door behind the main enclosure door to turn the breaker on or off.  This combination comes with three Phase LED Pilot Lights L3-L1 L2-L3 L1-L2 with fuse protection installed. Neutral and ground bars installed as standard  
The circuit breakers are rated for the following:
Amps    208-240 Volts    480 Volts    575-600 Volts
200        100kAIC                  65kAIC         25kAIC
400       100kAIC                  65kAIC         35kAIC
600       100kAIC                  65kAIC         35kAIC
800      100kAIC                   65kAIC         35kAIC

Description
The generator docking station with included main breaker offered by PSI Power & Controls offers a commercial business fast and safe means of connecting with auxiliary emergency power sources efficiently. With the docking station installed and in place, all that is needed is to connect the portable generator by means of Cam-Lok® cables and power the generator to enable swift access to emergency power suitable for powering limited ranges of circuitry and equipment.
The docking station comes in available amperage ranges from 200-800 (200, 400, 600, 800) as per the client's specific needs. Each product is cabled at the main breaker via 4/0 AWG DLO cable, and connection receptacles can be customized to match either male connection or female connection configurations. All docking station products come fitted with rotary-style disconnect for quick connection break in the event of an emergency, or to satisfy mechanical maintenance.
The docking station comes protected by way of a NEMA 3R enclosure suitable for outdoor or indoor mounting. The enclosure offers proof against common dirt and debris; water ingress from rain, snow, and hail; and impact resistance, as well as a degree of protection for personnel working near the docking station and connected generator.
Our generator docking station with the main breaker is ideal for a wide range of commercial and industrial businesses, including warehouses, performance halls, food service and hospitality, manufacturing, pharmaceuticals, gas stations and fuel storage centers, and more.
Download Brochure
Product Usage
Docking stations are an ideal and cost-efficient means of providing a commercial business with a no-mess and highly safe means of connecting to portable generators and other temporary power sources. In the event of an outage, the generator or load bank can be connected via installed Cam-Lok® cables and engaged.
The docking station is wired to predetermined circuits in order to prepare for an outage or emergency situation, or for use during common maintenance and repairs. Powered appliances or circuits commonly include HVAC, emergency and standard lighting, refrigeration equipment, PA and communications systems, computers and data banks, and similar systems. This saves time and offers swift emergency power, and also drastically minimizes the risks of connecting a portable generator directly to circuits or without predetermined connections.
Docking stations paired with a main breaker are ideal for businesses with a strict budget regarding emergency power, or for businesses with simplistic emergency electrical needs that fall short of needing a dedicated standby generator.
Drawings
Panel Outline Drawings and Electrical Schematic
Resources
Product Brochure
Terms and Conditions
Accessories
It is our goal to provide client's with ideal power and safety products and custom-fabricated systems. In order to ensure your needs are met, we offer a wide range of additional products and compatible accessories, including:
Testing kits. Testing kits are useful for performing simple maintenance on your chosen product and offer a method of detecting and troubleshooting complications with your docking station early.
Additional Cam-Lok® cables. Additional Cam-Lok® cables are available on request should you need replacements or additional cables for extra connections. Cables are color-coded and available in all standard male and female connection configurations.
Mounting hardware. PSI Power & Controls products come with all necessary mounting hardware, however, should you need replacement or additional hardware, it is available upon request.