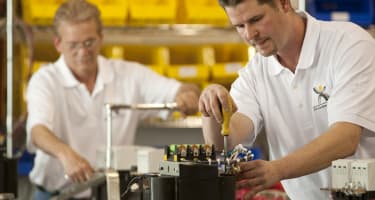 Cam-Lok® Connector Colors: What Do They Mean?
Cam Lok Cables
When browsing through our Cam-Lok® power cables, you may notice the connectors come in various colors. But what do the colors indicate?
The colors actually correspond to the different functions of the terminals. These different color indications are important, because the user should always verify the correct phase in relation to color coordination. The common American colors are green, white, black, red, and blue.
Are the Colors Determined by NEC?
It's a common misconception that the colors of the Cam-Lok® connectors are established by the National Electric Code (NEC), but this isn't the case. The NEC only requires that green must be used solely for the Equipment Grounding Conductor, and that white or grey are used for the Neutral conductor. These colors may not be used for any other purpose, nor may their purpose use a different color. Aside from these exceptions, the colors are not specified by the NEC for general power distribution. It's important to note that black was originally used to indicate neutral and is now a phase color. Blue was previously used to denote a phase, but is now used to denote a neutral.
We know this kind of thing can get complicated, so we are always here to answer your questions and help you differentiate between colors. Contact us today for more information!
Why Choose PSI?
For more than 25 years, our Charlotte-based company has offered reliable electrical solutions. If you're ready to invest in a Cam-Lok® power cable, contact PSI Power & Controls today! We will answer all your questions and help you choose the perfect product for your specific application.
Not sure what equipment you need? Give us a call—704-594-4107!