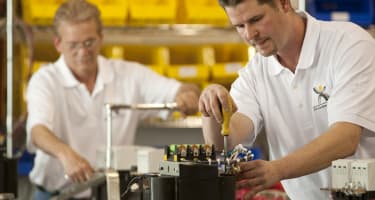 Safety Switches/Disconnects FAQ
What is a safety switch?
A safety switch is designed to turn off the electricity automatically if a fault is detected. This is very important, because it reduces the risk of injuries due to electrical issues.
How does a safety switch work?
A safety switch either consists of a switch by itself or a switch and a fuse or multiple fuses. The enclosure provides protection by preventing contact with electrical equipment, ensuring you don't get hurt in the event of an emergency or faulty wiring.
Why choose PSI for safety switches?
Because safety switches protect you from possible injuries, you should always choose a reliable company when ordering these products. When you choose PSI Power & Controls for your safety switches, you'll receive:
Design, test, and programming expertise
Auto CAD layout drawings
Auto CAD electrical schematics
SOLIDWORKS 3D modeling and design
PLC programming and development
Equipment built to UL508A and cUL508A standards
High capacity (over 60,000 square feet of manufacturing space)
Order a Safety Switch/Disconnect with PSI Power & Controls
Call PSI Power & Controls or contact us online to talk with an engineer and learn which safety switch is correct for your business.