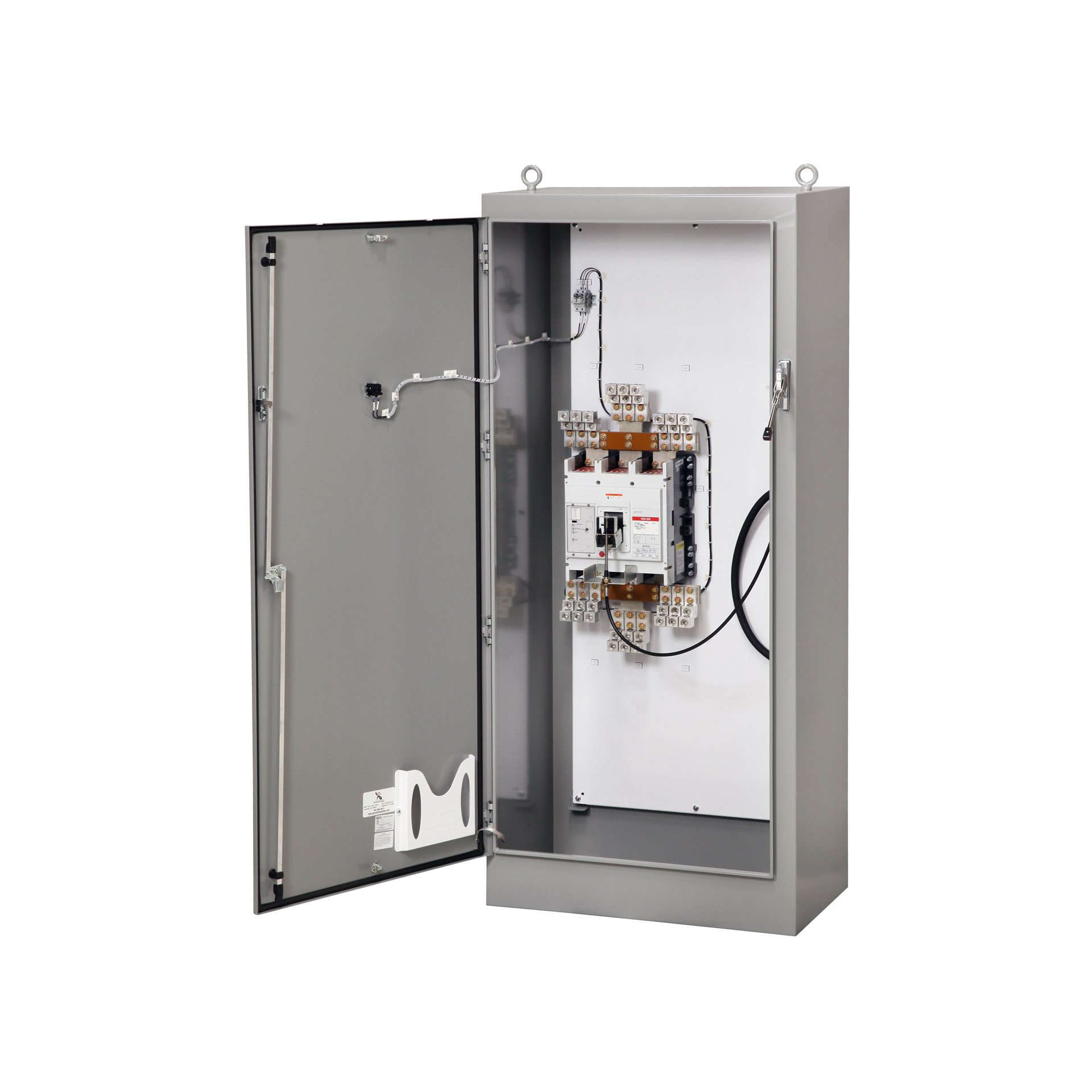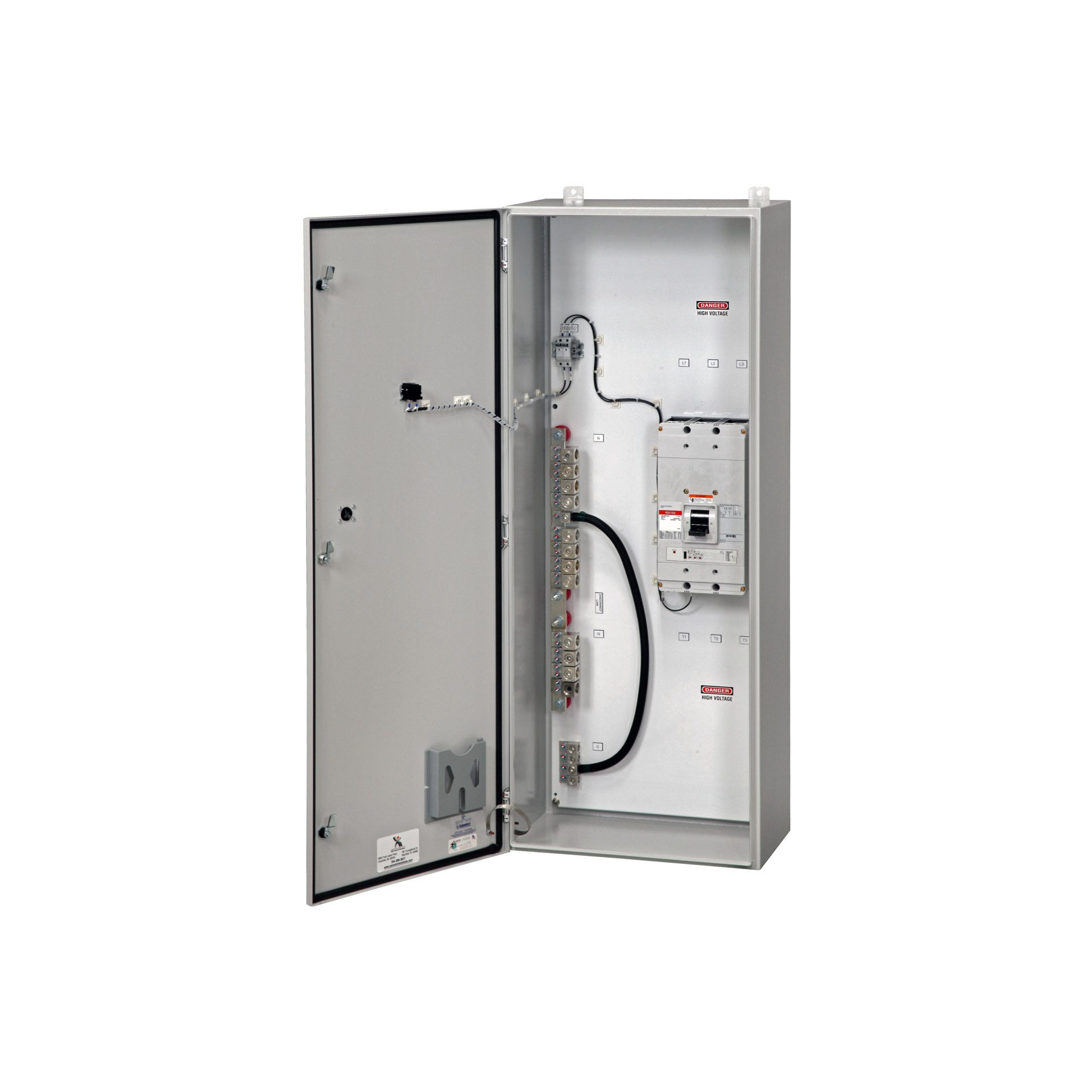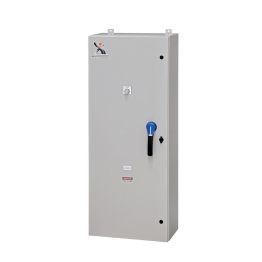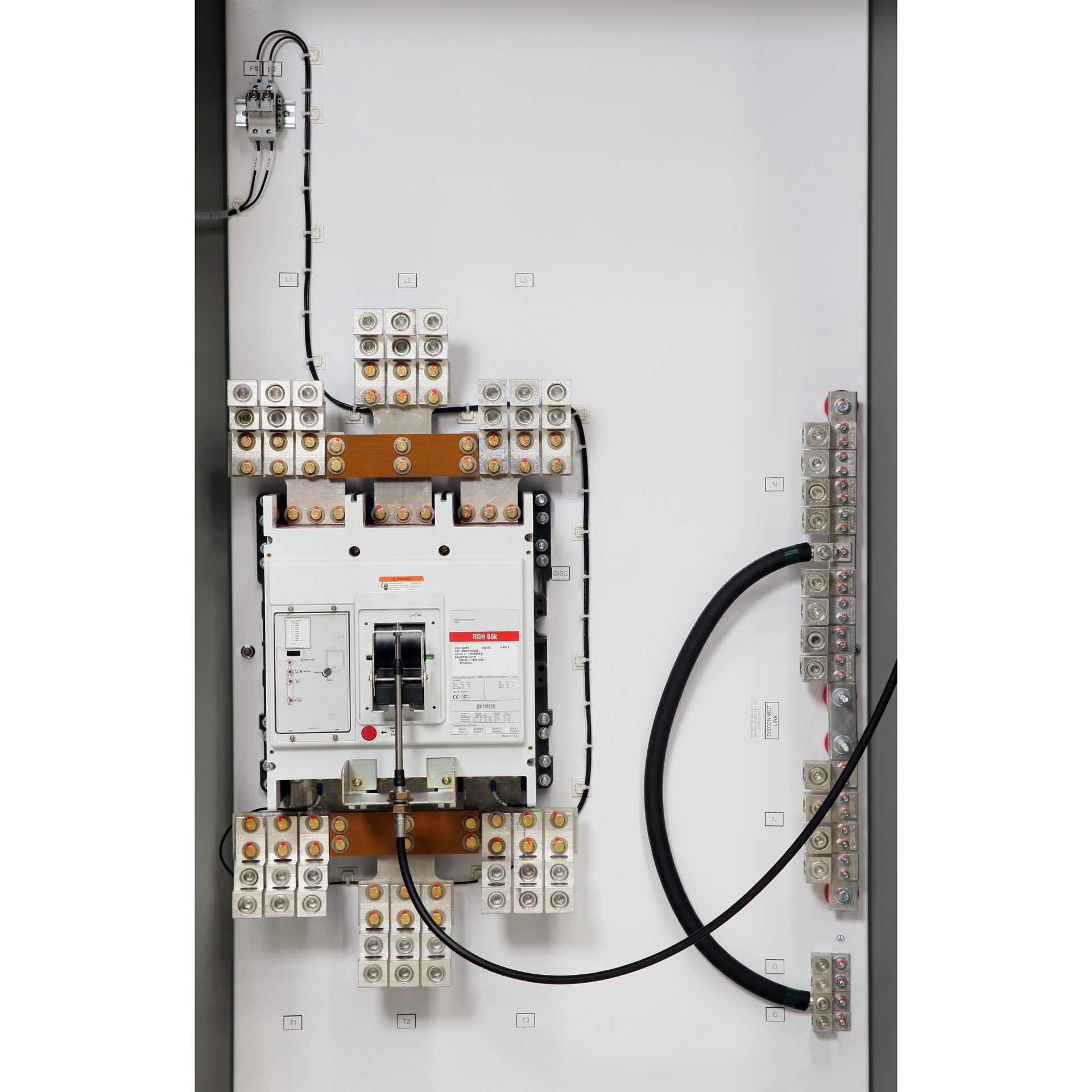 Enclosed Circuit Breakers
Enclosure
Amps
kAIC Breaker Rating @ 480 Volts
Breaker Disconnect Handle Type
Breaker % Rating
Add-On Options:
Trumeter
About NEMA Standards
When it comes to electrical enclosures, it's imperative to know the level of protection required. NEMA 4 and NEMA 4X are standards established for enclosures that house electrical components.
NEMA 4
Available in a range of sizes, styles, materials, and colors, NEMA 4 enclosures and boxes are indoor and outdoor solutions for watertight electrical applications. One of the highest levels of enclosure protection, NEMA 4 offers:
A degree of protection against windblown rain and dust.
Ice formation damage protection.
Protection of electrical components from splashing or hose-directed water.
Protection from the intrusion of solid foreign objects such as falling dirt.
Custom options include cutouts, pre-punched holes, insulation, lift-off hinges, latches, locks, and more.
NEMA 4 enclosures are a smart, cost-effective solution that provides high-quality electrical component protection for all your equipment.
NEMA 4X
A subset of the NEMA 4 rating, NEMA 4X provides the same level of protection offered by NEMA 4, while also providing additional protection against corrosion above and beyond that of NEMA 4. NEMA 4X enclosures are available in a number of styles for various applications and can be customized to your exact needs.
NEMA 4X enclosures:
Are primarily intended for outdoor and offshore applications but can also be used indoors.
Help to protect personnel by limiting access to hazardous parts.
Provide a degree of protection of enclosed equipment against solid foreign object intrusion such as windblown dust.
Protect against damage from the external formation of ice on the box or enclosure.
Provide equipment with a degree of protection from the harmful effects of water, rain, sleet, snow, hose-directed water, and splashing water.
Common applications for both NEMA 4 and NEMA 4X enclosures include:
Standard IT networking connection and equipment.
Automation electronics for non-explosive and non-corrosive processes such as transportation signal controls.
Telecommunications distribution.
Security equipment.
The National Electrical Manufacturers Association (NEMA) was founded in 1926 and is made up of business leaders, engineers, electrical experts, technicians, and scientists who consider NEMA standards to play a vital role in the design, production, and distribution of products for national and international commerce. They regularly participate with trained NEMA staff in a neutral forum where they discuss industry-wide concerns and objectives.
Business leaders believe standardization helps businesses reduce costs, streamline operations, expand markets, and boost revenue.
Want more information on NEMA 4 and NEMA 4X standards? PSI Power & Controls? Contact PSI Power & Controls online today or call us at (704) 594-4107.
For enclosed circuit breakers 1000 amps or greater and 480 volts, please contact PSI Power & Controls. This scenario requires a ground fault relay.
Description
Enclosed custom circuit breakers offered by PSI Power & Controls are ideal for protecting circuits, equipment, and personnel from potential electrical hazards caused by overloading and short-circuiting. When an electrical current would exceed the designated safe quantity, your enclosed breaker will break electrical connection and halt the current within a fraction of a second, providing ideal means of safe and sure disconnect.
The product is available in NEMA 4X 316 stainless steel and special NEMA 4/12. Both offered enclosure types are rated for indoor or outdoor use, and are effective in protecting the circuit breakers from rain, directed water spray, snow and ice formation, and dirt or other common small particle matter ingress. Manual direct disconnect handle options are available as a rotary switch through the door or flange flex shaft.
Amperage ratings available include ranges starting at 200 and reaching ranges as high as 2000. For applications in excess of 1000 amps (rated at a standard 480v), please contact PSI Power & Controls directly for a custom ground fault relay. Circuit interrupting capacities offered by this product include kAIC (thousand ampere interrupting capacity) at 35kAIC, 65kAIC, and 100kAIC. Available breaker percentage ratings include standard 100% and NEC-mandated 80% in accordance with your application and needs.
Product Usage
Our enclosed circuit breakers offer customers all the benefits and flexibility inherent in a traditional custom built circuit breaker, packaged in a flexible configuration compatible with most applications requiring a safe means of disconnect. Common applications include surge protection, management of backup generators, circuit protection when using alternative energy, motor controls, and general ease-of-use in disconnection.
Enclosed circuit breakers and the associated electrical systems into which they're installed should be installed and maintained with utmost caution by experienced professionals. Make sure anyone interacting with your system is thoroughly apprised of the components in the system and familiar with the manufacturer provided documentation on safety and operation. Current and potential future applications should be considered during the installation process, to avoid creating problems when adding later components to your electrical system.
To achieve optimal performance from your enclosed circuit breaker, make sure you match the needs of your system accurately to your circuit breaker. A mismatch between system requirements and your breaker can result in high levels of inefficiency, early degradation of system components, and other forms of waste, even in cases where the problem does not create a safety hazard. Regular checkups and maintenance of worn or oxidized components can additionally improve the efficiency and safety of your system, preventing early wear or wasted power over time.
Drawings
Select the specifications that match your desired product to download the drawings.
Rotary Handle Disconnect Enclosed Circuit Breaker NEMA 4/12 or NEMA 4X 316 Stainless Steel
Flange Disconnect Handle Enclosed Circuit Breaker NEMA 4/12 or NEMA 4X 316 Stainless Steel
Resources
Product Brochure
Terms and Conditions
Accessories
In addition to custom products like our enclosed circuit breakers, PSI Power & Controls offers a range of accessories and effective supplementary products in order to fully meet the needs of our client's. Offered accessories for this product include:
Cam-Lok® power cables. Cam-Lok® cables are color-coded to easy circuit hookup and simple identification. Additional cables are available in M/M, M/F, F/F options in accordance with your application needs.
Mounting hardware. PSI products come with simple mounting and connection hardware. Additional hardware is available upon request.
Enclosure accessories. Replacement locking mechanisms, hinges and mounting tools, as well as other replacement components and added features are available.
Replacement components. Replacement components are available upon request, offering you easy access to the items necessary for repairs, replacement, and in order to keep your product operating optimally.
Alarms. Wiring alarms to indicate active or unsafe connections.