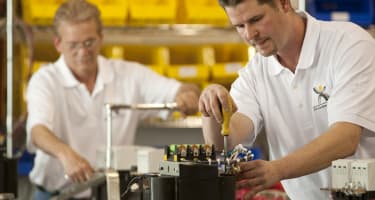 How Do You Size a Motor Starter?
Motor Starter
The team at PSI Power & Controls is wholly dedicated to ensuring access to superior power supply and safety equipment for commercial businesses nationwide. And in order to ensure you only get the best solutions and products for your business, we often like to provide detailed information regarding some of our products, such as the motor starter.
Correctly sizing your motor starter is critical, as without an appropriately sized starter you could be getting little to no benefit—the starter may be too powerful or it may even fail to be compatible at all. Follow along with our team as we help you to understand a) what a motor starter is, and b) how to size one successfully to suit your business' needs!
PSI Power & Controls has been supplying superior motor starters and power equipment to commercial businesses for decades! We carry all of the knowledge and experience you need to ensure you get the right motor starter. Contact us today to learn more!
What Are Motor Starters?
In essence, a motor starter is a safety feature integrated into your motor. When motors are first started up they incur a very large load of power. Normally this ebbs over a brief period of time and is often barely noticed. However, that sudden jolt of electrical power can do serious harm, both to your equipment, and potentially to nearby personnel.
A motor starter first controls that initial burst of power, decreasing it and "softening" its impact on your machine. Once the generator has normalized, the motor starter assists in governing the current generated by your equipment, which helps to improve the function of your generator and preserves safety.
Additionally, a motor starter will fail-safe your generator. The starter carefully monitors that available current in your equipment, and if the safe capacity is exceeded, the starter will shut down the generator.
How Do I Size a Motor Starter?
Accurately sizing your starter can be a little bit complex if you're unfamiliar with them. A few major factors have to be taken into account, including:
The load capacity (wattage) of your generator
They type of motor you are getting the starter for
And the network your starter will be operating on
Finding the load or "size" of your generator is the first and most critical step, as incorrectly sizing your generator will directly lead to incorrectly sizing the starter, resulting in some unneeded equipment purchases. In very simplistic terms, you can get a feel for the load of your generator by knowing its maximum power output, which will tell you the kind of load it can (and will) handle. This gives you a solid base of information when you begin shopping for motor starter products.
The type of motor starter you intend to use plays a role as well, as each product can provide different functions–everything from very simplistic and basic functions, to the more complex starters that add additional safeties for customer or special generators used in commercial buildings.
Superior Motor Starter Products from PSI Power & Controls in Charlotte, NC
If you need assistance in sizing your motor starter, or assessing your motor starter product needs, the team at PSI is always here to assist. Our team carries extensive knowledge in the industry and can help you to choose the ideal motor starter to meet your needs.
Ready to get the ideal motor starter for your industrial generator? Feel free to contact us online or over the phone at 704-594-4107 today!