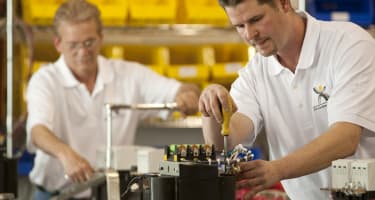 Types of Motor Starters
Motor Starter
At PSI Power & Controls, our objective is to always provide commercial businesses with the highest quality tools available to ensure optimal power usage and assured access to electric power. Motor starters are an excellent tool that we are proud to provide as a means of ensuring the proper and safe usage of your generator power systems. But motor starters come in a variety of types to meet various levels of need.
We are industry leaders in the supply of motor starters for use in industrial generators, and PSI Power & Controls carries all of the knowledge needed to ensure you get the right motor starter for your needs!
What Is a Motor Starter?
To start, understanding what a motor starter is and how it impacts you and your business is integral to choosing the proper type. A motor starter, put very simply, governs the use of electrical power in your generator. When a generator is first activated, it generates a very powerful electric current. Though brief, this current, if not properly handled, can potentially cause serious harm to your business and commercial equipment.
The motor starter performs two functions. One, the starter will decrease and control the current generated upon activation of your generator. Two, the motor starter will regulate and increase the current once your generator has stabilized, improving function and use while also providing protection against an electrical surge. If a surge is detected and the maximum current capacity is exceeded, your motor starter will shut down the generator to preserve safety.
What Are the Types of Motor Starters PSI Offers?
At PSI Power & Controls, we handle three major product types when it comes to motor starters: wye-delta open transmission, soft-start solid state, and wye-delta starter OEM. How do these differ, and which suits your needs? Let's elaborate:
Wye-delta open transmission. This is a somewhat standard electromagnetic starter system designed to safely reduce voltage in the operation of major commercial equipment. The system is suitable for and often implemented in the operation of pumps and air compressors.
Soft-start solid state. Often used in most major commercial equipment, a soft start starter motor is a RVS (reduced voltage starter) that performs its function through the use of a fluid, magnetic forces, or steel shot to lower start up current and control torque. Soft-start motor starters are often used in conveyor systems, generator use, and other general purpose functions. PSI Soft Starters include SCR's, Overload Relay, and By-Pass Contactor.
Wye-delta starter OEM. A wye-delta starter system featuring sub-panel mounting, 120 volt coils, and a starter wye-delta timer system for control systems that do not incorporate timer functions initially.
Motor Starter Solutions with PSI Power & Controls in Charlotte, NC
When you need power supply and motor starter solutions for your commercial business, you can count on the expertise and superior products supplied by PSI Power & Controls! Our family-owned and operated business has been at the top of the industry for years, and we can guarantee products and solutions that suit your every need.
Looking to learn more about our starter motor options? Feel free to contact us online or over the phone at 704-594-4107 any time!