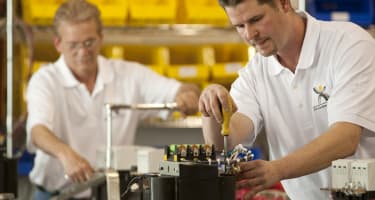 What Is a NEMA Enclosure?
Founded in 1926, NEMA (the National Electrical Manufacturers Association) set out to develop industry standard for electrical manufacturers. Now, the term "NEMA" is most closely associated with NEMA enclosures for electrical components and NEMA ratings.
When mounting an electrical component, such as a manual transfer switch, automatic transfer switch, or electrical control panel, you must make sure its enclosure is suited to protect the equipment from dust, dirt, water leakage, oil drippage, ice, sleet, and any other type of chemical or element it may encounter in its surroundings.
NEMA enclosures help protect your organization's electrical components from damage. At PSI Power & Controls, we offer custom-engineered electrical components and offer all types of NEMA enclosures. Contact us to learn more about NEMA enclosures we offer, or continue reading to learn why you should choose a NEMA enclosure and what benefits they provide.
Benefits of NEMA Enclosures for Electrical Components
Why Should You Choose a NEMA Enclosure?
There are many types of NEMA enclosures, each designated a unique rating that corresponds to the level of protection it offers. NEMA enclosures can protect your organization's electrical components from:
Human contact – All NEMA enclosures protect against human contact. This eliminates any personal injuries due to electrical shock.
Water – Depending on the enclosure type, NEMA enclosures protect against varying degrees of water ingress, including temporary or long-term submersion, a light drizzle, and direct hose water.
Water submersion – Built for hazardous locations, some NEMA enclosures protect against temporary or long-term water submersion. This is ideal for organizations located where hurricanes or frequent flooding occur.
Oil and coolants – NEMA 13 enclosures protect against the dripping or spraying of oil and/or coolants.
Sleet and snow – NEMA 3 enclosures and above protect their enclosed electrical components from wintry elements, including sleet and snow and ensure no interruption in operation during a winter storm or when encased in ice.
Dirt and dust – Dirt and dust constantly collects around your electrical enclosures and components. All NEMA enclosures protect against falling debris (dust and dirt).
Explosions – Some NEMA enclosures designated for hazardous locations (NEMA 7, NEMA 8, NEMA 9, and NEMA 10) will protect against explosions.
Determining the right NEMA enclosure can be difficult and depends on each unique commercial property – industrial facilities , office buildings, etc. – as well as the location of your electrical components (indoors versus outdoors, is it located in a hazardous location?, etc.). Additionally, NEMA enclosures protect against human injuries and early component failure – saving you money in the long run!
Click here to learn more about NEMA enclosure ratings »
NEMA Enclosures from PSI Power & Controls
Not sure what type of NEMA enclosure is right for your business? Call PSI Power & Controls! Our engineers can recommend, design, and build a custom electrical component with the proper NEMA enclosure for you.
Contact us today!