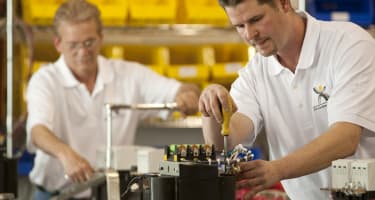 NEMA Enclosure Types
PSI Power & Controls offers a wide array of products and options to help businesses maintain a safe, reliable access to electrical power within your company. We also provide equipment to assist in the safe use of powered systems and tools. And while our products are top-class in both effectiveness and dependability, they likewise require a measure of protection for themselves.
Purchasers and businesses find this security in what are called NEMA enclosures—a protective shell that allows for easy access to transfer switches and control panels while also shielding these products from wear and harm. Today we're going to be helping you understand NEMA enclosures, the types available, and how best to choose your NEMA enclosure according to your needs.
PSI Power & Controls has been offering businesses across the United States the best in power solution for decades. Feel free to contact our professionals at any time directly!
What Is a NEMA Enclosure?
NEMA enclosures are versatile protective boxes that works to shield your sensitive equipment from various forms of damage. The name is directly derived from National Electrical Manufacturers Association, the association that standardized the use and ratings of NEMA enclosures.
There is a wide variety of enclosure types and ratings, each offering varying levels of protection and benefits against different dangers and damage types. Which you choose is typically based on where the equipment will be placed (indoor/outdoor, sheltered or exposed), the type of equipment in question, and what types of dangers it could be exposed to.
Enclosure Types
Types of NEMA enclosures are designated according to various factors, and are denoted by a number scale rating 1-13. The number does not necessarily designate better, but more accurately denotes protection types. Variables are also introduced by way of lettering, an example being that an enclosure with "x" in the type name states that the enclosure is rated to protect against corrosion.
NEMA 1. Protects against human contact (as all enclosure types do), and provides resistance to dirt and debris accumulation.
NEMA 2. A version of the NEMA 1 with added protection against moisture intrusion, through a NEMA 2 is not rated for outdoor use.
NEMA 3R, 3RX. These types are usable in an outdoor setting, and protect against many forms of weather including rain, snow, sleet, etc.
NEMA 3, 3X. A stronger, more reliable variation of the 3R and 3RX, with added protection against water intrusion.
NEMA 4, 4X. NEMA 4 and NEMA 4X enclosures are rated for outdoor or indoor use, and are completely water safe, making cleaning the enclosure with directed water a possibility.
NEMA 6, 6P. Added water safety, allowing for temporary submersion in water safely.
NEMA 7. Indoor use; protects the equipment against minor to moderate explosion risk.
NEMA 8. The same as a NEMA 7, but also rated for use outdoors, and typically utilized in hazardous locations.
NEMA 9. NEMA 9 enclosures are dust ignition proof and intended for indoor use in hazardous locations.
NEMA 10. NEMA 10 enclosures meet MSHA (Mine Safety and Health Administration) standards.
NEMA 12, 12K. These do not include knock-outs, and are a general-purpose use that is protected against water and rust accumulation.
NEMA 13. NEMA 13 enclosures are for general purpose, indoor use. They provide the same benefits and see the same use as NEMA 12 varieties, but also gain protection against coolants and sprayed oils.
Talk to a PSI Power & Controls expert today to learn about our NEMA enclosure options!
NEMA Enclosures from PSI Power & Controls
Not sure what type of NEMA enclosure is right for your business? Call PSI Power & Controls! Our engineers can recommend, design, and build a custom electrical component with the proper NEMA enclosure for you.
Contact us today!