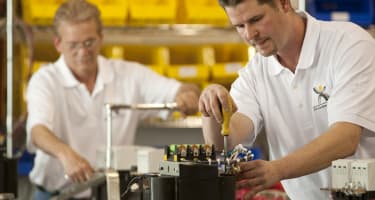 Generator Tap Box Safety Tips
Generator Tap Boxes
A generator tap box can be crucial to ensuring your business is protected in the event of an outage. Whether for temporary purposes, or long-term, the tap box quickly and effectively makes the connection between your portable generator and the electrically-operated aspects of your structure. But, like any tool or piece of equipment that utilizes electricity, there are some inherent dangers in play if things are handled incorrectly.
Beyond providing excellence and quality, PSI Power & Controls is dedicated to the safety of those who utilize our products. To ensure optimal use of the tap box, and the safety of anyone involved, we've detailed a brief list of tips for you to employ.
Tap Box Safety Tips
Much of this is fairly straightforward, but all aspects of safety are of the utmost importance. Consider these tips when operating a generator tap box:
Familiarize yourself with the manual. No two models of anything are exactly the same, and understanding the specifics of equipment is key to appropriate operation. It may feel like this should go without saying, but you might be surprised by how often a little booklet can be overlooked!
Be sure your tap box is equipped to meet your needs. Electrical load and the size of your commercial structure play important roles in deciding on your tap box needs. Be sure you've got the appropriate installation, otherwise it may not function properly, or may even create electrical issues.
Never operate a portable generator indoors. This includes any enclosed spaces where persons may be present. Portable generators generate Carbon Monoxide, and can build up rapidly in spaces whether small or large. This can lead to asphyxiation or incapacitation in very little time, and should be avoided at all costs.
Avoid moisture and dampness. When in proper condition, a tap box is very safe. But you never know when a small, nearly imperceptible cut or loose connection may present an issue. Never utilize a tap box when wet, or when the tap box has been dampened for any reason. Be sure that your generator tap box is housed in a location that has no chance of coming into contact with water or other liquids.
Address electrical or connection concerns immediately. The primary importance of your generator tap box is to address unanticipated complications. If you've noted any issues (flickering, failure to switch), have them addressed by an electrician immediately. Any imperfection could lead to a failure to operate at the least, and a potential disaster at worst.
Quality and Reliability with PSI Power & Controls
As a family-owned business, PSI Power & Controls makes consumer satisfaction a top priority. We've been providing unparalleled quality and service for generations, and the dependability of our products is beyond reproach. Add in competitive pricing, and perfect delivery, and you have the secret to our fifty years of success! For more on our products and solutions, feel free to visit us online.
Have questions? Our seasoned experts have answers! Feel free to reach out to us at 704-594-4107.