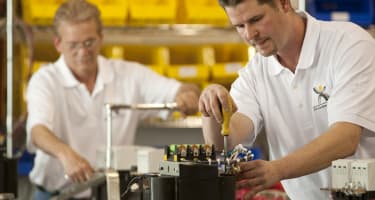 Testimonials
Your entire team WAS INCREDIBLY HELPFUL AND RESPONSIVE. Thank you!
Jim
Just wanted to let you know that I have already installed the Manual Transfer Switch. Man that thing looks good.  As I was installing it, one by one Operators and Chief's of Sargent Municipal District dropped by to look at it. I could tell they were impressed. Thank you so much for getting me out of the bind I was in.
John
Thank you so much for your very good service.  Your firm has been great to work with on this project.  I can't see using any other firm, when ordering similar products in the future. You have set the bar very high for Customer Service.
Darby
Inspection upon receipt reveals something made with great care and of superlative quality… Thank you!
Alden
The PSI Team has been amazing for us in getting competitive quotes back in a timely fashion….sometimes a few minutes after we request it! There are detailed drawings provided and tracking info is always forwarded so the customer knows when to expect the material. I am very impressed with PSI and look forward to continued business in the future.
Dave
Our Gear Department just recently just started using PSI as our go to supplier for generator connection equipment and manual transfer switches. Their prices are very competitive and lead time is very fast (3 days). The PSI team turns the quotes around quickly and provides drawings with the quotes, which is what we need to show our customers what they are getting. Their overall customer service and product is top notch.
Don
Thanks for your quick responses! That's some of the best customer service I've ever had from an equipment supplier.
David
Thank you for all your above and beyond efforts. It made huge differences. In the world today which is pretty lacking, I try to be that anomaly and appreciate working with the same. I certainly will recommend and use your devices in the future.
James