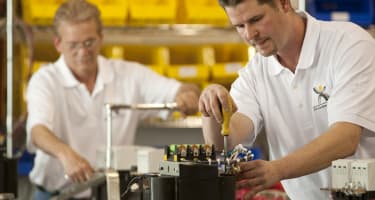 OEM Control Panels for Material Handling
Industrial facilities, warehouses, and shipping and receiving departments are always incorporating innovative new technologies to sort, move, lift, and pack materials for shipment and distribution. Automated material handling systems like conveyors, layer pickers, or crossbelt sorters offer impressive gains in safety and productivity, but to work properly, they need robust, well-designed control solutions to manage power, logic, communications, and more.
At PSI Power & Controls, we specialize in OEM control panels for a wide range of industrial and commercial applications, including material handling systems. Our team can design and manufacture a custom control solution that makes operating and servicing material handling systems as easy and straightforward as possible while meeting all occupational safety requirements.
Our company has served businesses throughout the United States and North America since 1961. We provide innovative power and control solutions that help keep your facility running smoothly, and we offer exceptional service with competitive pricing, on-time delivery, and UL-certified products.
Does your material handling equipment need a reliable, effective control solution that's easy to use? Call PSI Power & Controls at (704) 594-4107 or contact us online.
Custom Control Solutions for Material Handling Systems
Manufacturers of automated material handling systems need control solutions they can count on to provide reliable day-to-day operation of their equipment while meeting all safety standards. At PSI Power & Controls, we can work with your team to design and implement a control system that makes your equipment operate smoothly and efficiently.
Our OEM control solutions provide a central location for managing high-voltage power, low-voltage power, communications, monitoring systems, sensors, logic, and more. We offer OEM or private label control solutions for all types of material handling equipment, including:
Conveyors
Forklifts
Vacuum lifters
Layer pickers
Crossbelt sorters
Palletizers
Pallet shuttles
Stacker cranes
Rail-guided vehicles
Automated guided vehicles
Whether you need a one-off control solution for a custom product or OEM controls for your entire product line, PSI Power & Controls can fulfill orders of any size. Our facilities are UL508A certified and ISO 9001 certified. Our North Carolina location is also UL508A certified for hazardous locations, allowing us to make panels that are safe to use in areas with flammable gases, flammable liquids, airborne fibers, and more.
Talk to our engineering team to start designing your OEM control panel today. Call (704) 594-4107 or contact us online to learn more.
Our Design & Manufacturing Process
At PSI Power & Controls, we work with our clients throughout the manufacturing process to ensure that our OEM control solutions will meet their needs. Our process includes:
Development: We work with your company to evaluate your equipment design and determine what control features will be necessary, as well as a target price for each unit.
Sales: Our experts will take the specifications required for your project and develop an accurate quote.
Design: We'll submit a panel design for your approval, make changes, and resubmit until you're satisfied with the design.
Delivery: Once we receive your purchase order, we'll manufacture and deliver your OEM control panels, meeting all your schedule needs and deadlines.
Support: Our team is always available to diagnose and correct any issues you may find with your control panels.
Need a quote for a new OEM control panel? Start the process today by calling (704) 594-4107 or contacting PSI Power & Controls online.
Why Choose PSI Power & Controls?
For over 60 years, PSI Power & Controls has provided advanced control solutions to clients throughout the United States. We have the skills and experience to develop products that meet all your needs, and we can work within your time and budget constraints. We feature competitive pricing, on-time delivery, engineering support, and a 12-month material and labor warranty on all our products.
Call (704) 594-4107 today or contact us online to learn how our company can make your material handling equipment safer, more robust, and easier to use with our innovative control solutions.