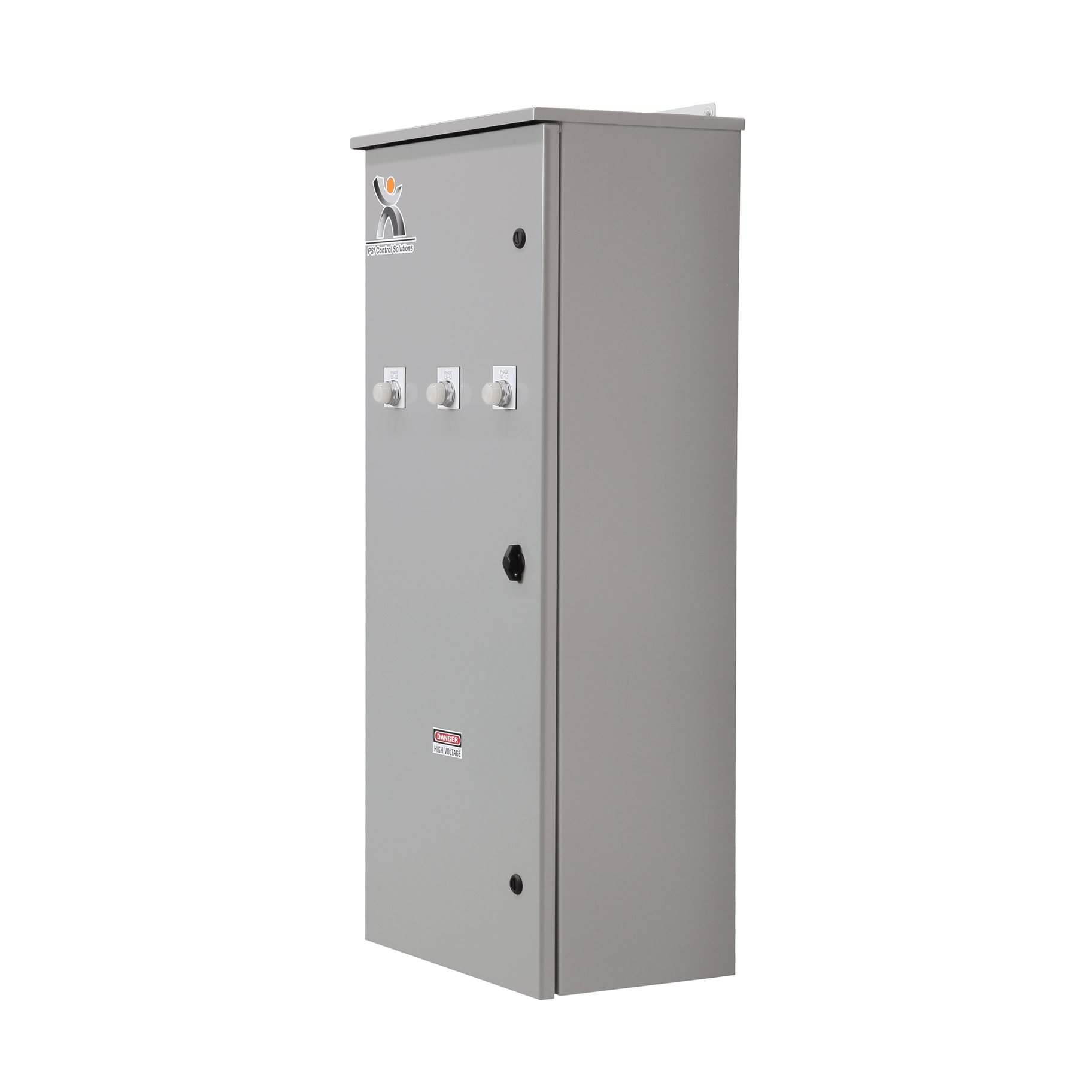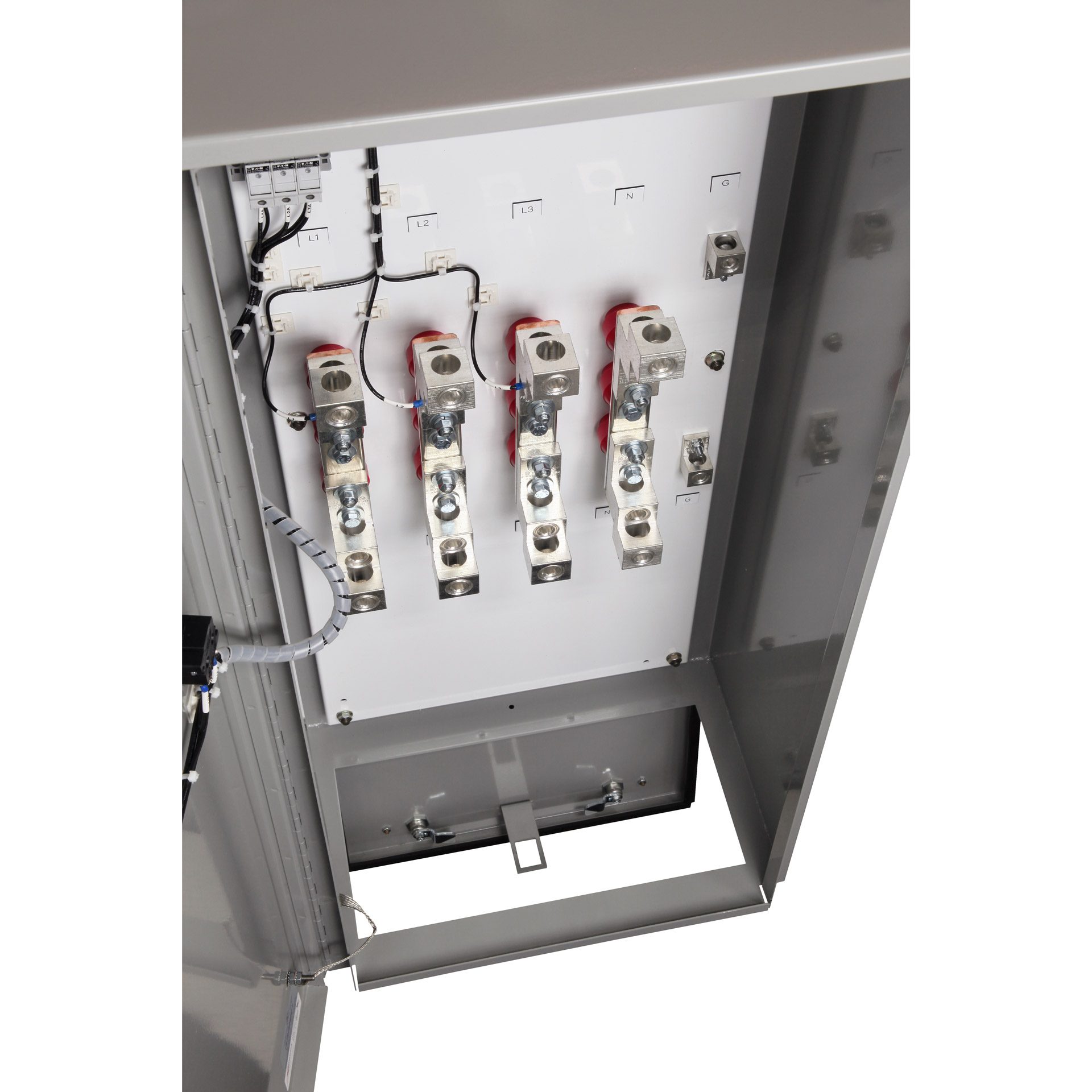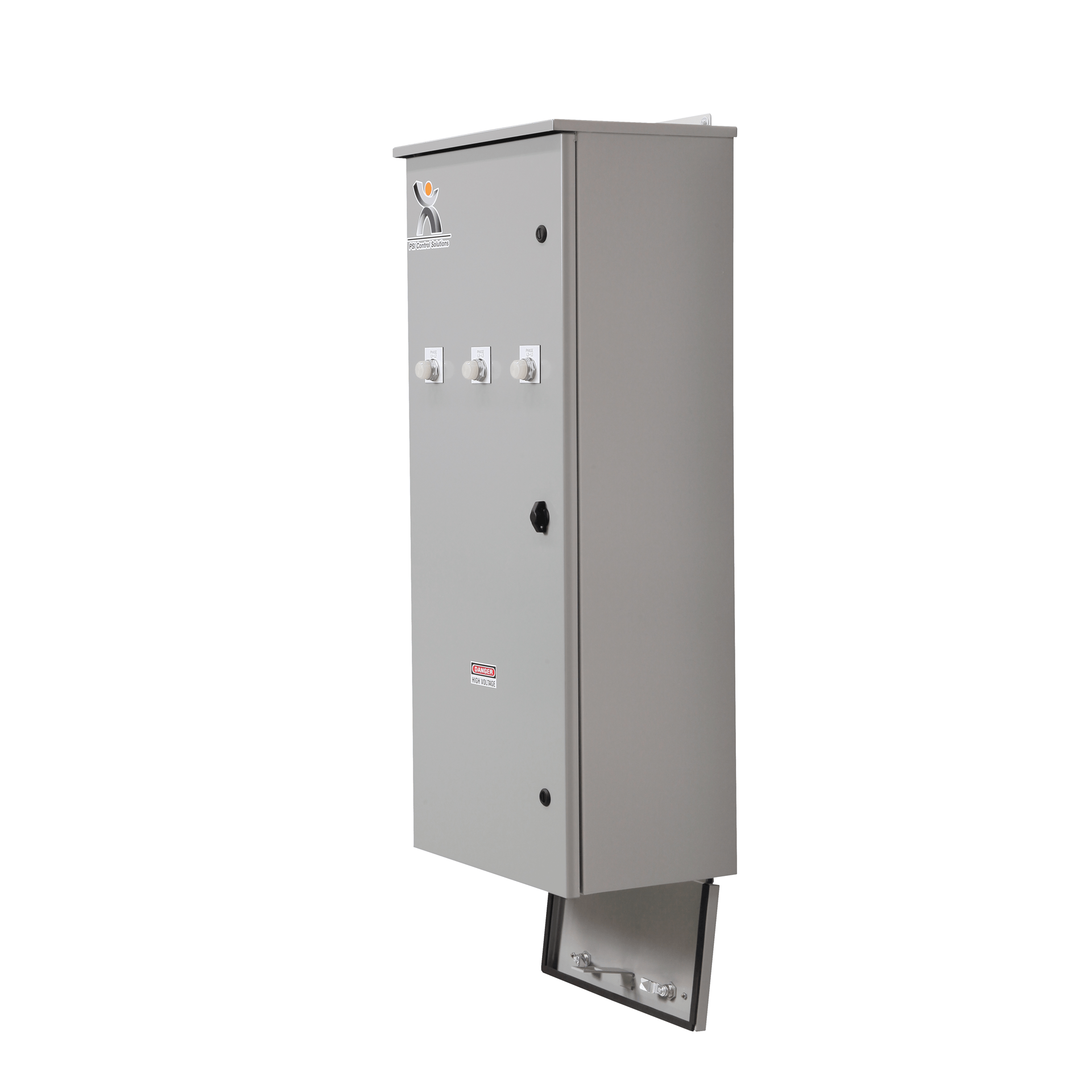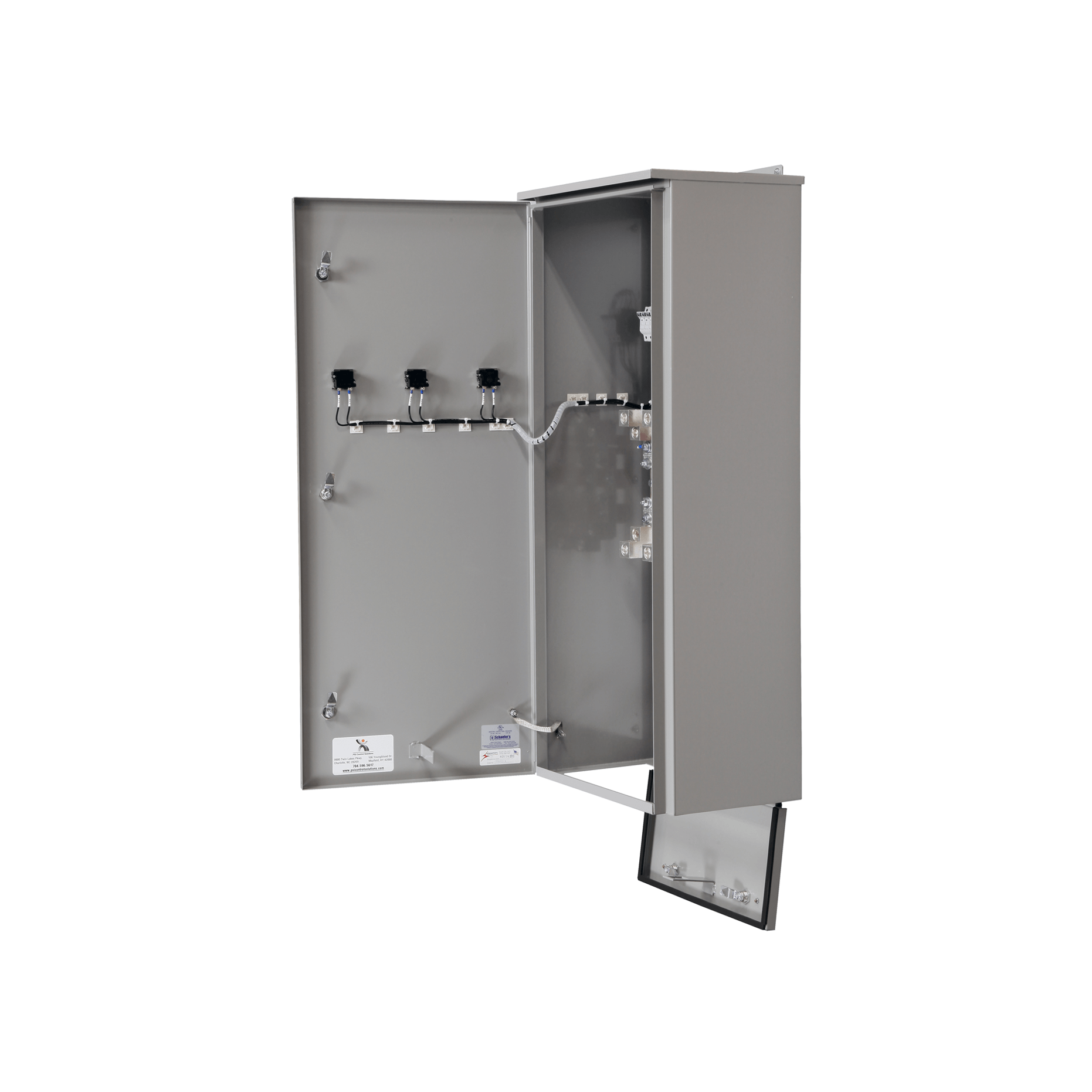 Generator Termination Boxes "Lug to Lug" UL1773 Labeled
Amps
Voltage Selection
Add-On Options:
Phase Reversal, Loss, and Undervoltage Protection Relay 1200 thru 4000 Amps
Description
Generator Termination Box Line and Load Mechanical Lugs
UL1773 Labeled
Our lug-to-lug generator termination box lines are built with NEMA 3R standard wall mount enclosures with drop bottom doors providing easy access to run cable from generators to load lugs. The bottom door is interlocked with main door, preventing it from being opened until the main door is opened. The main door can be locked with a padlock to maintain safety and security.
Our termination boxes are available in a wide assortment of amp ranges from 200-3000 amp.
Voltage on the system is indicated via LED pilot lights for easy, reliable confirmation. We offer three voltage ranges in this product:
Bussing is tin-plated copper for reliable conductivity, high efficiency, and minimal arcing and oxidation over time. The necessary neutral and ground bar is included with the product. Additional fittings and components may be purchased separately.
Product Usage
A termination box is a component designed to allow for quick, easy, and safe use of portable generator systems and other backup and alternative power sources. With a generator termination box, your connections are permanent, allowing for a reliable engagement of backup power when necessary without the usual hassle of cords, temporary connections, and similar problems and headaches.
Most commonly, you would use a termination box to easily switch your business electrical system over to a portable backup generator to maintain uptime, prevent damage or loss on computer systems or other delicate electronics, prevent the spoilage of refrigerated or otherwise fragile goods, and so on and so forth. In many cases, the loss associated with a loss of power exceeds the actual minutes or hours lost; a generator termination box in conjunction with an effective generator system allows you to minimize secondary loss.
A termination box differs from a tap box in that it's designed to more effectively match the needs of portable or roll-up generators, where a tap box is designed to work with stationary backup systems. A termination box allows you to mix and match the benefits and safety of more permanent backup solutions with the convenience and versatility of portable solutions.
Safe and efficient use of a generator termination box requires professional assessment and installation of your system, to prevent incompatibilities which could create system inefficiency, early wear and corrosion, safety hazards, or reduced functionality. There is no single "best" generator termination box, only the one which best matches your electric power needs and your generator specifications.
You'll also want to keep up with regular maintenance of your system, including regular testing of your backup system. A system which fails when needed only compounds your loss in the face of electrical downtime; regular testing is thus invaluable. You'll also want to repair damaged, worn, or oxidized components when you notice them, to maintain efficiency and prevent those components from damaging other components in your system.
Drawings
Select the ampacity you need and download the drawings.
Outline and Electrical Drawings
Resources
Product Brochure
Terms and Conditions
Accessories
PSI Power & Controls offers a wide selection of products designed to make maintaining a backup system easy, safe, and cost-efficient. Offerings compatible with this product include, but are not limited to:
Wires, cables, and connectors. All necessary wires, cables, and connectors for your backup system are available at PSI Power & Controls.
Testing kits. Identify and resolve problems with your system before they cost you money with our convenient, easy-to-use testing kits.
Enclosure accessories. Mount your enclosure indoors or outdoors, on any reliable surface, with our various enclosure accessories and mounting hardware components.
Other modules. We offer a wide selection of modules designed to improve reliability, safety, convenience, and information gathering in your backup system. Contact us to learn more.