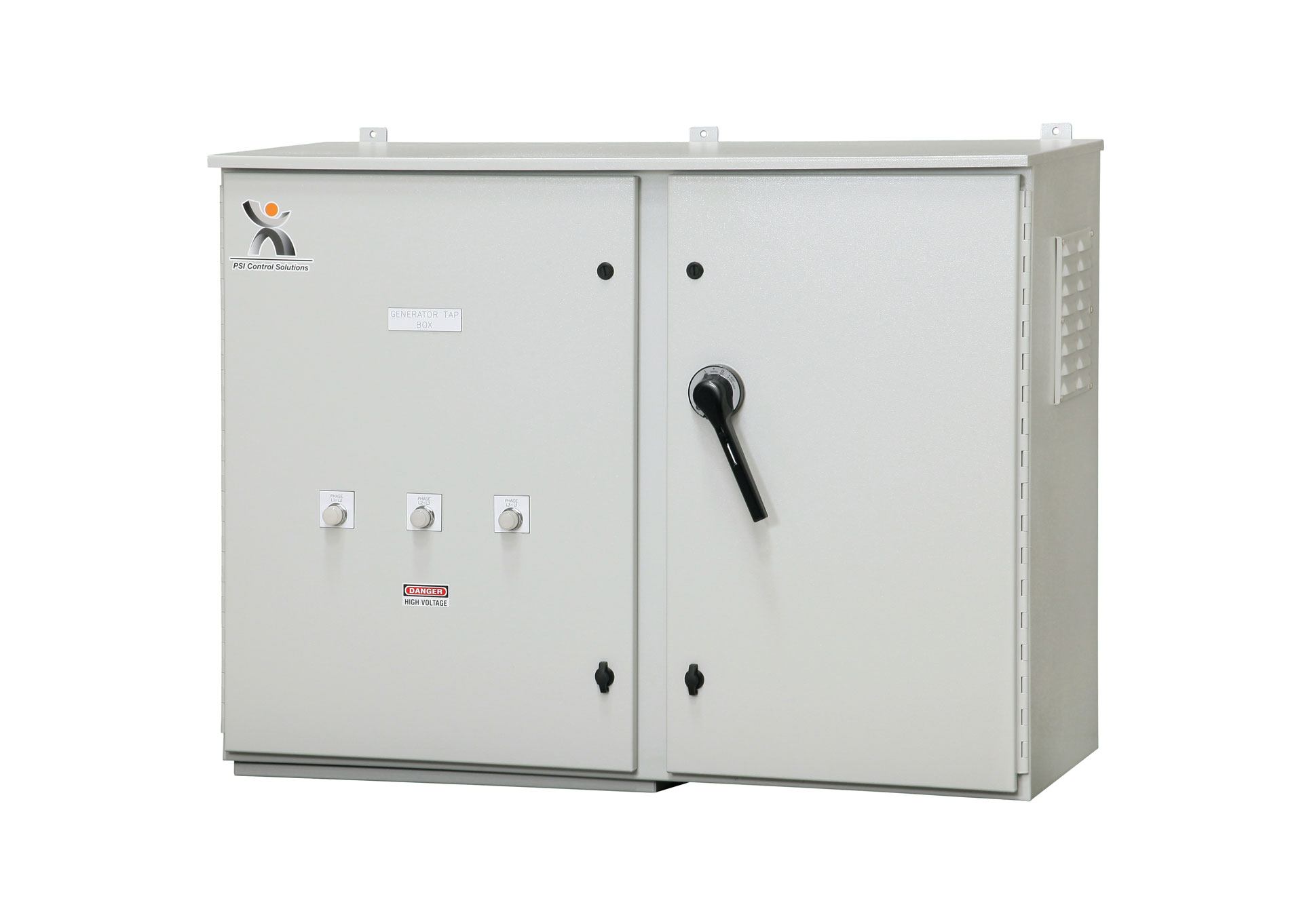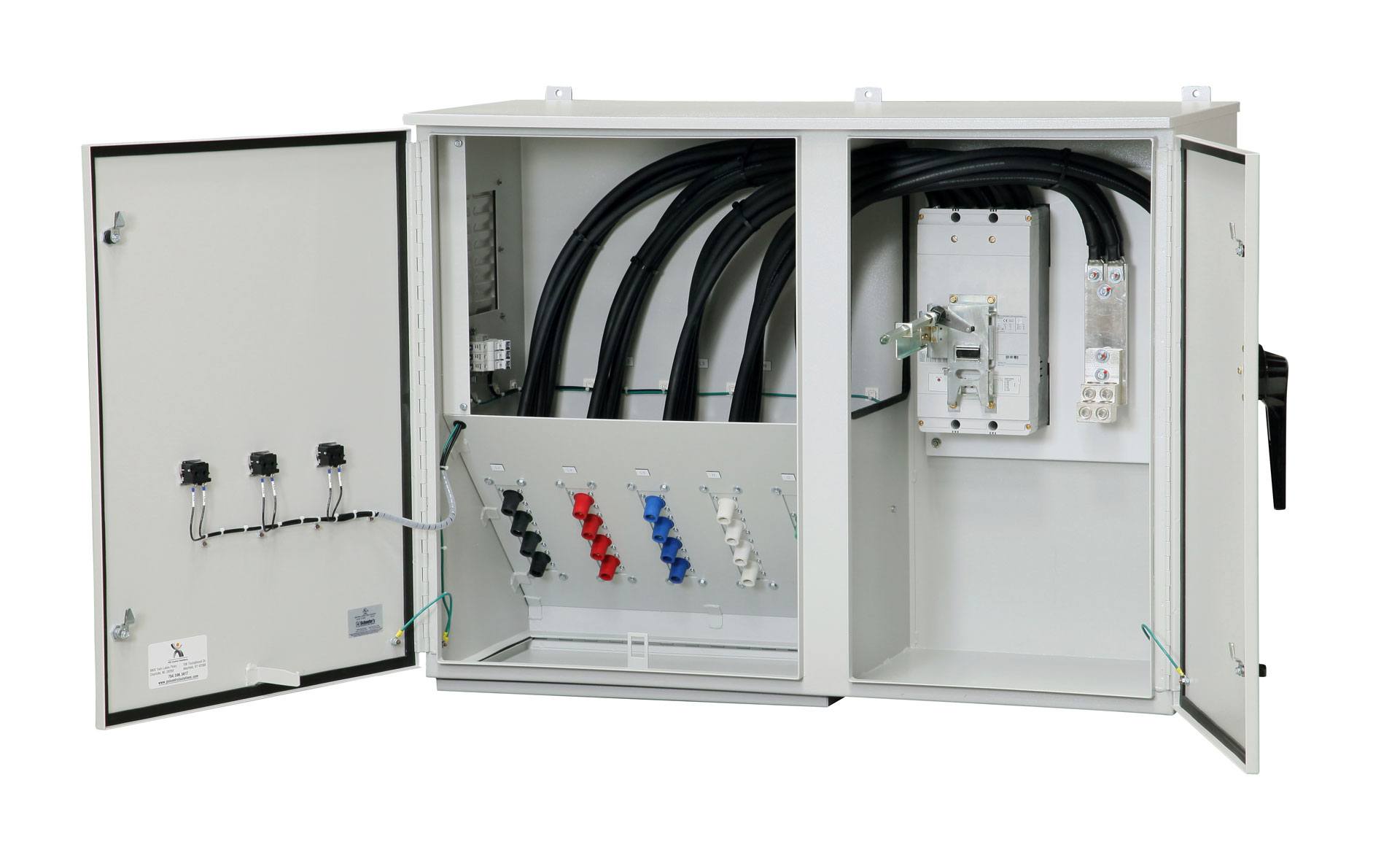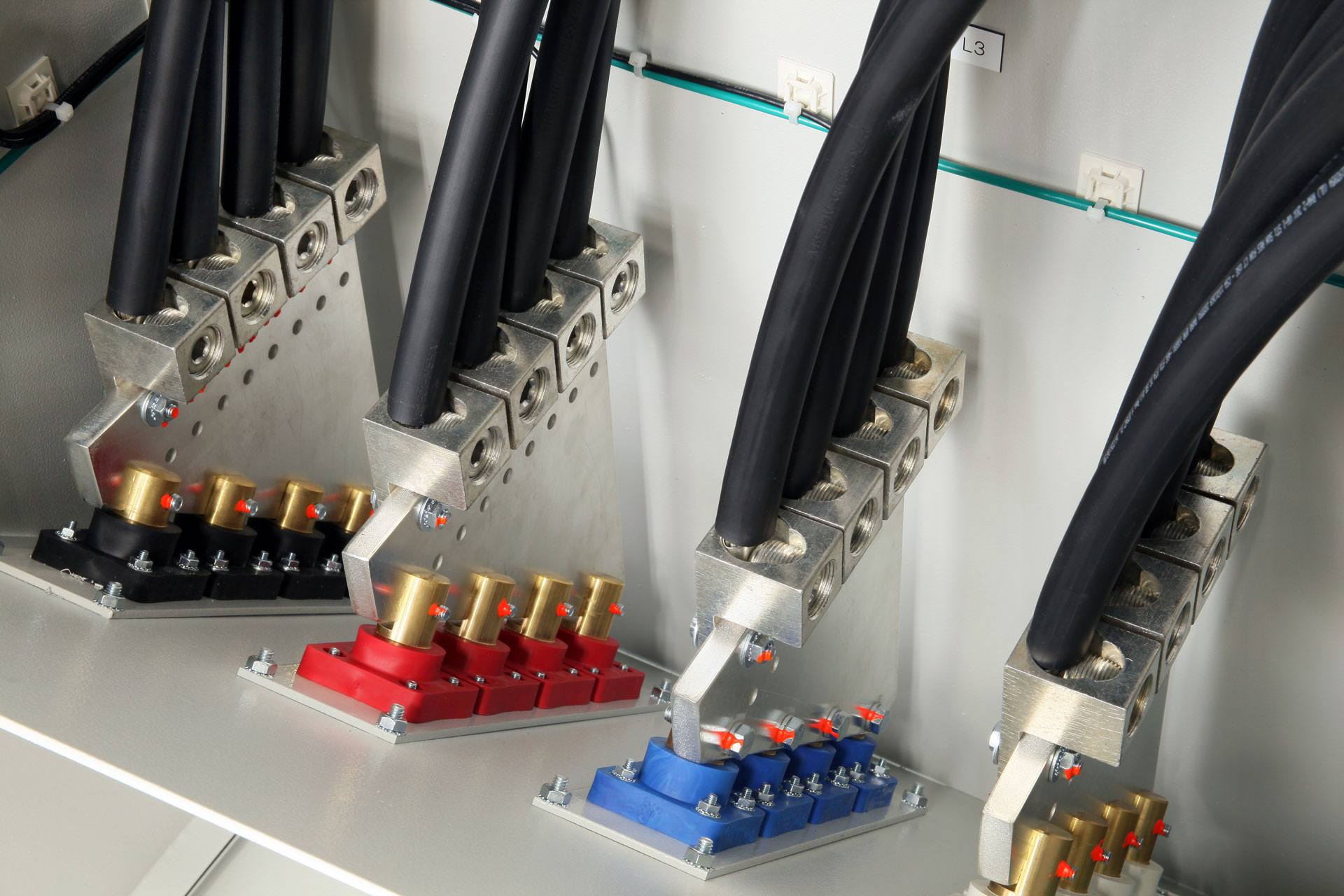 Generator Tap Box Wall Mount with Side Compartment
Amps
Voltage Selection
Wire
Cam-Lok Receptacle Gender
Enclosure
Add-On Options:
Phase Reversal, Loss, and Undervoltage Protection Relay 1200 thru 4000 Amps
Trumeter
Description
Quick connect tap boxes offer fast connection to a mobile emergency generator. The generator tap box is permanently mounted to the building exterior and electrically connected to a manual or automatic transfer switch. This enclosure is perfect for incoming cables to be bottom fed into the enclosure, which also works great for tap boxes requiring a circuit breaker.
This product is available in three and four wire configurations as per your needs, and features voltage ranges including standard 208-240 volt, 480 volt, and 575-600 volt capacities. System uses standard male/female Cam-Lok® cables to create fast connections to equipment and loads receiving emergency power, which is perfect for applications when emergency power is required but a permanent generator is not affordable or practical.
The PSI generator tap box wall mount with side compartment can be selected with a NEMA 3r or NEMA 4x 316 stainless steel enclosures suitable for indoor or outdoor use. Enclosures are rated to provide moderate protection against rain, sleet, snow, and the admission of harmful or hazardous materials into the tap box unit.
Additional options for this product include: phase reversal, loss, and undervoltage protection relay 1200-4000 Amps.
Product Usage
Tap box systems provide cost-effective means of accessing auxiliary, emergency, or portable power sources commonly used during a loss of power. They are ideal for connecting power during events like an unplanned outage, and are also ideal as a means for conducting maintenance that may require diversion of power or a secondary power source. Top box systems can be connected directly by way of Cam-Lok® cables either as needed, or can be wired to desired circuits preemptively.
When a loss of power occurs, the tap box can be relied upon to power and operate lights effectively, heating and cooling equipment, public announcement systems, security systems, computer and data storage equipment, supply storage, and more.
Generator tap boxes offer emergency power solutions in a variety of applications, including:
Lift stations
Gas stations
Data centers
Grocery and retail
Water/wastewater facilities
Healthcare facilities
Equipment supplied by PSI Power & Controls is easy to manage and set up—however, be aware of your particular intentions and needs when selecting products. Items such as amperage and voltage must be matched correctly for ideal results. If you have questions or need help selecting the correct tap box wall mount with side compartment, please feel free to contact a PSI Power & Controls representative.
Drawings
Select the ampacity you need and download the drawings.
Outline and Electrical Drawings
Resources
Specification
Instruction Manual
Terms and Conditions
Accessories
Our base products offer ideal solutions and simple methods of getting the emergency power you need. But we don't stop there! PSI also offers a wide range of support products, accessories, and products that complement one another. For the tap box wall mount with side compartment, we offer the following accessories:
Testing kits. Testing kits offer a method of performing simple maintenance on your tap box wall mount with side compartment, as well as a way to detect problems before they harm the system or your equipment.
Additional Cam-Lok® cables. Additional cables and standalone Cam-Lok® male/male, male/female, female/female cables are available to aid in making fast, safe connections to your chosen tap box product.
Mounting hardware. Mounted products come with mounting hardware upon purchase, however we also offer additional and replacement hardware if you find that you need it.
Eaton manual transfer switch. Manual transfer switches offer a safer and simpler means of providing auxiliary power by forgoing manual cable connections. The Eaton transfer switch is an ideal pairing to complete your emergency/maintenance power needs.