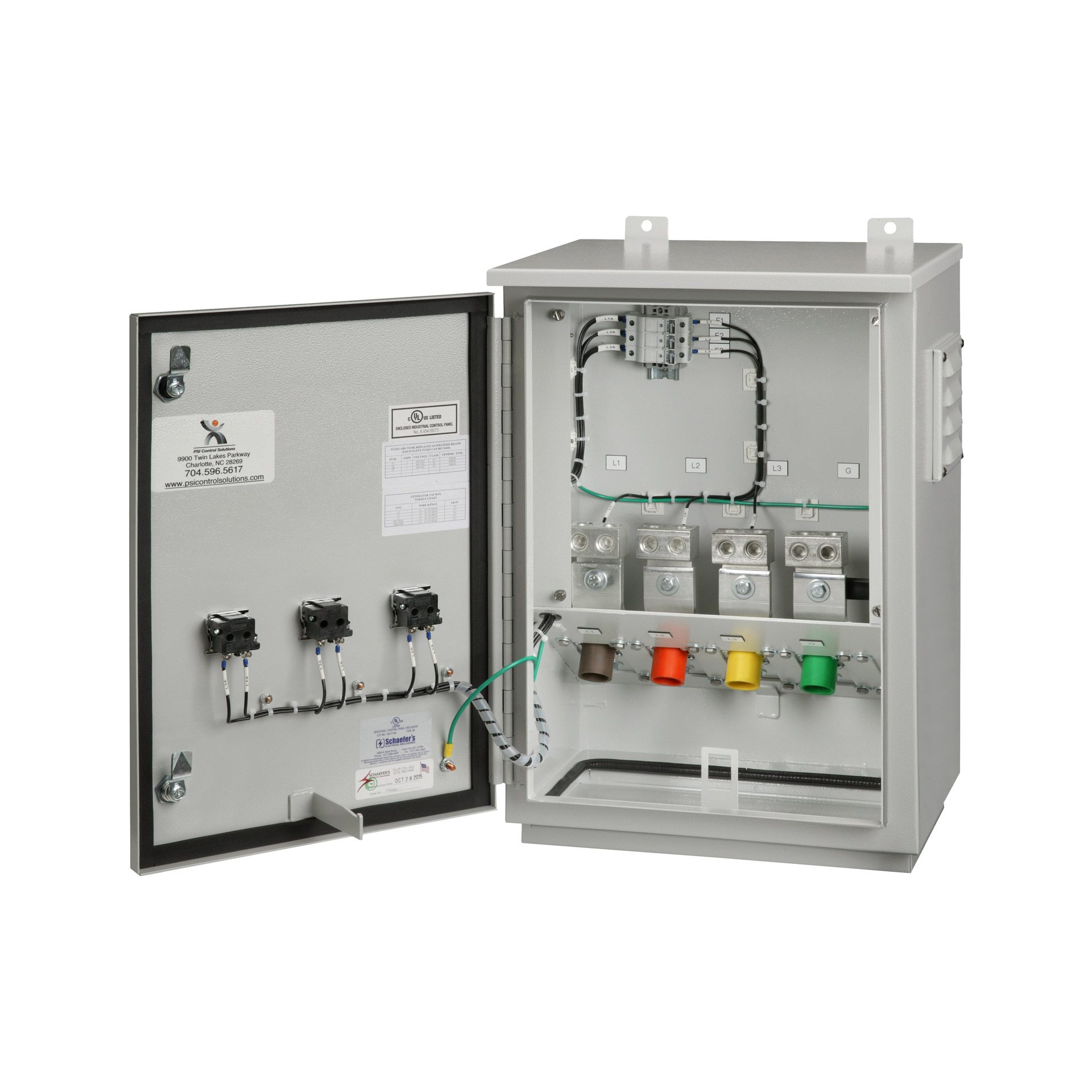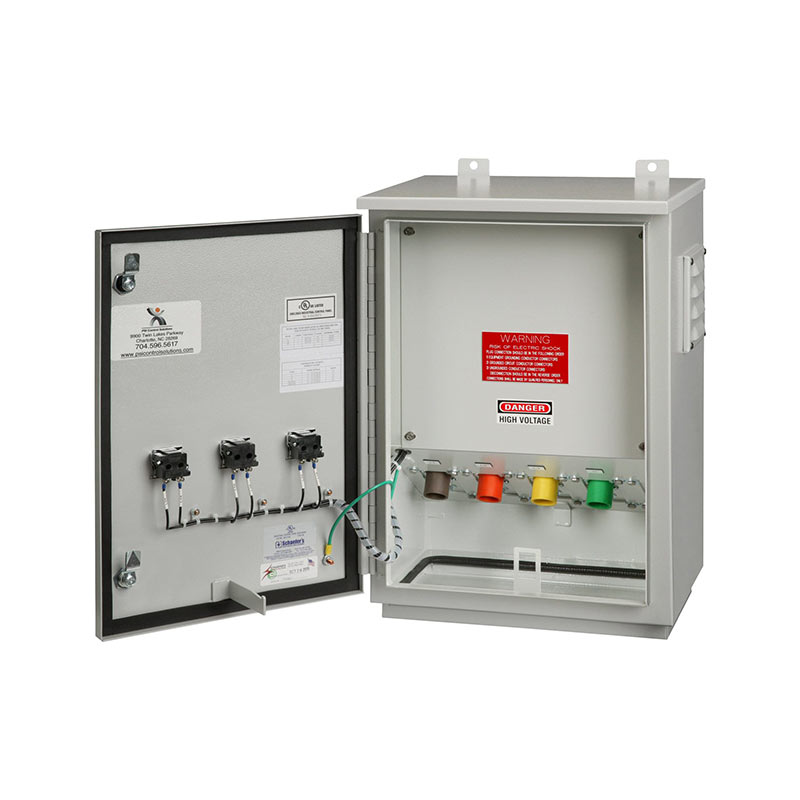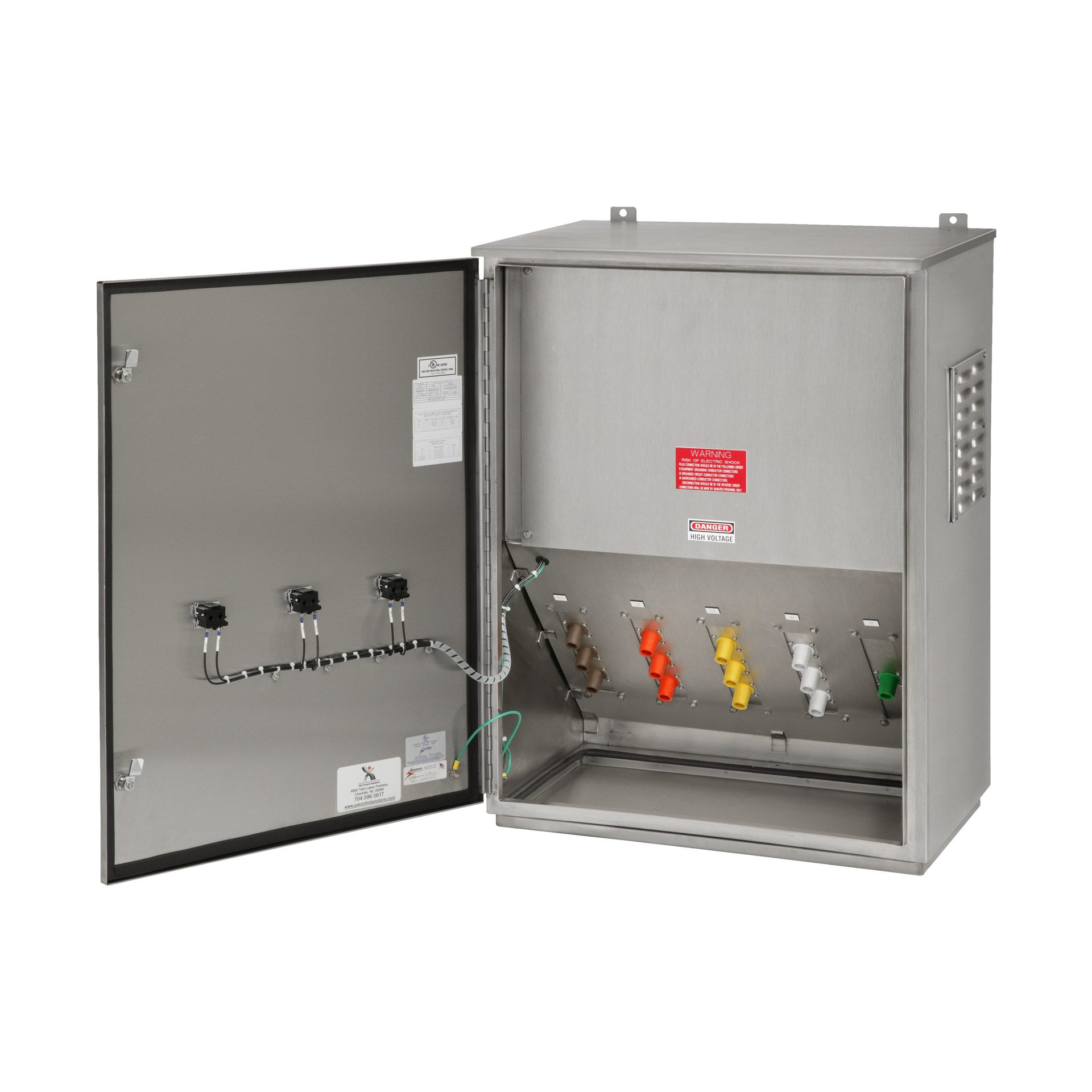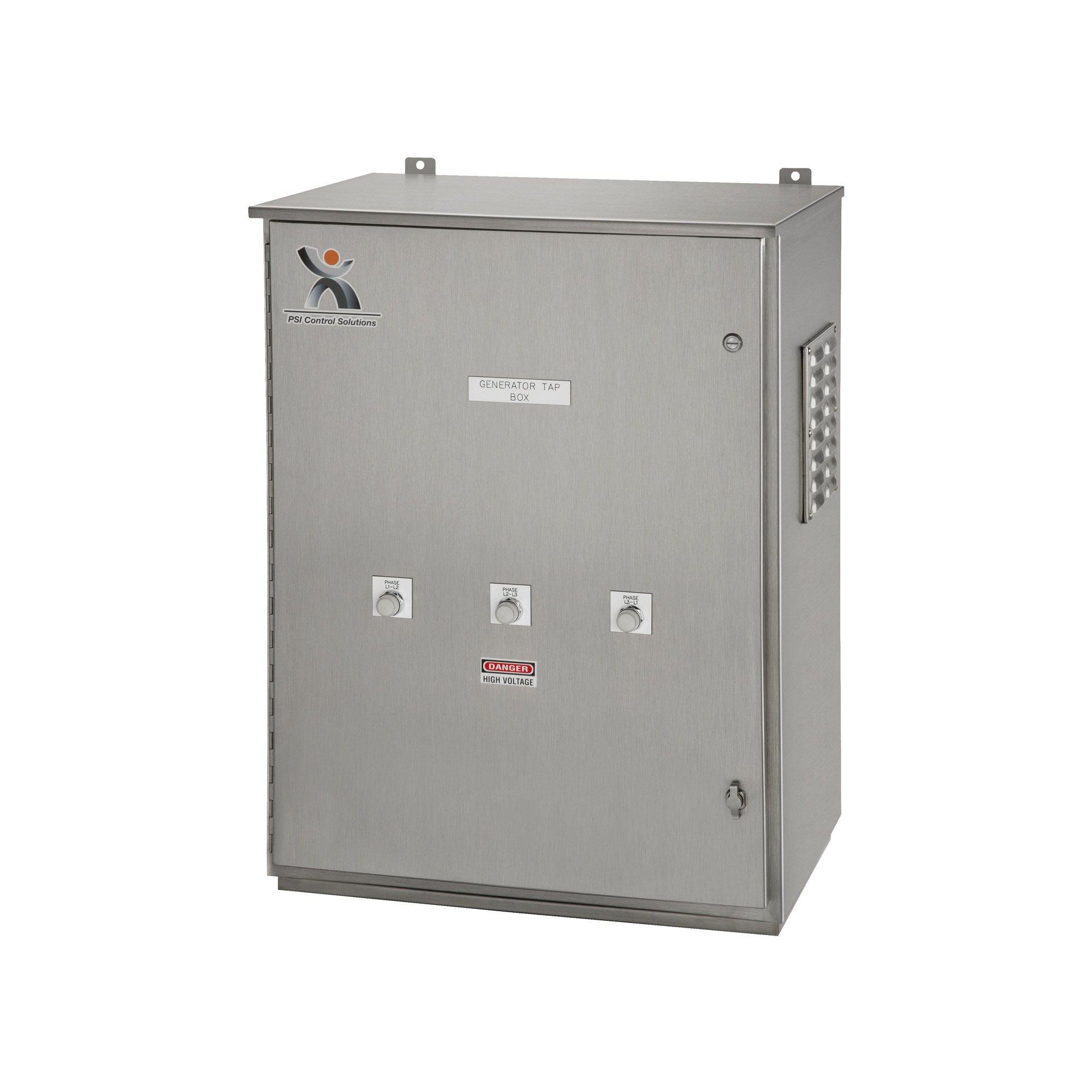 Generator Tap Box Wall Mount
Amps
Voltage Selection
Wire
Cam-Lok Receptacle Gender
Enclosure
Add-On Options:
Phase Reversal, Loss, and Undervoltage Protection Relay 1200 thru 4000 Amps
Phase Reversal, Loss, and Undervoltage Protection Relay 400 or 800 Amps
Trumeter

PSI's Generator Tap Boxes are cETLus listed to UL standard 1008, and CSA C22.2 #178.1
Caution when selecting the Phase Reversal Relay
Please select based on ampacity!
The 400 and 800 Amp units will require a larger enclosure, H=40″, W=30″, D=20″
Description
Generator tap box wall mounts offer businesses a means of safely and effectively creating permanent connections to auxiliary and secondary power sources such as portable generator systems. This tap box product is wall-mounted and capable of weathering standard conditions both indoors and outdoors via protection offered by NEMA 3r and NEMA 3r 316 stainless steel rated enclosure options.
Our team can fabricate both 3 and 4 wire boxes. The amp range is available from 400-2000 amps as needed by your business, with voltage ratings in the range of 208-240, 480, and 575-600. Connections are securely made via standard male or female Cam-Lok® cables—both genders are available as per your specific needs.
This wall-mounted product is suitable for businesses that require a means of secondary power when a permanent generator is unnecessary or impractical. We often recommend our generator tap box wall mount to:
Gas stations
Banks
Small businesses
Office buildings
Hospitals
Stadiums
Universities
Give us a call at (704) 594-4107 or contact us online to learn more.
Product Usage
Tap boxes are an ideal and cost-efficient means of gaining access to portable or auxiliary generator power in the event of an outage or interruption (maintenance, utility power loss, emergency). Tap boxes are mounted and wired preemptively, connected directly to circuits you wish to remain active at all times such as lights, PA systems, HVAC, safety equipment, supply storage, or other applications.
In the event of an outage, Cam-Lok® cables can be routed to either predetermined circuits or can be applied to circuits as needed, providing safe and swift access to a stable power source for as long as may be necessary. Cam-Lok® cables are color-coded, helping you assess what goes where and assisting in avoiding any confusion or crossing in a time of duress.
Generator tap boxes offer emergency power solutions in a variety of applications, including:
Lift stations
Gas stations
Data centers
Grocery and retail
Water/wastewater facilities
Healthcare facilities
PSI Power & Controls-supplied and -fabricated equipment makes setup and installation simple and easy—however, purchasers should take note that correct amperage and voltage ratings are absolutely necessary and accessories should be chosen to suit your specific needs.
If you have any questions or need assistance, our team is always ready to help and provide guidance as necessary, so feel free to reach us at any time.
Drawings
Select the correct amp size that matches your desired product to download the drawings.
Outline and Electrical Drawings
Outline Drawing for 400 and 800 Amp Generator Tap Box with Phase Reversal Relay
Resources
Product Brochure
Download Instruction Manual
Download Engineering Specification
Terms and Conditions
Accessories
In addition to providing top-of-the-line base products, PSI is also dedicated to offering client's a variety of accessories and quality upgrades. There are many accessories and additions available for our generator tap box wall mount, including:
Testing kits. Simple and quick to use, our testing kits help you identify issues before they cause damage or trouble as well as provide a means to perform simple maintenance and calibrations as needed.
Additional Cam-Lok® cables. Color-coded Cam-Lok® cables make hooking up power quick and simple. Additional cables and stand-alone Cam-Lok® male/male, male/female, female/female cables are all available to suit your business requirements and power needs.
Mounting hardware. All PSI mounted products come with secure and easy-to-use hardware to help make installation fast, easy, and pain-free. As needed additional or replacement mounting hardware is available upon request.
PSI manual transfer switch with rotary switch. Manual transfer switches provide a safe and fast means of connecting and engaging tap box auxiliary power sources. Far faster and more effective than manual cable insertion, switches also provide the means to predetermine circuits to be powered.