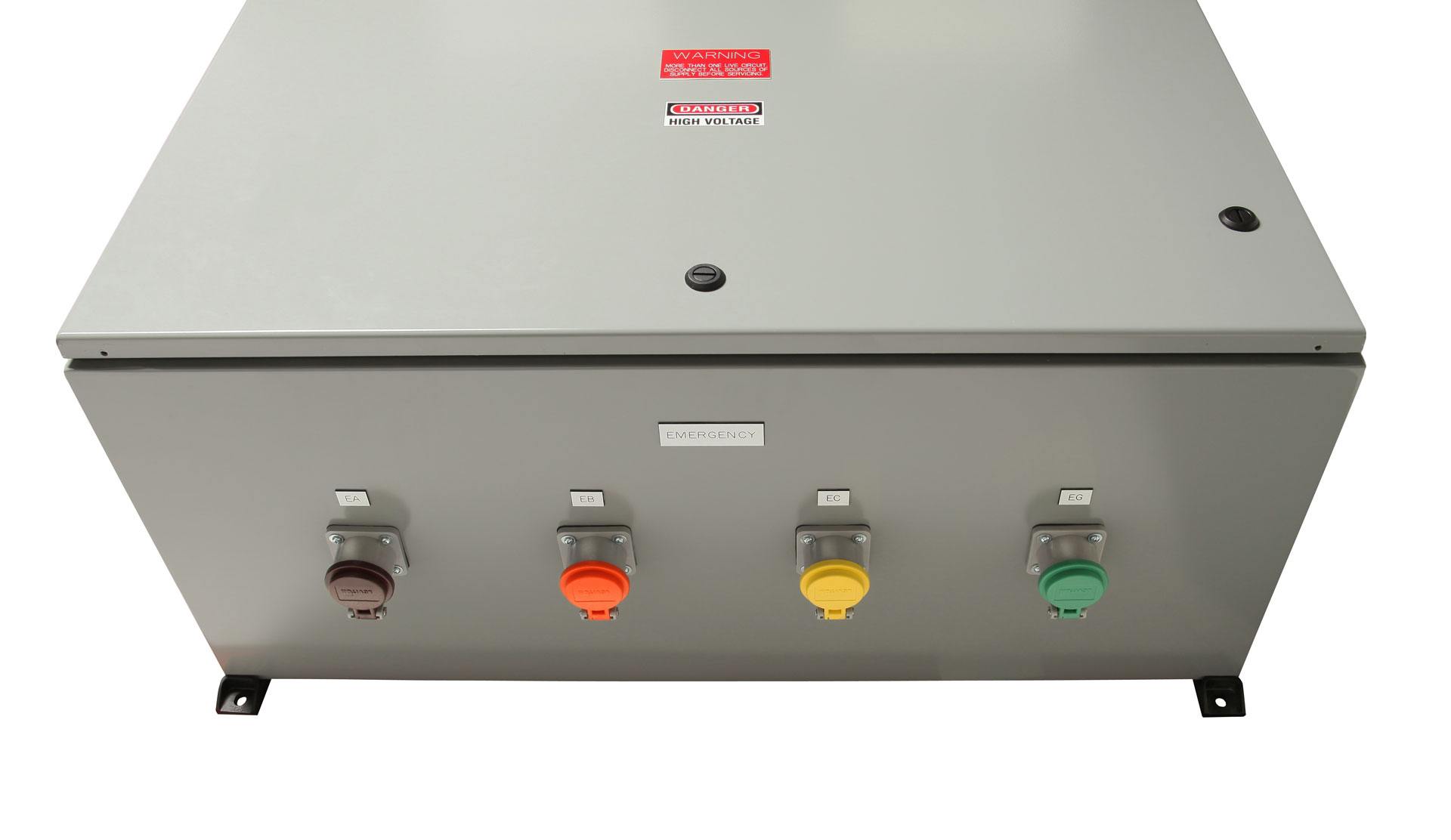 Company Switch / Breaker Cam-Lok® Outlet Tap Box
| | |
| --- | --- |
| Amps | |
| Voltage Selection | |
| Cam-Lok Receptacle Gender | |

Description
Company Switch
Company switch products from PSI Power & Controls are available in 100-1200 amp ranges, enclosed in rated NEMA 3R protection.
New custom company switch products through PSI are ideal for offering fast, efficient, and reliable power control, and they are available in an array of configurations to suit your particular needs or safety requirements.  In addition to amp options, customers can choose between 208-240 and 480 volt company switches. Switches are wired to color-coded Cam-Lok receptacles (male and female as needed) for ease of operation and connection and come pre-equipped with line side (of line and load) terminals.
Receptacles are aligned left-side from the front and Cam-Lok drop down door is interlocked with the enclosure main door for added safety. Our company switches are controlled by Eaton standard rotary disconnect for a safe and swift disengage should it be needed. Additionally all versions of the product are equipped with pad-lock capable quarter turn latches for security and to prevent tampering or misuse.
Neutral bar and ground lugs are included, and the product features an easily spotted red LED "on" indicator. NEMA type 3R is suitable for indoor and outdoor use and provides resistance to moisture, rain, sleet, ice, and other common hazards.
Additional safety features:
Red LED "Power On" Pilot Light
Neutral Bar and Ground Lugs included
Cam-Lok Drop Down Door is interlocked with main door
Rotary Disconnect Handle situated in main door
NEMA 3R enclosure for all PSI company switch products
Product Usage
Company switches offer an ideal setup for simple auxiliary power distribution and control in the event of an outage or incident that prevents the use of standard utility power. These distribution panels make connection to distribution panels (breaker panels, etc) fast, safe, and easy, which helps to not only prevent incidents but to also streamline the power switching process. With a company switch in place you're able to reconnect and re-power your commercial or industrial business via generator and transfer switch systems.
Company switches shipped by PSI Power & Controls are pre-wired and kitted for simple installation and connection, helping you save stress and installation confusion. Color-coded Cam-Lok receptacles are easy to use and connect, helping maintain a streamlined power solution.
Though our set up and products make the process as simple and painless as possible, before installation consumers installing Company Switch Breaker Cam-Lok® Outlet Tap Box products should read all manual information and be familiar with diagrams for the specific product you have purchased for use in your facility. Ensure amp and voltage ratings are in line with your needs, and if you're unsure please feel free to contact a PSI professional any time.
Drawings
Select the specifications that match your desired product to download the drawings.
Resources
Terms and Conditions
Accessories
Our goal is to offer client's customizable products that are capable of suiting a variety of needs and situations. To meet this goal we offer an array of additional accessories for company switch/tap box products including:
Cam-Lok Power Cables. Color-coded Cam-Lok power cables make connecting and operating your new system simple and stress-free. Any cable length needed is available, and we provide both male and female connectors for easier planning and use. Additional color coding is available at an additional customization fee.