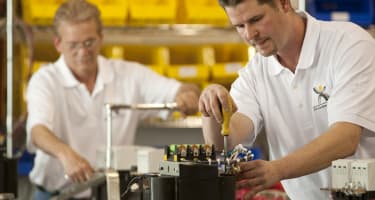 Safety Switches and Disconnects: The Basics
Applied as service entrance and branch circuit protection, PSI Power & Controls Solution's safety switches and safety disconnect switches offer safe, reliable transfer of power. Our safety switches are designed to save lives and detect the loss of current from a circuit and cut power in milliseconds.
Safety switches are used to disconnect your equipment from its electrical supply for a variety of reasons. In the manufacturing industry, this includes repairs, maintenance, and emergency stoppage.
Fusible or Non-Fusible Safety Switch?
Our customers often ask us what the difference between a fusible safety switch and a non-fusible safety switch is and which they need for their facility. For both fusible and non-fusible safety disconnect switches, when the circuit is opened the safety switch cuts the electrical load from its power source, closing the circuit in the process. So either switch may work for your specific application, but it's best to ask a team of professionals for the specifics to be sure you are choosing the absolute best product for your needs.
Order a Safety Switch/Disconnect with PSI Power & Controls
Call PSI Power & Controls or contact us online to talk with an engineer and learn which safety switch is correct for your business.
When you choose PSI Power & Controls, you receive:
Design, test, and programming expertise
Auto CAD layout drawings
Auto CAD electrical schematics
SOLIDWORKS 3D modeling and design
PLC programming and development
Equipment built to UL508A and cUL508A standards
High capacity (over 60,000 square feet of manufacturing space)
Not sure what equipment you need? Give us a call! Our staff can help you find a solution that's right for you—704-594-4107.