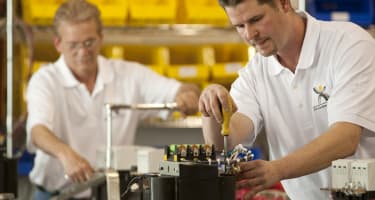 Molded Case Circuit Breakers: The Basics
OEM
The traditional molded-case circuit breaker uses electromechanical trip units that may be fixed or interchangeable. These breakers offer protection by combining a temperature sensitive device with a current sensitive electromagnetic device. An MCCB will use one or a combination of different trip elements that protect against thermal overload, short circuits, and ground faults. Keep reading to learn more about each of these issues, and why you need protection from them.
Short-Circuits: Usually, a short circuit occurs when abnormally high currents flow as a result of the failure of an insulation system. This high current flow, termed short-circuit current, is limited only by the capabilities of the distribution system. To stop this current flow quickly so that major damage can be prevented, the short circuit or instantaneous element of an MCCB is used.
Ground Faults: A ground fault actually is a type of short circuit, only it's phase-to-ground, which probably is the most common type of fault on low-voltage systems. Usually, arcing ground-fault currents are not large enough to be detected by the standard MCCB protective device. But, if left undetected, they can increase sufficiently to trip the standard protective device. When this happens, it usually is too late, and the damage is already done.
Overloads: An overload uses a piece of bimetal heated by the load current. This bimetal is actually two strips of metal bonded together, with each having a different thermal rate of heat expansion. They are factory-calibrated and not field-adjustable.
Order Your Molded Case Circuit Breaker
At PSI Power & Controls, we employ a group of engineers dedicated to designing and building customizable electrical solutions for any customer. Our team of engineers will work directly with you to ensure you get the equipment you need for your applications. Our goal is total customer satisfaction.
When you choose PSI Power & Controls, you receive:
Design, test, and programming expertise
Auto CAD layout drawings
Auto CAD electrical schematics
SOLIDWORKS 3D modeling and design
PLC programming and development
Equipment built to UL508A and cUL508A standards
High capacity (over 60,000 square feet of manufacturing space)
Not sure what equipment you need? Give us a call! Our staff can help you find a solution that's right for you—704-594-4107.