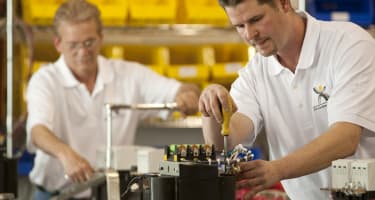 Manual Transfer Switches for Generator Power Supplies
When looking for superior power supply solutions for your commercial business, nothing brings you the surety and dependability of a manual transfer switch. For quick, simple access to power in an outage or incident, you need a quality transfer switch to ensure you're ready to return to normalcy without missing a step.
PSI Power & Controls has been providing superior power supply solutions to our patrons for years. We understand the need for high-quality, custom power options and how they can play a critical role in maintaining your business regardless of what may come.
What Are Manual Transfer Switches for Generator Power Supplies?
A manual transfer switch allows for quick access to generator power through the use of, of course, a manual switch. The switch is installed alongside your main electrical panel and, when in use, will swap power from your main supply to the generator, powering predetermined circuits to the business owner's specifications. This simplifies generator access, allowing you to resume business at a critical time without pause.
The use of a transfer switch also aids in the overall use of your generator, bypassing the need for the use of cumbersome and time-consuming cables that also reduce overall efficiency.
The Benefits of a Manual Transfer Switch
Utilizing a manual switch in your business can contribute quite a bit to your overall success, as well as help protect and insulate you against loss during an outage. Benefits include:
Quick and simple fabrication and installation
Heightened control over the power in your commercial business in the event of an emergency or power loss
Protection of investments and assets with high-quality and safe products that allow for simple generator use
UL Listed Manual Transfer Switches with PSI Power & Controls
Your manual transfer switch needs can change according to your overall electricity requirements and the size and location of your commercial business. This is due to transfer switches coming in different "sizes," though in this case the term "size" specifically refers to the amperage your generator crease and needs to safely route to your business when in use.
In this way, the size of your generator and your overall electrical needs (the power needed to operate and maintain your predetermined circuits) directly impacts the amperage specifics of your manual transfer switch.
No matter your needs, the industry-leading engineers at PSI Power & Controls can provide the proper transfer switch to meet your needs. All of our manual transfer switches include:
Two mechanically-interlocked molded case circuit breakers, cam connectors (male), a power distribution block, and grounding terminals housed in an enclosure fitted for padlocking
A Hi-pot test for a period of at least 60 seconds
Meet all NEC regulations
A hinged flap door to cover all cable openings when connections are not currently made
PSI Power & Controls has been providing superior products and service for years, and our manual transfer switches are sure to exceed your expectations. More importantly, they will always meet your needs in a time of crisis. As a family-owned and operated business, dependability is positively crucial to us, and we guarantee our products without hesitation.
Contact PSI Power & Controls to learn more about our manual transfer switches for your generator power supplies!