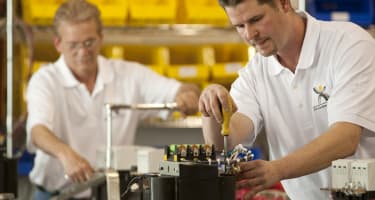 Manual Transfer Switches for Fast Delivery
Need a manual transfer switch, and need it FAST? Call PSI!
PSI Power & Controls is a leading manufacturer of manual transfer switches. Our manual transfer switches range from 60 – 3,000 amps and can be custom built to meet any specification, for any application and are available for fast delivery. Available in NEMA 1, NEMA 3R, and NEMA 4X enclosures, we offer both fusible manual transfer switches and non-fusible manual transfer switches. If you're in need of a manual transfer switch that can be built quickly, built to your own custom modifications, and delivered fast—you've come to the right place. Give us a call or contact an engineer online to learn more about our manual transfer switches for fast delivery.
We Offer Fast Turnaround On All Manual Transfer Switches!
No matter what specifications you need your manual transfer switch to include, PSI Power & Controls offers a fast turnaround time. We understand the importance of having a functioning, ready-to-use manual transfer switch in your facility. When you need to connect a portable generator to power your most critical applications, a manual transfer switch is one of your most reliable and affordable options. So, why wait on one of our competitors that may take months to deliver your transfer switch when you could get a manual transfer switch with fast delivery from PSI Power & Controls?
PSI Manual Transfer Switch
Our manual transfer switches are available in many different amperages—ranging from 60A to 3,000A—and can be built inside the following NEMA enclosure types:
NEMA 1 (designed for indoor applications)
NEMA 3R (outdoor rain resistant)
NEMA 4X (indoor and outdoor water tight 316SS)
All of our manual transfer switches are available for fast delivery and can be modified to feature:
I-O-II operation
208 – 600VAC three-phase
100 – 240VAC
3 and 4 pole configuration
UL 98 switching device: 60 – 1200A
UL 508A complete assembly: 60 – 1200A
Non-fused and fusible breaker protection configuration (fuses available upon request)
Ground/neutral kits included
Pilot light indication for source availability
Padlockable handle
Male/female Cam-Lok® plugs and receptacles
Optional phase reversal protection
Call us to speak with an engineer and learn more about our manual transfer switches—704-594-4107.
About PSI Power & Controls
We produce high quality, reliable electrical solutions at a competitive price. Not to mention, we offer all of our products—including manual transfer switches—for fast delivery. When you choose PSI Power & Controls for manual transfer switches for fast delivery, you receive:
Competitive pricing
On-time delivery
Engineering support
UL 1008-certified manual transfer switches
12-month material warranties
12-month workmanship warranties
Private label assembly