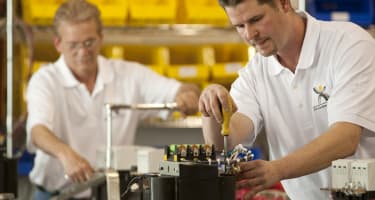 Manual Transfer Switch Safety
Transfer Switches
The proper use of a manual transfer switch can assist in providing power to your business in a critical time of need. Whether outage or electrical complications arise, you must ensure your transfer switch stands ready and capable to meet your energy needs. But like any other tool that handles and utilizes electrical energy, safety is an absolute must.
PSI Power & Controls is absolutely dedicated to providing superior quality products and technology to our patrons. Additionally, your safety when using our products is of paramount importance. Please familiarize yourself with these general guidelines and safety tips when operating your manual transfer switch!
Tips for Safe Operation of a Manual Transfer Switch
You may find these tips to be common sense, but accidents happen, and negligence comes easily when you're busy with pressing matters within your business. To ensure you're absolutely prepared, be sure to follow these steps before operating your manual transfer switch during an outage:
Understand the manual. Your specific transfer switch was designed with exacting details, many of which differ from model to model. To ensure you fully grasp the important aspects of your system, complete understanding and comprehension of the manual is a priority.
Ensure your manual transfer switch has not been compromised. Before use, always ensure proper connections between your panel and the switch are present and functioning properly. If there is visible damage or anything out of the ordinary do not operate your manual switch. Have your switch serviced routinely by a certified electrician to avoid potential dangers.
Be sure your transfer switch appropriately meets your needs. The amperage needed for your generator system to operate safely and optimally directly corresponds with the "size" of manual switch your business needs. Ensure you seek expert counsel to ensure your switch is the right fit for your needs.
Avoid moisture and dampness. Any exposure to water or dampness of any kind warrants an expert inspection. Water damaged wires are one of the leading causes of electrical fire. If your panel runs any risk whatsoever of being exposed to liquids, have your panel moved to a more suitable location.
Never utilize your generator indoors. Generators create carbon monoxide as a byproduct of their overall process. If used in enclosed spaces or indoors, this can lead to serious and severe health complications.
Dependability & Excellence with PSI Power & Controls
Your safety and satisfaction are of the utmost importance to our team at PSI Power & Controls. To ensure the success of your business is protected in the event of a power failure, be sure to follow these basic guidelines for results that are optimal in both safety and quality!
As a family-owned and operated business, we've been providing unrivaled products and service for decades. Our competitive pricing, skilled specialists, and industry-leading products can guarantee you have the power you need, when you need it most. For more on our products and custom solutions, feel free to contact us by calling us at 704-594-4107! And for any questions you may have, our seasoned experts have answers!