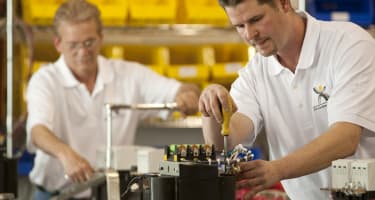 Why Does a Generator Need a Transfer Switch?
Transfer Switches
To secure your commercial business against the inconvenience and safety problems of a power outage, you almost definitely have looked into getting a generator. But in doing so, you likewise have probably encountered a need for additional equipment that you may not have anticipated. The biggest of these is a manual transfer switch, which is nearly a requirement for any commercial generator use.
Wondering why you need a manual transfer switch, and what it accomplishes for you? If so, PSI Power & Controls is here for to. Today we'll provide some insight into the gains you acquire when using a transfer switch, and whether you absolutely need one in the first place.
What Is a Transfer Switch?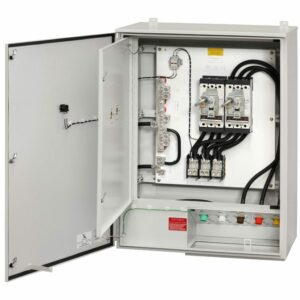 Transfer switches, both automatic and manual, provide you with fast access to power for critical functions in the event of an outage. Without the aid of a transfer switch, you have to manually connect your generator to the equipment you wish to power. This is much less efficient and less effective.
Transfer switches basically police the connections of your business to utility power and generator power. The transfer switch prevents any form of overlap, and in the event of an outage gives you a direct and simple method of powering critical functions, comfort solutions, lights, and emergency equipment.
But beyond convenience, do you actually need a transfer switch? The answer can be a little different depending on your circumstances and the type of business you operate. But in short, we would say yes, yes you do.
Why Do I Need a Transfer Switch?
There are a few situations that don't necessarily require a transfer switch per se. For example, many residential homes and structures don't really need one to power a refrigerator or other small appliances, though even then a transfer switch adds a lot of benefits. It's when you start adding heavy-duty equipment like an HVAC system, or likely in your case, industrial equipment and high-power operation, that you need the aid of a transfer switch.
Not only does the transfer switch safely enable the use of power during an outage, it is actually electrical code to do so. High powered appliances and equipment carry a massive load, and connections made directly without the use of a switch can be extremely dangerous, incurring risks like physical harm and even electrical fires or the loss of commercial equipment.
To operate these safely and within code, a transfer switch is necessary to make major connections. So do you need a transfer switch? Almost definitely. Even if your generator only powers lighting, a transfer switch drastically simplifies processes and makes your restoration of vision a matter of seconds, rather than minutes, which can make a critical difference in safety and productivity both.
Transfer Switch Options & Solutions with PSI
At PSI Power & Controls, we've been providing top-class emergency power solutions for over fifty years! We carry all of the experience and superior products needed to safely, effectively, and quickly restore power to your business and make the operation of generators more effective. If you want to learn more, or find out how our generator transfer switches can benefit your business, contact PSI today!