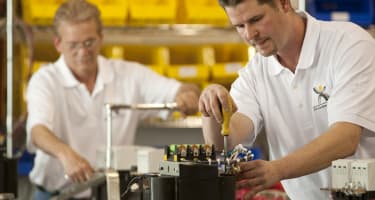 Disconnect Switch Safety Tips
Disconnect Switches
Disconnect switches provide your business with the means to protect assets, equipment, and employees against potentially dangerous and damaging power surges or fluctuations in power. However, as necessary and effective as a disconnect switch is for your commercial business, they themselves need some measure of care as well, lest they become useless and create more harm than good.
At PSI Power & Controls, our electrical safety and function product team has been delivering the best in quality care and solutions for years. We want to help you secure your commercial business against danger and loss, and in order to do so, we offer industry-leading products, as well as useful guides and information.
To learn more about our disconnect switch products, contact PSI Power & Controls online, or feel free to glance through our product guides!
Disconnect Switch Safety
At the core of any safety measure, you'll find both preparation and prevention. And with a disconnect, the story is no different. The majority of our safety recommendations pertain to the general maintenance and inspection of safety switch systems, primarily to ensure continued overall function, and in order to be able to identify issues as they may arise.
To ensure the health and ability of your disconnect switch, be sure to:
Follow product manuals by the letter. Your product manual is a guide to the proper application and use of a disconnect switch. When followed, it ensures your switch will function effectively and safely, and when ignored, it can mean that your switch could be installed incorrectly, or may be installed with the wrong equipment type. Both of these can create huge opportunities for injury or loss, so always follow along with the manual!
Follow "lock out tag out" when servicing your disconnect switches or equipment. If any any time you are servicing your equipment, or checking/maintaining your safety switch, be sure to follow lockout procedures until the maintenance is complete. This is a critical safety measure that should always be followed.
Keep the switch free of dirt and debris. As with any electrical or electrical-related device, a build up of dirt, grime, oil, or dust can create complications or prevent the switch from operating correctly. Disconnect switches should be routinely maintained in order to ensure this does not happen. Commercial grade dissolvents work best, so as to avoid the introduction of moisture.
Ensure no moisture comes into contact with your safety switch. If water or excessive moisture comes into contact with your system or disconnect switch at any time, all parts and components must be thoroughly dried before operation is attempted.
Disconnect Switches and Solutions with PSI
Our service and product experts are totally dedicated to ensuring your disconnect switches meet all of your safety needs, and PSI strives to bring you only the best in service and products. We offer a wide array of comprehensive energy solutions, including disconnects of varying type to ensure you have access to the quality products your business deserves. To learn more about PSI Power & Controls, or any of our products, feel free to reach us any time online!