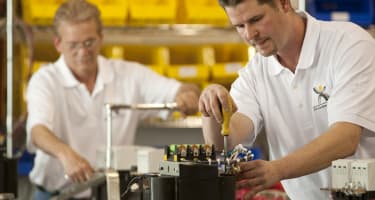 About PSI Power & Controls
PSI Power & Controls Product Binder Rev A 09 29 2020
PSI Power & Controls was founded in 1961 with its roots in the electrical distribution business in Western Kentucky. We are a family owned business under the guidance of the third generation. We have been providing electrical solutions to the American Industry for over 50 years. With headquarters based in Charlotte, North Carolina, PSI Power & Controls operates as a private label manufacturer. We offer control panels, low and medium voltage starters, VFD panels, power-metering equipment, transfer switches and generator tap boxes for Original Equipment Manufacturers (OEM) within a wide variety of commercial and manufacturing industries. As a result of this concentration on the OEM markets, PSI Power & Controls continues to develop strong relationships with electrical component suppliers. These special relationships enable us to produce high quality, reliable control panels that are competitively-priced and delivered on time for added value.
The PSI Promise
PSI Power & Controls produces high quality, reliable electrical solutions at a competitive price. We take pride in offering top-quality products and services. When you choose PSI Power & Controls you receive:
Competitive pricing
On-time delivery
Engineering support
UL-certified products
12-month material warranties
12-month workmanship warranties
Private label assembly
These are just a few of the many advantages you'll enjoy when you choose PSI Power & Controls to design and build your customizable electrical equipment.