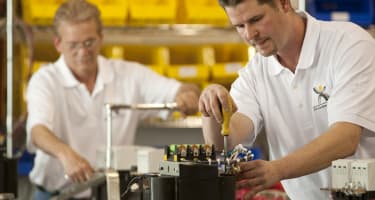 About PSI Power & Controls
PSI Power & Controls Product Binder Rev A 09 29 2020
PSI began in 1961 in Western Kentucky as a family-owned electrical distributor. Now, over 60 years later, PSI Power & Controls is headquartered in North Carolina and has evolved to design and build enclosed industrial power and control products in North Carolina, Kentucky, and Colorado for original equipment manufacturers (OEM).
Communication, responsiveness, lead-time, and quality are PSI's foundational customer priorities.
Industry-Leading Control Panels & Emergency Power Solutions
PSI designs and builds custom OEM control panels, low-voltage starters, VFD panels, and power-metering equipment for a variety of commercial and manufacturing industries, including private label. These products are built to comply with UL508A control panel and UL698 hazardous location panel requirements.
PSI also designs and builds emergency power products that are UL/ETL 1773, 1008, 891, or 1558 listed. These transfer switches, generator tap boxes, switchboards, and switchgears resolve the safety and emergency power connection needs of generator manufacturers, healthcare facilities, data centers, and many other vertical markets.
From design and engineering, manufacturing, and sales and customer service, you'll find that PSI offerings are quality products well-suited for staying productive, in control, and safe while keeping the power on in your facilities. These are just a few of the many advantages you'll enjoy when you choose PSI to design, engineer, and build your custom electrical equipment. 
The PSI Promise
PSI Power & Controls produces high-quality, reliable electrical solutions at a competitive price. We take pride in offering top-quality products and services. When you choose PSI Power & Controls, you receive:
Competitive pricing
On-time delivery
Engineering support
UL-certified products
12-month material warranties
12-month workmanship warranties
Private label assembly
These are just a few of the many advantages you'll enjoy when you choose PSI Power & Controls to design and build your customizable electrical equipment.