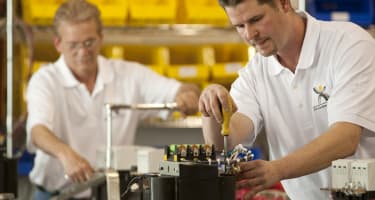 OEM Control Panels for Wastewater & Water Systems
Effective control solutions for water systems like reservoirs, community wells, greenhouses, and irrigation systems need to do more than just turn pumps on and off — they need to effectively monitor water levels, flow rates, pressures, and more.
With an OEM control panel from PSI Power & Controls, you can make sure your equipment has controls that are safe, intelligent, easy to use, and strong enough for the most demanding environments. We custom design our control solutions to meet your specifications, and we provide full support for all our products.
We've been in business for over 60 years, and we serve clients throughout the United States, providing exceptional service with competitive pricing, on-time delivery, and UL-certified products that feature a full 12-month warranty.
Do you need an innovative, well-designed control panel for your water or wastewater systems?
Call PSI Power & Controls today at (704) 594-4107 or contact us online to discuss your needs and project requirements with our engineering team today.
Robust Control Solutions for Water Systems
An effective and reliable control solution is essential for any fresh water or wastewater system. Problems like leaks, contamination, high pressures, reduced flow, or pump failures could lead to costly damage, loss of water services, or even health and safety concerns.
At PSI Power & Controls, our OEM control panels can provide granular control over all your water systems, combining high-voltage controls, low-voltage controls, motor controllers, communications, sensors, and logic so you can monitor and respond quickly to changing conditions.
Our OEM control panels can be customized to meet your unique needs, and we offer innovative solutions for:
Reservoirs
Water tanks
Community wells
Booster stations
Greenhouses
Irrigation systems
Wastewater treatment facilities
Holding ponds
Lift stations
And more
Our facilities are certified to meet UL508A, CUL508A, and ISO9001 standards, and our Charlotte facility is certified for UL508A Hazardous Locations defined as Class 1 Div 2, enabling us to create panels that are safe for areas with flammable gas, flammable liquids, dust, or airborne fibers.
Call (704) 594-4107 today or contact us online to learn more about our custom control panels and options for your water or wastewater equipment.
Our Design & Manufacturing Process
Whether you need one control panel, a few, or OEM control panels for your entire line of water system equipment, our team at PSI Power & Controls can help. We can handle orders of any size, and we work with our customers throughout the design and manufacturing process to ensure our products meet their demands.
Our multi-step process includes:
Development: We'll work with your facility to evaluate your equipment designs and determine what controls and features will be required for your application.
Sales: Our experts will take your project specifications, consult our resources, and provide an accurate quote within your required deadline.
Design: We'll design a control solution that meets all your specifications and budget requirements and submit it for your approval. Then, our team will make any necessary revisions and resubmit until you're satisfied with the design.
Delivery: Once approved, we'll manufacture and deliver your control panels according to your schedule and deadline requirements.
Support: If you ever have a problem with your new control panels, we offer complete support, diagnosing and correcting problems as necessary to keep your equipment operating reliably.
Get started with the design of your OEM or private label control panel today. Call PSI Power & Controls at (704) 594-4107 or contact us online.
Why Choose PSI Power & Controls?
Since 1961, our company has provided industry-leading power and control solutions for industrial and commercial facilities throughout the United States. With PSI Power & Controls, you can count on our team for top-quality products and services, competitive pricing, on-time delivery, and full engineering support.
Our products are backed by a 12-month materials and workmanship warranty, and we provide full support after the sale.
Need better control of your water and wastewater systems? Call (704) 594-4107 today or contact us online to request a quote or speak with your nearest PSI representative.