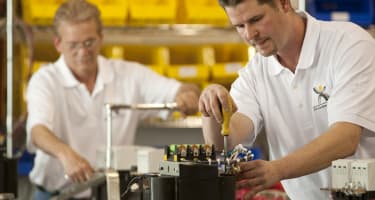 Why Choose PSI for Your Generator Tap Boxes?
Generator Tap Boxes
Modern business relies on continual productivity, which makes consistent access to electricity an absolute must. In times of emergency or electrical failure, your business needs the safety, assurance, and reliability of a firm back up plan. This is often done through good use of a generator system, which makes for an excellent solution. And to maximize your generator's effectiveness, a tap box is an absolute must.
Generator tap boxes ensure a clean and quick connection is made between your generator and the processes it is required to support. The professionals at PSI Power & Controls have been offering superior quality generator tap box and other product solutions to our patrons for half a century. We are, and always have been family owned and operated. Why is that important? Because it goes a long way in supporting our attitude of going above and beyond when our products and services are needed.
Generator Tap Boxes with PSI
A tap box makes the electrical connection between your automatic or manual transfer switch, making it a key factor in the correct use of your emergency generator system. The tap box operates hand-in-hand with your switch and generator, making the connection fast, efficient, and risk-free. With the proper tap box installation, you can restore power to your business nearly instantaneously in the event of an emergency or power outage.
The tap box is located on the exterior of your commercial structure, secured within a weatherproof housing unit. They come with a number of customizable features (when procured from fabrication specialists like PSI Power & Controls), affording additional failsafes and quality improvements.
Custom Tap Box Solutions with PSI
A customizable variety of features that allow your commercial business to have a box fabricated to meet your specific and unique needs. Tap Boxes from PSI include:
An ampere capacity range of 400-4,000
3 or 4 wire connections
Male/female cam-lock receptacles
NEMA 3R or NEMA 3RSS Stainless Steel weatherproof enclosures
Why Choose PSI Power & Controls?
For over half a century, PSI has been wholly dedicated to the principles of quality, integrity, and dependability. Our products have always and will always carry an absolute guarantee of quality and effectiveness. Our custom solutions provide you with the opportunity to receive the solution that perfectly suits your needs and provides our fabrication specialists the opportunity to provide the best options for your business.
PSI always puts our products a cut above, but we're not going sacrifice quality in our service, either! Our knowledgeable experts will always strive to provide answers and information when needed; we're happy to help you find the perfect product for your business. Our engineers and associates boast a wide range of knowledge and skill with our products; we are able to work alongside your business to ensure your every specific emergency electrical need is met.
To bring you the best service in the business, PSI offers a variety of perks and unique benefits as well:
Competitive pricing
On-time delivery
Engineering support
UL-certified products
12-month material warranties
12-month workmanship warranties
Private label assembly
All PSI products are put through rigorous testing before shipping to ensure quality and functionality of your chosen items.
Top Quality Generator Tap Boxes with PSI Power & Controls
To find out more about our tap boxes, or to learn more about our ordering process, feel free to contact a PSI engineer or service representative today!