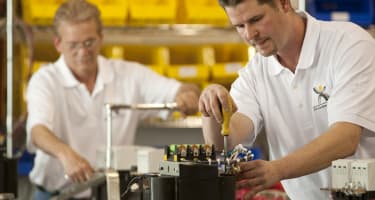 Custom Industrial Control Panel Solutions
Providing a straightforward, easy-to-use interface for industrial equipment is essential for the productivity and safety of employees. At PSI Power & Controls, we specialize in custom industrial control panels tailored to the needs of specific equipment and processes.
Our control panels include all the systems necessary to distribute power and control industrial equipment, such as dedicated circuits and logic, motor controllers, H-bridges, contactors, relays, power switches, emergency stop switches, monitoring systems, gauges, and more. 
Our experts can design and manufacture custom control panels for virtually any application, from conveyor belts and material lifts to industrial motors, irrigation systems, lift stations, and power metering systems. Integrating our industrial control panels into your equipment makes these systems easier and safer to use while increasing your productivity.
Since 1961, PSI Power & Controls has provided commercial and industrial clients throughout the U.S. with innovative power distribution and equipment control solutions. We feature UL-certified products that can be tailored to your needs and competitive pricing, on-time delivery, full engineering support, and 12-month material and workmanship warranties.
When you need the perfect control solution for your industrial machinery or process, contact PSI Power & Controls.
Call (704) 594-4107 or contact us online to discuss your project specifications with our experts.
Requirements for Industrial Control Panels in the U.S. & Canada
To ensure the safety and performance of your industrial equipment, our team at PSI Power & Controls manufactures our custom control panels to comply with all applicable U.S., Canadian, and international codes and standards. Some of these requirements include:
NEC
Our industrial control panels meet the standards of the National Electrical Code (NEC) and the NFPA 70 from the National Fire Protection Association. This includes the short circuit current ratings laid out in Article 409.
NFPA 79
Our custom control panels feature operator interfaces, controls, and enclosures that meet NFPA 79 standards and applicable NEC standards that protect operators and the facility from fire and electrical hazards.
UL 60947-4-1 and UL 508
UL 60947-4-1 is an international standard that has superseded the UL 508 standard and meets all Canadian Standards Association (CSA) requirements. It governs the design, manufacturing, and testing of control panels, and all our control solutions meet the UL 60947-4-1 standards.
Other Standards:
Other standards may apply to a control panel, depending on factors like the type of equipment and the location in which it's used. Some of these standards include:
UL 698A:

 Standards for control panels in 

hazardous locations

.

UL 1203:

 Standards for explosion-proof and dust-ignition-proof electrical equipment in hazardous locations.

UL 845:

Standards for 

motor control

 centers.

UL 891:

Standards for switchboards with 

circuit breakers

and other equipment.

UL 924:

Standards for emergency power and lighting equipment.

UL 1640:

Standards for portable power distribution equipment.

UL 916:

Standards for energy management equipment.
Our team will assess your project requirements and design a custom industrial control panel that meets all U.S., Canadian, or international standards for the application.
Contact us today or call (704) 594-4107 to learn more about our manufacturing process and the standards applicable to your equipment.
Benefits of a Custom-Built Panel
By working with PSI Power & Controls to build a custom control panel tailored to the specifications of your equipment, you can expect:
Easier operation for your staff or clients

Improved safety and equipment performance

Effective control panel layout and design

Full project specifications and technical drawings

Industry-leading engineering and product support
Learn more about the advantages of a custom industrial control panel for your product or equipment.
Call (704) 594-4107 or contact us online today.
Why Choose PSI Power & Controls?
As a nationwide supplier of custom control solutions with over 60 years of experience, PSI Power & Controls is well-equipped to handle all your industrial control needs. We have the skill, credentials, and manufacturing capacity for projects of any size, and we offer effective communication, short lead times, and fast responses to all your inquiries.
With our company, you can expect:
Top-quality products and work

Code-compliant panels and enclosures

12-month material and workmanship warranties

Competitive pricing with on-time delivery

OEM/private label assembly

Full engineering and product support
Call (704) 594-4107 today or contact us online to start the design of your custom industrial control panel today.