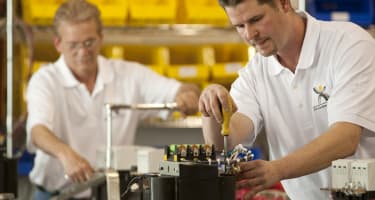 OEM Control Panels for Environmental Monitoring Applications
Environmental monitoring systems are essential to prevent spills, avoid leaks, and protect groundwater resources near facilities that process or transport stormwater, wastewater, or solid waste. An intelligently designed, intuitive control panel makes using environmental monitoring equipment straightforward and as convenient as possible.
At PSI Power & Controls, we specialize in designing and manufacturing OEM control panels for environmental monitoring systems and other critical applications. Our control panels are custom-designed to meet the specifications of your environmental monitoring systems, providing a control interface that is robust, reliable, and easy to use.
We work with equipment manufacturers throughout the United States to create custom control panels for their products, allowing them to focus on the performance of their equipment. With over 60 years of industry experience, we have the skills to create the ideal control solutions for your needs.
Enjoy easy, intuitive control of your environmental monitoring equipment with a custom control panel from PSI Power & Controls.
Call (704) 594-4107 or contact us to discuss your equipment specifications and control requirements with our engineering team today.
Intelligent Control & Feedback for Environmental Monitoring Systems
Environmental monitoring systems need reliable control and feedback solutions to ensure that stormwater, wastewater, or solid waste is being handled effectively without the risk of groundwater contamination or environmental damage.
At PSI Power & Controls, we can combine high-voltage controls, low-voltage controls, sensors, logic, and communications systems to create a custom control panel that provides comprehensive control over your environmental monitoring equipment from one central location.
This makes it easier to spot problems and respond to changing conditions as they develop. We offer OEM control panels for environmental monitoring in the following applications:
Industrial wastewater treatment facilities
Sewage treatment facilities
Solid waste treatment facilities
Municipal stormwater systems
Holding ponds
Evaporation pools
Lift stations
And more
Quality is a top priority at PSI Power & Controls. That's why we have long-standing relationships with the nation's top electrical component suppliers, and we take great care through every step of the design and manufacturing process to provide long-term reliability and durability in all our products.
Our facility is ISO9001 certified to ensure quality manufacturing, and our OEM control panels meet all the UL508A standards for control panel design.
Our Design & Manufacturing Process
Our company builds custom control panels for clients throughout the United States. Whether you need a few OEM control panels or enough for your entire product line, you can count on PSI Power & Controls for fast turnaround times, exceptional quality, and impressive attention to detail.
Our multi-step manufacturing process includes:
Development: Our experts will work with your team to evaluate your requirements and determine what controls and features will be necessary for your project.
Sales: Our sales team will evaluate your project specifications, consult our suppliers, and deliver an accurate quote within your specified time frame.
Design: We will create a control panel design that meets your specifications and submit it for your approval. If revisions are required, we'll make them promptly and resubmit the design until it acquires final approval.
Delivery: Once approved, we'll build your control panels, test them, and deliver them according to your schedule and deadlines.
Support: If you ever have problems with your control panels, we're here to help with troubleshooting, repairs, and complete engineering support.
Start the design process for your OEM or private label control panel today by calling (704) 594-4107 or contacting us online.
Why Choose PSI Power & Controls?
Since 1961, PSI Power & Controls has been a leading provider of custom power and control systems for industrial and commercial facilities throughout the United States.
We offer unsurpassed quality and service, and by choosing our company for custom control panels, you can expect competitive pricing, on-time delivery, complete support, and great products backed by a 12-month material and labor warranty.
Call (704) 594-4107 today or contact us online to request a quote on a custom OEM control panel for your environmental monitoring systems.