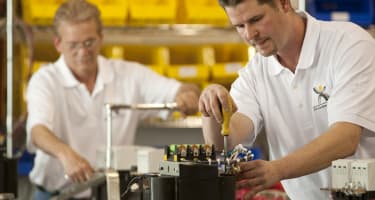 Custom Control Panels & Transfer Switches Manufactured in North Carolina
Customization is the key that makes it possible for you to achieve your goals. From our facility in Charlotte, North Carolina, we design and build the custom industrial power and control products your business depends on.
When you need OEM control panels, low-voltage starters, power metering equipment, or VFD panels, you can rely on our dedication to every detail to deliver superior performance, safety, and reliability.
We manufacture a full range of products customized to meet your operational requirements while remaining compliant with the most up-to-date standards and specifications governing your industry.
Custom Control Panel Solutions
Custom OEM control panels are our core product. We know the critical importance of the functions they facilitate and leverage our expertise to design and manufacture panels that will deliver safe, efficient, and reliable performance. At PSI Power & Controls, we work closely with you to design and develop solutions that meet your needs and exceed your expectations.
We provide comprehensive support at every stage, from development and design to installation and operation. Our thorough processes and procedures, coupled with our commitment to our clients, ensure your control panels perform as required.
Applications
Industrial control panels

:

 Our industrial control panel will provide reliable management of alarm systems, VFDs, motors and valves, reduced voltage starters, and more.

Water systems & wastewater

:

 Our control panels are well-suited for reservoirs, tanks, wells, booster stations, greenhouses, irrigation systems, lift stations, secondary treatment systems, grinder systems, UV disinfection, and dispersal systems.

Metering:

We design and build enclosed meter systems that will measure active and reactive power voltage/amperage to various communication protocols for those metering packages. 

Material handling

:

 We manufacture logic controls for the automation of material handling and conveying systems.

Environmental monitoring:

 We manufacture systems ideal for use in groundwater, solid waste, and stormwater applications.
Emergency Power Solutions for North Carolina Facilities
We offer a comprehensive range of emergency power solutions that meet the most exacting specifications and comply with a broad range of safety codes and standards. Our solutions include:
Contact PSI Power & Controls at (704) 594-4107 to learn more about the products we offer and the specifications of our designs.
We'll provide the information you need to make the best decision for your operations.
The PSI Power & Controls Difference
From our headquarters in Charlotte, North Carolina, PSI Power & Controls' teams design and build reliable solutions for clients throughout the country. Over the past 60 years, our company has expanded to include facilities in North Carolina, Colorado, and Kentucky. We carefully select each member of our staff for their dedication to detail, responsiveness, and ability to deliver superior quality solutions.
We leverage our expertise to provide competitive prices, on-time delivery, exceptional material and workmanship warranties, and comprehensive engineering support. When you choose PSI Power & Controls, you can rest assured that our UL-certified products will deliver unparalleled performance and reliability.
Contact PSI Power & Controls at (704) 594-4107 to speak with our team in Charlotte, NC, about your needs.
We proudly manufacture products and provide support for a wide range of industries throughout the United States.