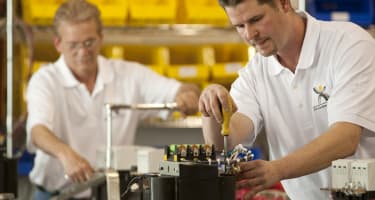 Custom Control Panels & Transfer Switches Manufactured in Nebraska
As a top producer of corn, wheat, and soybeans, as well as beef and poultry, agriculture and food production are Nebraska's top industries. The state also boasts a strong manufacturing base, making everything from automotive parts and machinery to computers, electronics, medical devices, chemicals, and minerals.
When businesses in Nebraska need reliable, UL-listed control panels, transfer switches, emergency power solutions, and more, they can count on the team at PSI Power & Controls. With over 60 years of industry experience, plus full 12-month workmanship and material warranties, we stand behind our products and offer fast delivery nationwide.
Contact us online to learn more about our top-rated products and services for your Nebraska business.
Custom Control Panel Solutions
Efficiency and productivity are essential for any business, and at PSI, our custom control panels can make your equipment intuitive and easy to use so your staff can maximize production. We offer custom control panels and OEM control solutions for these applications:
Industrial control panels: We offer reliable controls for motors, pumps, valves, VFDs, low-voltage starters, alarms, and more.
Water and wastewater systems: From lift stations and sewage treatment facilities to reservoirs, wells, and pump stations, we offer the ultimate in control and monitoring for fresh water and wastewater systems.
Material handling: Keep equipment like palletizers, forklifts, and conveyors running smoothly with controls that are tailored to each machine.
Power metering: Monitor and log important power statistics like active and reactive power, voltage, current, and more with our custom power metering systems.
Environmental monitoring: Monitor groundwater systems, stormwater systems, solid waste facilities, retention ponds, and more for signs of environmental issues like leaks or contamination.
Choose PSI for proven, reliable custom control solutions for virtually any type of industrial equipment. Contact us online to request a quote.
Transfer Switch Products
Between Nebraska's powerful thunderstorms, winter snow and ice, accidents, and maintenance issues, power outages can be quite common in many areas of the state. To make it safe and convenient to connect an emergency power source like a standby generator to your business, consider adding a transfer switch.
At PSI, we feature automatic and manual transfer switches, with single-phase or three-power in multiple configurations. While manual transfer switches require you to switch power from the utility grid to the generator yourself, automatic transfer switches can sense the power loss and do all the switching for you.
Contact us online today to learn more about our manual and automatic transfer switches or request a quote.
Generator Tap Boxes
When there's a power outage, fumbling around with multiple cables and connections is never ideal. When you need to connect your standby generator to your building's electrical system, our generator tap boxes can make the process virtually error-free.
They feature color-coded Cam-Lok connectors or lugs to differentiate each phase, and they provide semi-permanent connections that are safe and reliable.
Select the perfect generator tap box for your needs by visiting our product catalog or contacting us online today to talk to our experts.
Emergency Power Solutions for Facilities in Nebraska
Along with generator tap boxes and transfer switches, we offer a full selection of other emergency power equipment for your Nebraska business, including:
Contact us online for more information about our emergency power products.
Why Choose PSI?
Since 1961, PSI Power & Controls has been a leading provider of electrical products for commercial and industrial facilities throughout Nebraska and the U.S. From custom control panels to highly configurable transfer switches, tap boxes, generator docking stations, and more, we offer unique solutions for all your power and control needs.
We feature excellent service with competitive pricing and industry-leading support, and we're happy to answer any questions you may have about our products.
Our Nebraska Service Area
At PSI, we're proud to serve all of Nebraska, including businesses in these communities:
Omaha
Lincoln
Kearney
Bellevue
Nebraska Representatives
Start configuring your custom control panel or emergency power systems today by talking to our local representatives in Nebraska. They include:
Mike Demauro
Power Source Midwest
Lake St. Louis, MO
636-625-4771
Owner
Barry Park
Power Source Midwest
Lake St. Louis, MO
636-625-4771
bpark@powersourcemidwest.com
Sales Manager
Christie Demauro
Power Source Midwest
Lake St. Louis, MO
636-625-4771
cdemauro@powersourcemidwest.com
Inside Sales
Jim Kozel
Power Source Midwest
Lake St. Louis, MO
636-625-4771
Outside Sales