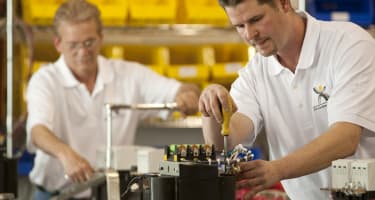 Custom Control Panels & Transfer Switches Distributor in Missouri
PSI Power & Controls is Missouri's premier choice for industrial power and control solutions. We specialize in delivering electrical control panels customized for OEM clients throughout the country.
Our expertise and experience ensures that we deliver the reliable solutions required for the most demanding applications. Our team throughout the region is always prepared to provide the support and precision-engineered solutions required by Missouri businesses.
When you need custom power and control products, you can depend on PSI Power & Controls to deliver the solutions you need. Contact us today to get started.
Our Missouri Service Area
We serve a broad range of clients throughout Missouri. Our clients are engaged in a wide range of industries, including:
Agriculture
Aerospace
Chemical processing
Electrical equipment manufacturing
Transportation
Financial services
Publishing
And more
We serve cities throughout the state, including:
Kansas City
Independence
Springfield
St. Louis
Columbia
Lee's Summit
Custom Control Panel Solutions
Custom control panels are manufactured to match the most exacting requirements. We can produce single-source or complex control panels customized to deliver superior functionality, reliability, and safety.
Our custom control panels can be used to:
Streamline operation and monitoring
Enhance safety in hazardous operational conditions
Fulfill custom needs and specifications
Our solutions are engineered to comply with the most up-to-date standards and specifications and for a broad range of applications, including:
Industrial control panels: Our industrial control panels facilitate efficient and effective management of alarm systems, VFDs, motors and valves, reduced voltage starters, and more.
Water systems & wastewater: Our water system and wastewater control panels are engineered for use in reservoirs, tanks, wells, booster stations, greenhouses, irrigation systems, lift stations, secondary treatment systems, grinder systems, UV disinfection, and dispersal systems.
Metering: We provide custom enclosed meter systems to measure active and reactive power voltage/amperage to multiple communication protocols and metering packages.
Material handling: Our logic controls simplify automation for material handling and conveying systems.
Environmental monitoring: Our custom control panels are optimized for use in groundwater, solid waste, and stormwater applications.
Contact PSI Power & Controls today for more about our custom control panel solutions.
Transfer Switch Products
Our transfer switches will keep your systems operational without missing a beat. We'll help you select the ideal solution for your needs and the systems you operate. Our transfer switch products include:
Generator Tap Boxes
Our generator tap boxes can be installed in a wide range of facilities, including grocery stores, data centers, healthcare facilities, utilities, and more. We offer comprehensive support and warranties that help protect your investment.
Our generator tap boxes include:
Emergency Power Solutions for Facilities
We offer a broad selection of emergency power solutions that ensure you have the power and functionality required to maintain operations. Our team will help you select the optimal emergency power solution for your needs, including:
Contact PSI Power & Controls to learn more about our emergency power solutions.
A Trusted Name in Custom Control Panels in Missouri & Nationwide
PSI Power & Controls provides exceptional solutions that deliver optimal performance under the most challenging conditions. We know the critical importance of reliable power, and our systems are precision-engineered and custom-manufactured to ensure exceptional reliability for our clients in Missouri.
Our Missouri representatives are always prepared to provide the service and solutions you need. When you're ready to get started, contact our Missouri representatives below:
Mike Demauro
Power Source Midwest
Lake St. Louis, MO
636-625-4771
Owner
Barry Park
Power Source Midwest
Lake St. Louis, MO
636-625-4771
Sales Manager
Christie Demauro
Power Source Midwest
Lake St. Louis, MO
636-625-4771
cdemauro@powersourcemidwest.com
Inside Sales
Jim Kozel
Power Source Midwest
Lake St. Louis, MO
636-625-4771
Outside Sales