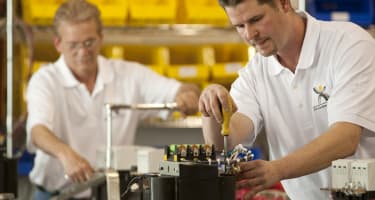 Fusible Safety Switch / Disconnect NEMA 4X Enclosure
Safety Switches Fusible NEMA 4X 316 Stainless Steel Enclosure 30 through 800 Amps 600 Volts Max
Standard
Lockable Rotary Handles
Power On Pilot Light
Ground Bus Included
Factory Modifications Available
Service Entrance Label
Neutral Bar Assembly
Myers Type Hubs
Pin and Sleeve Receptacle
Fuses Installed
A fusible safety switch combines multiple fuses inside a single safety switch enclosure to provide easy access to manually open and close a circuit and protect against overcurrent.
Our Fusible Safety Switches
30 – 1200 Amps
Up to 600 Volts Max
Primary Functions
To break the electrical circuit between service entrances and heavy machinery used in various manufacturing plants and industrial facilities. Safety switches can also be used to break the circuit for:
Repairs
Maintenance
Emergency stoppage
Load breaks
Protection Against
Personnel injury
Property damage
Property loss
NEMA 4X Enclosure
The NEMA 4X enclosure protects your safety switch from water ingress, hose directed water, ice, sleet, rain, dust, human contact, and more!